Brockman's Summer Full Moon Cocktail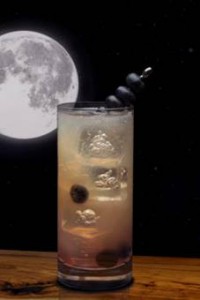 As the hot sun finally sets and the moon illuminates the sky, the carefree spirit of summer settles in for an evening full of opportunity. Bonfires on the beach and rooftop soirees under the stars set the stage for the most memorable nights, and on a few extraordinary nights each summer when the moon is full, it exudes a unique energy like no other. All that is needed to complete the occasion is the perfect cocktail in hand.
The smooth and unique blend of botanicals in Brockmans' new-style gin, paired with lemon juice, jasmine syrup and a hint of blackcurrant, come together in the Jasmine Moon to create a light and refreshing cocktail suited to toast this summer's full moons and all the night has to offer.
This summer, July 2, July 31 and August 29 mark a full moon. Below is the recipe for the Jasmine Moon, please let me know if you have any questions or if I may provide you with a sample or further information on Brockmans Gin.
Brockmans Jasmine Moon:
2 oz Brockmans Gin
1 oz lemon juice
1 oz jasmine syrup
A drop of Crème de Cassis
Soda Water
A Few Blueberries to garnish
Build up in a highball. Add the lemon juice, jasmine syrup and Brockmans Gin. Fill up the glass with ice and a few blueberries. Using a bar spoon mix thoroughly, pour in a small drop of Cassis to allow to sink to the bottom of the glass and top up the glass with soda water.