Bueno Foods Celebrates 65 Years of Authentic New Mexico Chiles
Albuquerque food manufacturer combines innovation with traditional values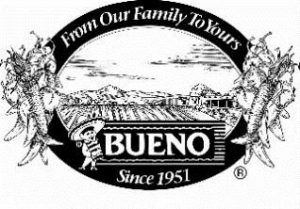 Albuquerque, NM – Green chiles have become synonymous with the state of New Mexico. Largely responsible for this association, Bueno Foods has established itself as a purveyor of family values and Southwestern cuisine. This year, the business celebrates its 65th anniversary of delivering high-quality, New Mexico green chile throughout the U.S. community, while maintaining a strong commitment to its local Albuquerque home.
Based in the Barelas neighborhood in the South Valley of Albuquerque, Bueno Foods, founded by the Baca brothers in 1951, grew out of their attempts to save their family-owned grocery store when larger chains were pushing smaller local proprietors out of business. The company started with an imaginative spark and a mission to bring New Mexican culinary traditions to the world. Thus, Bueno Foods became the first company to flame roast New Mexico green chiles and freeze them, making a local autumn tradition enjoyable year-round.
In order to succeed in their entrepreneurial endeavor 65 years ago, the Baca brothers had to start their business from the ground-up. Because no company had previously flame roasted chiles on a commercial scale, there were no method or tools available. The brothers manufactured their own equipment and invented the process for flame roasting green chile to bring the taste of New Mexico to the masses. This ingenious spirit continues today as the second generation of the Baca family are at the reins of Bueno Foods. Jacqueline, Eugene, Catherine, and Ana Baca continue to hold dear the mission, vision, and spirit established by their fathers and uncles, including a commitment to the local community.
"My family feels honored to be headquartered in the same neighborhood in Albuquerque, New Mexico where my father and uncles grew up," said Jacqueline Baca, president of Bueno Foods. "My brother and I have run our company for more than 30 years now, carrying on our family's legacy of entrepreneurship and preservation of our New Mexico culture. My siblings and my commitment has been to build a growing middle class by providing good paying jobs to New Mexicans and offering training and opportunity for advancement."
While the product line started with flame-roasted green chile, it has since expanded to tortillas, sauces, prepared products, and more. The company's newest label, BUENATURAL®, includes organic, non-GMO, vegetarian, and vegan-friendly offerings. Bueno Foods offers a taste of the rich food culture of the Southwest to the rest of the nation, bringing traditional dishes such as green chile enchiladas, salsa verde, pork chile verde, green chile stew, and green chile cornbread to kitchens across the nation.
With a history firmly rooted in embracing tradition, Bueno Foods and its executives have been continually recognized for their community service, eco-consciousness, quality, and innovation, as well as being known as a positive economic engine in the New Mexico economy via the export of its vast product catalog throughout the U.S.
ABOUT BUENO FOODS
With the mission to share New Mexico's rich culture with the world, Bueno Foods was founded in 1951 by the Baca brothers—Joe, Ray, and August. Through ingenuity and hard work, the company was the first to bring the New Mexico autumn tradition of flame-roasted chile to American consumers year-round. BUENO® manufactures corn and flour tortillas, tamales, and posole, along with frozen New Mexico chile. Additionally, under the BUENATURAL® line, Bueno Foods produces natural, organic, and non-GMO flour, corn, and Ancient Grain tortillas; additionally this line includes vegetarian and vegan-friendly tamales. Currently, the second generation of the Baca family leads Bueno Foods, adhering to the principles of the founders.