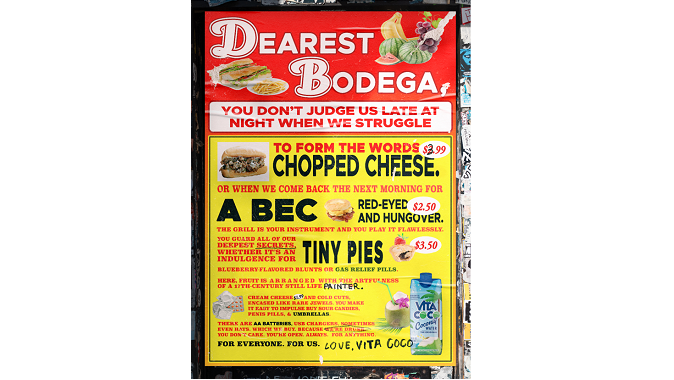 Bodegas are as essential to NYC as a yellow cab or a slice of pizza, yet they are struggling due to significantly less foot traffic in the city. The sales of sandwiches, one of the most popular items, are decreasing for some by up to 80%, yet bodegas have remained open to provide groceries and jobs to their neighborhoods.
That's why from May 22-June 12, NY-born beverage brand Vita Coco is buying 5,000 breakfast sandwiches from local bodegas to donate to essential workers at hospitals across New York City. Vita Coco is partnering with My Bodega Online to deliver the Essential New York Breakfast — including a bodega breakfast bacon egg and cheese sandwich plus Vita Coco Coconut Water — to 5,000 health care workers in hospitals throughout the city.
Vita Coco is also revealing love letters to bodegas that express how it's at "Dearest Bodegas" where New Yorkers can find "probiotic soda, forties and coconut water within 6 inches of each other" and who "turn the humble BEC into an art form" through wild postings in the city. The support of local bodegas amidst the pandemic falls on the heels of Vita Coco's $1 million donation to No Kid Hungry and Feeding America. Vita Coco Coconut Water was born in NYC and grew up inside the bodegas that serve every neighborhood in the city.