New York City is a melting pot for culture and food and that's why Joe Calcagno, owner of Capizzi Pizza ( featured on the Steve Harvey Show and Travel Channel's " Hotel Impossible" Anthony Melchiorri ) has been able to sustain his pizzeria and restaurant as one of the best Italian eateries in New York City.
"Being Italian allows me to appreciate great food. My family grew gardens and pickled their own vegetables like eggplants and making homemade pasta." recalls Calcagno as he vividly explains his passion and appreciation for his Italian heritage.
Calcagno has established Capizzi Pizza and Wine Bar in the Manhattan theater district, a cosmopolitan neighborhood frequented by theater goers, sophisticated residents,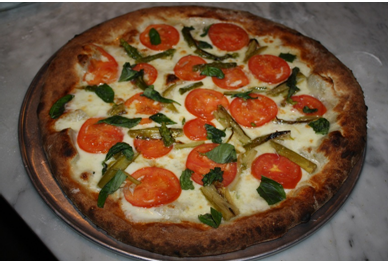 tourists and people employed in nearby fashion and hotel industries. At any given time you can catch the chef rolling out a thin crispy crust and tossing it up in the air. Capizzi pizza is charred on the outside and deliciously tender inside, the pizza is then cooked in a genuine wood burning oven with homemade ingredients, many of which are imported weekly from Capizzi, Sicily, the small town which is the restaurant's namesake and part of Joe's heritage.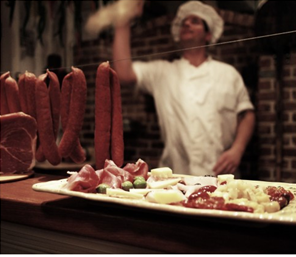 "When you sit down with family and friends you share food and it becomes the focal point. Being Italian has allowed me to have a more sophisticated palette and by New York City being a diverse city, people are looking for the best food they can eat. New York is a tough city and to be the best you must sell the best ingredients, best spices and best dishes." proclaims Calcagno.
Capizzi's legacy is built on traditions, authenticity and tantalizing visuals. Even the décor is dressed in retro Italian influences which creates an inviting ambiance. Calcagno showcases his kitchen with the wood-burning oven, family photos that adorns the walls, old wine bottles re-purposed as flower vases, dried herbs, an old rotary phone and a refrigerator dating back to the 1950s all which gives customers a taste of Italy.
"My folks infused me with a sense of love and pride, not only in food, but in a job well done," Joe says. Having learned his high standards from his parents and grandparents working in their pizza shops in Brooklyn ,Joe keeps the family tradition alive by using authentic recipes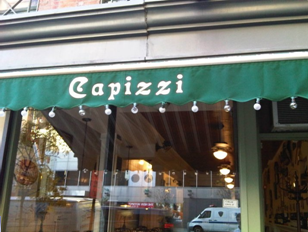 passed down from his father and grandfather. The same care is given to Capizzi's breads and salads, as well as to the selection of fine wines available. Whatever you order, a meal here feels tastes like food home-cooked by your grandma."In our family, everything has always had to be the best, he says. "I get a lot of pleasure out of serving something really special."