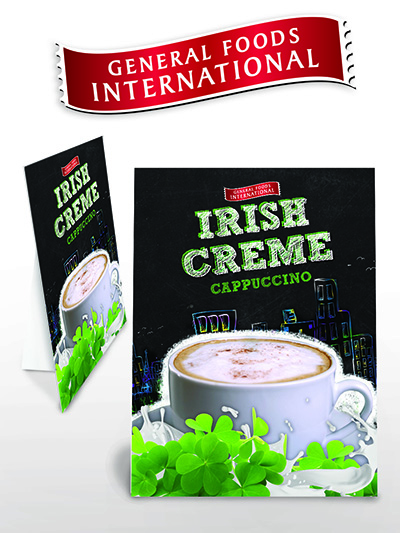 The luck of the Irish is here with General Foods International (GFI) Irish Creme cappuccino! With St. Patrick's Day right around the corner, it's time to update your hot beverage offerings and energize your sales with this exciting limited time flavor.
GFI Irish Creme cappuccino has a refreshing flavor that evokes the mists of Ireland, perfect for St. Patrick's Day celebrations. Seasonality plays a part in consumers' flavor preferences, with almost two in five consumers (38%) saying their flavor preferences shift according to the time of year. 1 This year, boost your sales by offering fresh and relevant LTO's to satisfy consumers' demand.
Lucky for you, GFI offers on-trend front-of-house merchandising and a valuable rebate to help your bottom line. Operators can create excitement and communicate the new flavors with attention-grabbing merchandise, including door clings, wobblers, flavor tags, counter cards and translite stickers.
Irish Creme is available through the end of March to commemorate St. Patrick's Day with a warm, barista-quality cappuccino that takes customers "across the pond" to Ireland. Interested new operators can earn up to $100 now through December 31, 2014. Future LTO flavors from GFI include S'mores featuring JET-PUFFED Marshmallow, English Raspberry Tea and Pumpkin Spice. For more information, visit kraftfoodservice.com/GFI.
ABOUT KRAFT FOODS GROUP
Kraft Foods Group, Inc. (NASDAQ: KRFT) is one of North America's largest consumer packaged food and beverage companies, with annual revenues of more than $18 billion. With the spirit of a startup and the soul of a powerhouse, Kraft has an unrivaled portfolio of products in the beverages, cheese, refrigerated meals and grocery categories. Its iconic brands include Kraft, Maxwell House, Oscar Mayer, Philadelphia, Planters, Velveeta, Capri Sun, JELL-O and Lunchables. Kraft's 23,000 employees in the U.S. and Canada have a passion for making the foods and beverages people love. Kraft Foods Group is a member of the Standard & Poor's 500 and the NASDAQ-100 indices. For more information, visit www.kraftfoodsgroup.com and www.facebook.com/kraft.
ABOUT KRAFT FOODSERVICE
Kraft Foodservice is a division of Kraft Foods Group, Inc. (NASDAQ: KRFT), one of North America's largest consumer packaged food and beverage company. Kraft Foodservice provides a diverse portfolio of brands, marketing and sales expertise and resources to the U.S. foodservice industry. Visit www.Kraftfoodservice.com for more information.