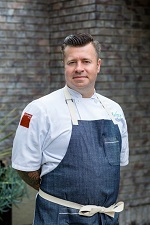 L'Auberge Del Mar, the iconic Del Mar seaside village resort, has appointed Christopher Carriker as its new executive chef. At L'Auberge Del Mar, he will be in charge of the property's three venues — signature restaurant KITCHEN 1540, the Living Room's Coastline Deck and Bleu Bar. In addition, he will also oversee the menu planning and catering operations for banquets, weddings, meetings, special events and in-room dining.
"Chef Chris brings a proven history of high performance and kitchen excellence to this position, as well as having an outstanding record of team leadership and innovative restaurant expertise. As we move forward in the evolution of KITCHEN 1540, we are confident Chris will play an important role in exciting new developments," said Robert Gregson, general manager for the 121-room resort.
Carriker, born and raised along Puget Sound in Washington, has been working as a chef in the culinary arena for 14 years. Most recently, Carriker served as executive chef at International Smoke in San Diego, prepping for Chef Michael Mina's first venture in San Diego, and served as a task force chef for other restaurants in the Mina group. Prior to that position, he was the chef de cuisine at Avant Restaurant in San Diego's Rancho Bernardo Inn. His many years of working in Portland earned him a reputation for his forward-thinking farm fresh sensibilities displayed at several restaurants including 23Hoyt, Caprial's Westmoreland Kitchen and other venues. Carriker earned additional high regard and notoriety as executive chef at Portland's former Gilt Club. During his time there, he traveled to New York City to cook a dinner at the James Beard House and appear in an episode of the Food Network's "Meat & Potatoes."
In 2000, he received his culinary arts degree from Western Culinary Institute in Portland, Oregon.