Italian-American Chef Nick Di Bona has partnered with New York-based Celano Design Studio to create his first restaurant, Madison Kitchen.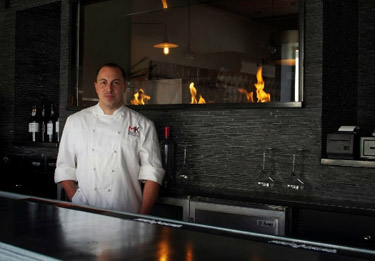 A native of Westchester, 28 year old Chef Di Bona has already proven himself a creative force in his own right, serving as Executive Chef at the renowned Pratt's Inn and helping to bring its highest Zagat rating to date. Madison Kitchen will be Di Bona's first solo restaurant venture, and will feature Di Bona's personal twist on New American. "I wanted to offer an eclectic mix of good food. Westchester has a lot to offer, Asian markets, Italian grocers." Inspired by Di Bona's Italian-American background, his respect for fresh and locally sourced ingredients, and his continuous search for new combinations of food and flavor, Madison Kitchen will bring delicious, inventive cuisine to Larchmont.
After tapping Vincent Celano to create the space, Di Bona and Celano established a close working relationship, collaborating directly to drive the concept for Madison Kitchen. In the bar and lounge area, the reclaimed wood bar and bio-fueled fireplace creates an intimate vibe, complemented by the modern black tile feature wall and custom zinc bar top. "Nick was looking for an upscale yet comfortable atmosphere," says Vincent Celano of Celano Design Studio. "We incorporated structural showpieces like the fireplace, complemented by modern textures, to achieve that fusion of rustic and modern we were looking for." The fireplace connects the lounge to the main dining area, where chevron patterned wood plank ceilings and textured stone walls follow a rustic theme. Frank Savastano of Dufine Furniture crafted a custom leather tufted banquette at the back of the space that stands nearly seven feet high. The design team incorporated a variety of lighting elements, from hanging pendants in the lounge to vintage brass drum fixtures in the dining room, creating a warm glow throughout the whole space.
About Chef Nick Di Bona
Born and raised in Yorktown Heights, New York. Chef Nicolas Di Bona was always intrigued by the kitchen. Being a first generation Italian-American, the sounds and smells of his kitchen at home were very intense. Nick lives in a house neighboring Peter Pratt's Inn and Hilltop Hanover Farm. At fifteen years old, Nick rode his bike to Peter Pratt's Inn and asked owner Jon Pratt for a job as a busboy. While attending Yorktown High School, Nick worked his way up the ranks in the kitchen. After high school he kept working full time in the kitchen at Pratt's, promising himself he would go to culinary school when he was Sous Chef. After rounding out his education at The Culinary Institute of America, he was soon promoted to Executive Chef at Pratt's Inn. Within a year, Nick had helped Peter Pratt's Inn earn a Zagat rating of 25, their highest rating to date.
About Celano Design Studio
Vincent Celano, founder and principal of New York City-based Celano Design Studio, has made his name in hospitality design and architecture, working with brands like The One Group, Mercadito, and W Hotels. Born in Toronto and raised in New York City, Celano discovered his passion for design and architecture from the neighborhoods, culture, and people around him. After graduating from New York's Pratt Institute with a degree in architecture, Celano went on to work for some of the most sought-after firms in the industry. In 2013, he launched Celano Design Studio to service his extensive roster of internationally acclaimed hotels, nightclubs, and restaurants in design, architecture, and branding.