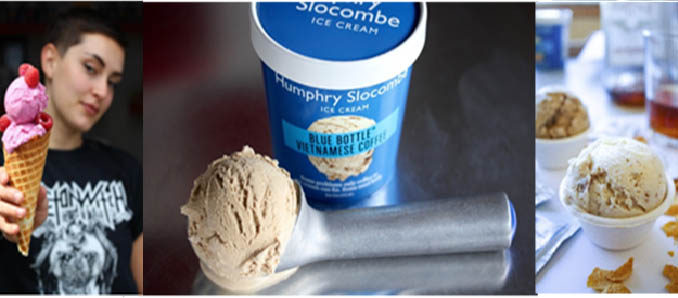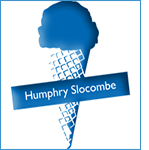 San Francisco's OG artisanal ice cream brand Humphry Slocombe launches a collaboration with Chef Roy Choi on a Hawaiian Shaved Ice flavor this Saturday, May 26, at the celebrated chef's Commissary and POT café at L.A.'s Line Hotel. The light and bright flavor will be available at the property throughout the summer, as well as at Humphry Slocombe's San Francisco scoop shops. The exciting collaboration coincides with the culinary ice cream rebel's announcement that they will open their first L.A. location this summer (details below).
Of his exclusive flavor, Choi said: "SF and LA. Like sibling rivalries. But we've come to bridge all that with ice cream!! Introducing the Hawaiian Shave Ice collab flavor between Humphry Slocombe and Commissary. Think condensed milk ice cream with flavored sorbet swirls. Think pool parties at The Line Hotel all summer. Think pints all through Commissary and Cafe at The Line Hotel. Think whoa, condensed milk ice cream! But don't think the Giants and the Dodgers, because that'll just make the ice cream melt."
Humphry Slocombe will also serve Chef Choi's flavor alongside other signature favorites as Secret Breakfast, Peanut Butter Fudge Ripple and Hong Kong Milk Tea, from their food truck, lovingly nicknamed "Betty," on National Ice Cream Day, Sunday, July 15 at Smorgasburg LA.
GET READY TO #LICKTHAT
The bizarre, delicious, frozen universe of Humphry Slocombe hits SoCal this summer. Rebellious and unapologetic, the OG small-batch creamery known for its cutting-edge, culinary-driven flavors is on a mission to "make ice cream less vanilla." First up is a sweet collaboration with iconic chef Roy Choi, who launches a Hawaiian-shave ice flavor at POT on May 26. More L.A.-based collaborations will follow, culminating with the opening of Humphry Slocombe on Abbot Kinney Blvd. in Venice, slated for August.
HERE'S YOUR DAMN STRAWBERRY
While culinary rebels and Humphry Slocombe co-founders Jake Godby and Sean Vahey offer a few time-tested favorites (see: Here's Your Damn Strawberry and Malted Milk Chocolate), the San Francisco-based ice cream purveyors are best known for out-of-the-box flavors such as Secret Breakfast, a grown-up combo of bourbon ice cream with cornflake cookies, Blue Bottle Vietnamese Coffee, a complex blend of Blue Bottle organic coffee, sweetened condensed milk and chicory root, and Matchadoodle, a green tea ice cream with house-made snickerdoodle cookies.
Humphry Slocombe Venice will offer a rotating menu of sweet and savory small-batch ice creams, like Elvis the Fat Years, Yuzu Cream (a collaboration with Top Chef winner Melissa King) and the 2018 Sofi Gold Medal Award-winning Black Sesame, with ingredients sourced from local distilleries, breweries, farmers and butchers.
MEET LIZA & BIANCA
Humphry Slocombe's 1,000-square-foot Venice location promises an Instagram-able experience, featuring the company's signature blue and white palette, large scale pop art and the brand's mascot, Liza and Bianca, the two-headed calf, supervising all proceedings. The new location will offer guests scoops, sundaes, floats, as well as pints to go.
THE BIZARRE, FROZEN UNIVERSE OF HUMPHRY SLOCOMBE
Opening its first shop in 2008 in San Francisco's Mission District, Humphry Slocombe has been scooping ice cream with attitude to dessert lovers for nearly 10 years, gaining a large following of loyal customers nationwide looking to enjoy never-before-seen flavors. Humphry Slocombe's unique, chef-driven flavors have earned numerous industry accolades, including recognition as a 'Top 5 Ice Cream in America' by the Food Network and a recent gold medal for its Black Sesame flavor at the 2018 Sofi Awards.
For those who need a Humphry Slocombe fix before the Venice opening, select flavors just landed in Gelson's Markets and Whole Foods throughout Southern California. The brand also delivers pints nationwide via Amazon Prime and Goldbely.com.