With Father's Day on fast approach, now is the time to find that perfect gift reflecting just how much you love and appreciate the "dads" in your life. Here are three thoughtful and budget-friendly beverage gifts ideas: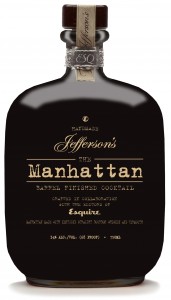 Esquire and Jefferson's 'The Manhattan: Barrel Finished Cocktail' (www.Esquire.com) – $39.99
This is a brand new product that just launched this past April. It's the result of Esquire magazine's collaboration with Jefferson's bourbon, who've teamed up to enhance the experience of enjoying a classic cocktail – the Manhattan. Bourbon enthusiasts will especially love this gift since it's a barrel-finished, expertly mixed, ready-to-drink cocktail in a really great-looking bottle. And the price point is also tasty under $40. The beverage is comprised of six-year-old bourbon, both sweet and dry vermouth, and barrel-aged, spiced cherry bitters. He can enjoy it either on the rocks, or stirred and strained over ice to chill. So this Father's Day, you can show your appreciation for the dads in your life with a drink he deserves – the perfect Manhattan!
Cairdean Vineyards Wines (www.CairdeanEstate.com) – $38 to $98
Cairdean is the Scottish Gaelic word for friends, and their varietals epitomize proprietors Edwin and Stacia Williams' belief that wine is meant to be shared with those held close to your heart—that certainly includes dear ol' dad. Cairdean Vineyards offers many great-tasting wine like the 2012 Haley Margaret White—a special blend of Pinot Gris, Roussanne, and Viogner bottled to raise funds and awareness of cystic fibrosis (for each bottle sold, $10 will be donated to the Cystic Fibrosis Foundation). Another of their wonderful whites is the 88-point, award-winning 2011 Napa Valley Chardonnay. On the palate this big wine enters with softness and rounds out with a sur-lie production style and hints of sweet oak on the finish. This winery's red category boasts distinguished, award-winning offerings, including the 2011 Napa Valley Sangiovese, 2011 Atlas Peak Syrah, Acquaintance Cabernet Franc, and Acquaintance Cabernet Sauvignon. The Sangiovese is warm and shows character, with developed tannins and touches of spice, while the Syrah shows considerable nuance and fine tannins. The Cabernet Franc (my personal favorite) is round and lush, finishing smoothly with a touch of spice while the Sauvignon is balanced, showing developed tannins which provide a smooth finish. These Cairdean Vineyards wines make any occasion a special one and are certainly apropos for dad's big day.
YouTheory's Collagen-Packed Anti-Aging Protein Powder (www.YouTheory.com) – $35.95
This next item is great for health and fitness-minded men—especially those who want to look youthful and age well. It's YouTheory's Anti-Aging Protein Powder, which is an advanced supplement that not only contains muscle and stamina-building whey protein, but it also uniquely contains 10 grams of collagen! Many are surprised to learn that collagen is actually the most abundant protein in the body, playing a critical role for the body's connective tissue, tendons, cartilage, skin and bones. But, when we enter our late-20s, the body starts to produce less collagen, which can undermine our health, physical fitness and appearance. This collagen-packed protein power helps to "make up the difference" and deliver a variety of anti-aging benefits, including joint, bone and muscle recovery; improving and maintaining skin elasticity and resilience and even cardiovascular support. So this is definitely a gift that will keep on giving!
~~~
"The Luxe List" Executive Editor Merilee Kern scours the luxury marketplace for exemplary travel experiences, extraordinary events, and notable products and services. Submissions are accepted at www.TheLuxeList.com. Follow her on Twitter here: www.Twitter.com/LuxeListEditor and Facebook here: www.Facebook.com/TheLuxeList.
Some or all of the accommodations(s), experience(s), item(s) and/or service(s) detailed above were provided and/or sponsored to accommodate this review, but all opinions expressed are entirely those of Merilee Kern and have not been influenced in any way.