Meet Jesse James Spirits, America's Outlaw Whiskey & Bourbon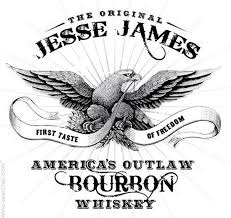 View Article In F&B Digital Magazine Click Here
If ever there were beverages that could embody the American spirit, it would have to be bourbon and Tennessee whiskey. From the heady days of 1789 when Elijah Craig is often credited with inventing the first bourbon in Kentucky to the 1794 Whiskey Rebellion, the legend of the good-hearted American Outlaw – fighting to keep freedom front and center – is perfectly embodied by the deep, rich flavors of premium, craft whiskies of the Jesse James America's Outlaw line.
Owned by American entrepreneur, musician, and TV celeb Jesse James Dupree and his business partner Neil Levecke of the Levecke Corporation, "Jesse James Spirits" has managed to merge his passionate, personal respect for American whiskey with his own deep roots in Rock N' Roll. Dupree is the lead singer, guitarist, and primary songwriter in the wildly popular rock band Jackyl, founded in 1991. And, just like his name, which he explained is shared by hundreds of Americans to this day, his spirits were born out of his love for the rich history of American whiskies. With origins in Tennessee and Kentucky and now distilled in traditional small-batches throughout the country, American whiskies are more relevant and popular than ever.
Dupree's spirits are the very embodiment of some of the smoothest, most authentic beverages to be found stateside. In 2010, Dupree created and launched "Jesse James Spirits", a craft made line of alcoholic beverages that now includes the "Jesse James America's Outlaw" brands of bourbon and whiskey. His vision, he noted, is built upon the idea that there is a whiskey for every palate – and price point.
"Bourbon is a very personal thing," said Dupree. "Brown liquor isn't just a brand or a process – it really becomes very special to every person in a different way. I love that our bourbon is so revered by so many people, since we make our spirits for everyone who busts their knuckles all week working hard for every dollar. Everything we do is in honor of them, and is our way of providing bourbon and Tennessee whiskey that is not commercial, but is authentic through and through."
The Jesse James America's Outlaw line includes: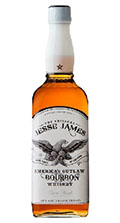 New to Market: Jesse James America's Outlaw Single Barrel Tennessee Whiskey
This is the only premiere single barrel whiskey that can brag its unique flavor profile is derived in part from the distilleries location next to the active train tracks in the old town of Trimble, Tennessee. The locomotives thunder by the barrel house 5 times every day, thus the Char 4 oak casks are, as Dupree refers to it, "Locomotive Agitated". The result is a rich, deep mellow charcoal flavor that imparts an incredibly smooth full character.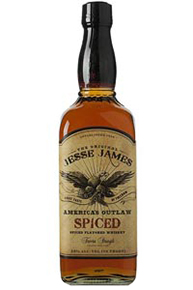 Jesse James American Outlaw Spiced Whiskey
Made with Jesse James America's Outlaw Original Whiskey, the JJB Spiced is a unique blend created from a secret recipe that includes vanilla, cinnamon and clove. Aged in American Oak casks a minimum of 36 months, the 70 proof spirits impart a gentle, lush and full-bourbon flavor with notes of spices that are reminiscent of drinks enjoyed by a crackling fire. JJB Spiced Whiskey can be enjoyed over rocks or as a chilled shot and is perfect in cocktails where you would normally see a spiced rum.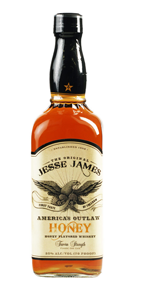 Jesse James America's Outlaw Honey Flavored Whiskey
Aged in American Oak casks for a minimum of 36 months, Jesse James America's Outlaw Honey Flavored whiskey is made with their original straight bourbon whiskey and then blended with honey flavors to create a smooth blend offering notes of deep bourbon flavors with a subtle, hint of honey.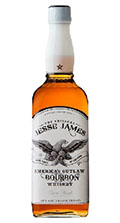 Jesse James America's Outlaw Original Bourbon Whiskey
Made in the spirit of America's true outlaw, this 80 proof bourbon is old-time charcoal mellowed. Aged in oak casks for a minimum of 36 months to develop an incredibly smooth and full-bodied character for the Outlaw in you!
The line of Jesse James America's Outlaw Whiskies is available in 30 U.S. States including Kansas, Missouri, Illinois, Indiana, Wisconsin, Texas, Florida, and Georgia. To contact the company for more information email info@jessejamesspirits.com or call 770-919-2526.