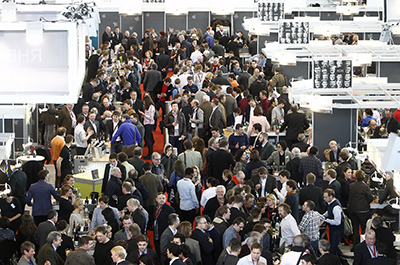 New products are regarded as the lifeblood of the wine and spirits business. U.S. industry executives on the lookout to find the next new blockbuster brands will find that the place to discover them is at ProWein, International Trade Fair Wines and Spirits. ProWein 2014 will take place Mar. 23-25, 2014 in Düsseldorf, Germany. Widely regarded as the most significant trade event in the industry, ProWein differs from other events by focusing exclusively on "the business of the business", only open to the trade, not consumers.
The trade fair is noted for the extraordinary breadth of products displayed by more than 4,800 exhibitors, from over 50 countries, many of whose brands have never been marketed in America. "The benefit to retailers, importers, wholesalers and restaurant and hotel operators alike is the opportunity to create a competitive advantage through unique and new products," explains Michael Degen, Executive Director at Messe Düsseldorf which organizes the trade fair.
In The Tasting Zone in Hall 2, U.S. trade visitors are able to taste wines in a self-directed format and pace. The Tasting Zone presents an opportunity to explore the broad diversity of premium wines on exhibit that retail at over $14 and demonstrate high QPR (Quality/Price Ratio). The Tasting Zone is representative of the entire trade fair in terms of a very clear layout and organization of halls that allows delegates to easily plan and organize their visit for maximum efficiency. Even with its extraordinary size, visitors find ProWein's set up simple and easy to navigate.
Distilled spirits represent another significant focus for the fair with their own dedicated hall in 7a, showcasing nearly 400 exhibitors. "Suppliers in Hall 7a present highly interesting new spirits and unusual specialties, presenting potential new concepts for the U.S. market," said Degen.
In addition to discovering new products, ProWein's seminars and events provide an opportunity to learn about new developments in international markets and special interest topics from a global perspective. The over 45,000 trade attendees also present a networking opportunity to hear firsthand accounts of new product successes and best practices from markets across the globe. The expertise of the trade visitors has been documented in surveys and 81% of all ProWein visitors are involved in the purchasing processes of their companies. "Our goal for ProWein is to facilitate the 'business of the business' and make it efficient and organized for delegates to maximize the business value of their attendance," commented Degen.
For further information about visiting ProWein 2014, visit our web site or follow us on Twitter.