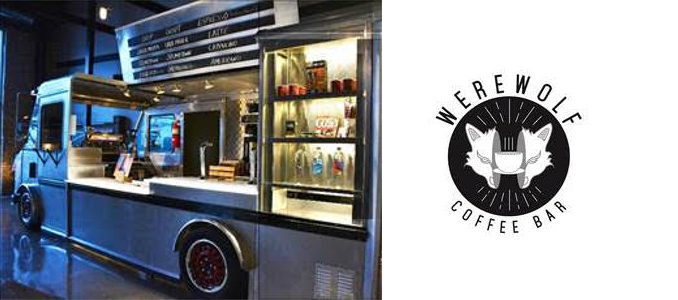 DMK RESTAURANTS OPENS WEREWOLF COFFEE BAR ON

APRIL 3
Wonder Bread Truck barista station inside Werewolf Coffee
WHAT:
Werewolf Coffee Bar the first-ever coffee concept from DMK Restaurants, opens to the public on Monday, April 3. Co-Owners David Morton and Michael Kornick designed Werewolf Coffee Bar as company clubhouse for DMK employees, where all DMK Restaurants team members can enjoy complimentary coffee – it also just happens to be open to the public. The coffee bar offers coffees from many of the country's finest brands, pastries from Floriole Café & Bakery, and grab-and-go food and beverage options, all served out of a refurbished Wonder Bread truck barista station that acts as the centerpiece for the shop.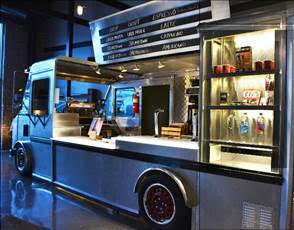 Dubbed an "agnostic coffee shop," Werewolf Coffee Bar features blends from Dark Matter (Chicago, IL), Stumptown (Portland, OR) and Metropolis (Chicago, IL). In addition to grab-and-go beverages such as Metropolis Cold Brew bottles, Harmless Harvest Coconut Water and Brew Doctor Clear Mind Kombucha, Werewolf offers hot drip coffee, draft cold brew coffees on tap, and made-to-order espresso drinks with Redline Metropolis, available hot or iced. Baristas offer four milk options: almond, soy, coconut and cow's milk, allowing guests to customize their drinks to their taste and dietary needs. Werewolf carries a variety of brewed teas and tea lattes, all from Midwest-based Rishi Organic Teas (Milwaukee, WI), with flavors including China Breakfast, Turmeric Ginger Chai and Matcha Lattes.
The team from Lincoln Park's acclaimed Floriole Café & Bakery provides an assortment of pastries and baked goods, including a variety of breads for daily rotating toasts with creative toppings. Additionally, Werewolf offers a balanced array of gourmet and nostalgic grab-and-go items from local brands like Vosges Chocolate, alongside childhood favorites such as Swedish Fish, Poptarts and instant ramen cups. Beginning in April, Chef Michael Kornick plans to use the space as a "test kitchen" to try out new items destined for other DMK concepts and available first at Werewolf.
WHEN:
Open to the public beginning Monday, April 3 at 7 a.m.
Werewolf Coffee Bar is open weekday (Monday-Friday) from 7 a.m.-4 p.m.
WHERE:
Werewolf Coffee Bar
1765 N. Elston Ave., 1st floor
Chicago, IL 60642
INFO:
To learn more about Werewolf Coffee visit dmkrestaurants.com or werewolfcoffee.com. Stay updated on events and other community happenings at Werewolf on Instagram or Facebook.
About DMK Restaurants
Childhood friends and Chicago natives David Morton and Michael Kornick launched DMK Restaurants in 2009 with the opening of DMK Burger Bar in Lakeview with a mission to redefine casual dining through their shared passion for quality, method, design, and hospitality—all at an unparalleled value. DMK Restaurants proudly serves grass-fed beef, sustainable fish, and local produce with freshness and quality top of mind at all of their concepts which include DMK Burger Bar, Fish Bar, Ada Street, Henry's, The Rec Room, County BBQ, mk The Restaurant, and tavernonna. DMK Restaurants embeds itself in the community with charity work through 365 Days of Giving; this program donates money year-round for charities that help children, raise environment awareness, educate, and feed the hungry. DMK Restaurants serves dishes at all of their locations with hospitality, love, and respect. For more information please visit www.dmkrestaurants.com. Follow us on Instagram: @DMKRestaurants.