DOS EQUIS ENCOURAGES COLLEGE FOOTBALL FANS TO GO FOR GAME DAY GREATNESS WITH NEW FALL PROGRAM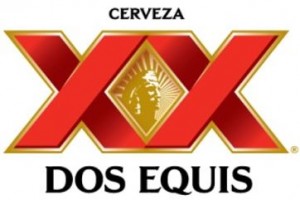 Dos Equis, the Official Beer Sponsor of the College Football Playoff (CFP), is inviting consumers and college football fans 21+ alike to make Dos Equis their beer of choice throughout the college football season through the brand's comprehensive 360° retail and on-premise program. The season long promotion, including TV commercials, digital and mobile partnerships, program specific limited edition packaging and special offers, will drive consumers to local retail and on-premise outlets to purchase Dos Equis and enter a sweepstakes for a chance to win a VIP experience at the College Football Playoff National Championship in Tampa Bay, Florida. In addition, Dos Equis will execute fan engagement on-site at the College Football Playoff Semifinals, the College Football Playoff National Championship and the "New Year's Six" bowl properties including the Allstate Sugar Bowl, Capital One Orange Bowl, Fiesta Bowl, Goodyear Cotton Bowl Classic and Rose Bowl Game presented by Northwestern Mutual.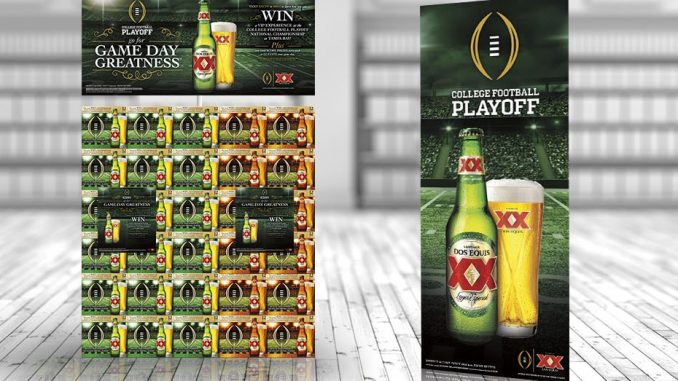 "Dos Equis is the perfect choice for those who enjoy interesting experiences with friends," said Andrew Katz, Vice President Marketing for Dos Equis. "College football is a dynamic and social occasion that calls for a brand that celebrates the high energy level of game-day viewing. Our college football program provides college football fans with everything they need to elevate their game day experience and aspire to game day greatness in Dos Equis' celebrated 'Stay Thirsty' style."
National TV spots, running September through January, will generate awareness for the Dos Equis college football program and encourage engagement throughout the program period. Digital and mobile partnerships will direct consumers to the mobile sweepstakes hub where they can receive instant access to exclusive college football content and enter for a chance to win weekly prizes and the ultimate VIP experience to the national championship game.
At retail, attention grabbing, POS materials including standees, pennant streamers, price cards, cooler decals, display toppers and case stackers will drive shopper awareness and engagement. Limited edition program packaging highlighting the partnership and sweepstakes will be available in market starting November. MIRs, IRCs and cross merchandise offers (where legal) on the purchase of Dos Equis and game day snacks provide retailers with out-of-section merchandising options. Partnerships with Jameson® Irish Whiskey and game day salty snacks, will provide consumers with one-stop shopping for their game day celebrations.
On-premise, tap handle bases, table tents, coasters, banners, and pennant streamers will encourage purchase of Dos Equis and invite patrons to enter the sweepstakes through the mobile sweepstakes hub. Consumer sampling will also drive trial in on- and off-premise accounts throughout the college football program.
Katz continued, "Since 2012 Mexican Import is the only segment in the category that has shown consistent double digit growth year-over-year. Within the Mexican Import segment, Dos Equis drinkers make 36% more shopping trips, and spend 30% more per trip than the leading Mexican Import[1]. Our college football program will allow retailers to leverage the growth of Dos Equis and the Mexican Import category among fans of college football, the second most watched sport in the U.S.[2]"
About HEINEKEN USA
HEINEKEN USA Inc., the nation's leading upscale beer importer, is a subsidiary of HEINEKEN NV, the world's most international brewer. Core brands imported into the U.S. are Heineken®, the world's most international premium beer brand, the Dos Equis franchise, the Tecate franchise and Strongbow Hard Apple Ciders. HEINEKEN USA also imports Amstel Light, Newcastle Brown Ale, Red Stripe, Sol, Indio, Carta Blanca and Bohemia brands. For the latest information on our company and brands, follow us on Twitter @HeinekenUSACorp, or visit HEINEKENUSA.com