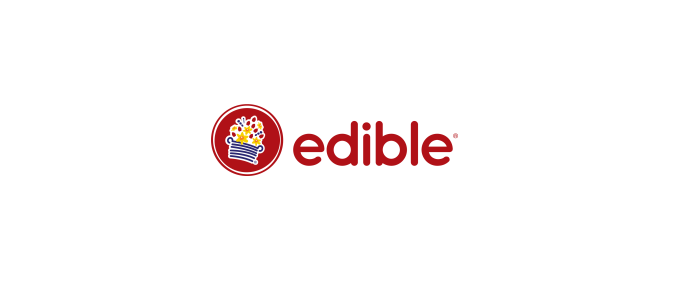 Edible®, the leading eCommerce provider of deliverable gifts and treats, announced today that its Edible Music platform has now published original music from 25 up-and-coming artists. Through Edible Music, the artists are able to make their music directly available to the more than 40 million Edible customers who visit edible.com annually.
Since the platform's launch on Mother's Day of 2020, Edible Music has published three exclusive seasonal albums: "Songs for Mom," (volumes 1 & 2) and "Songs for Sweethearts." Each album features original music from emerging artists that is available for purchase and digital download through edible.com as an add-on or bundle bonus to the brand's innovative array of gifting options. In addition to marketing the albums through its robust eCommerce platform, Edible offers additional creative ways to showcase the aspiring stars, such as including an original song by new artist Andrew Simple in the brand's latest national Valentine's campaign.
"From our founding as a single store in Connecticut to our global network of franchisees, Edible's story is one of creating opportunities for individuals to achieve the American Dream; this is just one more way we are bringing that story to life," said Edible President and COO Cheikh Mboup. "Edible Music is about opportunity and providing a new way for emerging artists to introduce their music to millions of potential fans around the world. At the same time, their music gives our customers another way to use Edible gifts to create emotional connections with friends and loved ones."
Edible Music is one of nine total subcategories launched by Edible over the past year, including BakeShop™, FruitFlowers® and Printible™. The brand's continued innovation through these new product launches contributed to a record 46% sales growth YoY in 2020.
More information on Edible Music as well as Edible's complete range of gifts and treats is available at edible.com.
About Edible Brands®
Edible Brands is the parent company of Edible, the world's largest franchisor of stores offering all-natural fruit snacks, dipped treats and fresh fruit arrangements with more than 1,100 locations worldwide. Since its founding in 1999, the company has been recognized as an industry leader, ranking first in its category in Entrepreneur magazine's annual "Franchise 500," Entrepreneur's Top 40 of "Fastest Growing Franchises" and "America's Top Global Franchises" as well as being included among the "Inc. 5000" list of the fastest growing privately-held companies. Edible fresh fruit arrangements, chocolate Dipped Fruit™, fresh fruit smoothies, fresh produce boxes, FruitFlowers, Bakeshop goods and other treats can be ordered through any local Edible store or online at edible.com. Edible has franchise opportunities available in a number of key markets in the United States and Canada. For more information about owning an Edible please visit ediblefranchise.com.