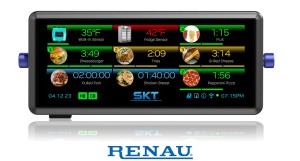 Renau Corp Smart Kitchen System
Renau Corp is the premier provider of foodservice tech solutions, all designed and manufactured in Chatsworth California. Renau provides equipment manufacturers and commercial kitchen operators with unique and complete solutions that help ensure food safety, minimize food waste, simplify training, and optimize operator profitability and customer experience.
The new Smart Kitchen System line of products allows operators to make their dumb equipment smart. The Smart Kitchen Timer pairs with the Sensor Module to provide complete time and temperature monitoring. Follow the flow of food all the way from the walk in, to the holding bin. Let Renau's SKS help drive confidence that food is always cooked and held at the proper temperature, for the correct amount of time.
Customers ranging from the Department of Defense to commercial kitchens all depend on Renau products to help keep their operation running at peak performance 24/7.
For more information about the SKS line of products, or any other Renau foodservice solutions, please visit www.renau.com, e-mail sales@renau.com, or call 818-341-1994.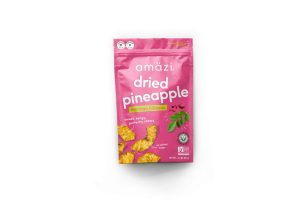 Amäzi
Amäzi is a women-owned, mission-driven, and sustainably sourced snack company that's on a mission to help you Snack on Purpose™ through made-in-Uganda tropical fruit snacks. By partnering with farmers and small businesses in Uganda, Amäzi has built a vertically integrated supply chain that closes the gap between source and consumer, and focuses on bringing production opportunities and market access back to the countries from which we source. Amäzi helps to support market access, job creation, and a more sustainable supply chain with every bite you take. With 3 simple ingredients in every bag, just fruit and spices, Amäzi highlights Ugandan sourced fruit at peak ripeness, and pairs it with thoughtful flavors and superfoods. A satisfying snack for all ages.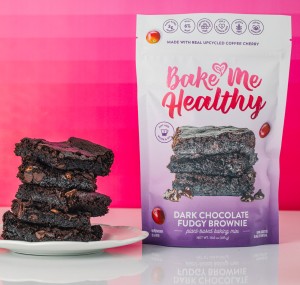 Bake Me Healthy
Bake Me Healthy has recently launched a new line of plant-based baking mixes, revolutionizing guilt-free baking. Their baking mixes are free from the top 9 allergens and incorporate upcycled ingredients like coffee cherry and "ugly" bananas, reducing food waste while delivering delicious treats. Key features of Bake Me Healthy's Plant-Based Baking Mixes include being free from top 9 allergens & School Safe, made with upcycled ingredients, no refined sugar, and easy to bake with just a few additional ingredients. Their baking mixes make it easy to bake for the whole class to enjoy without fear of food allergies.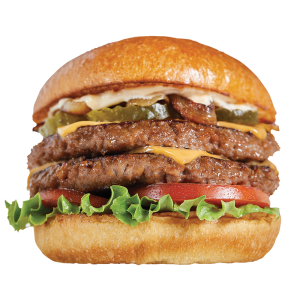 Beyond Smashable Burger
Craveable, stackable, plant-based: The NEW Beyond Smashable Burger delivers everything consumers crave in a smash-style burger with the added nutritional and environmental benefits of plant-based meat. With a juicy, tender center and crispy, caramelized exterior, the 2.5oz patty provides a customizable experience so that foodservice operators can create the perfect smash-style burger option to fit their menu. Ready-to-smash to any size, these patties cook in just three minutes and are perfect for guests to enjoy on single, double and triple stack builds. It packs 13g of plant-based protein (per patty), with 35% less saturated fat1, and no cholesterol, no GMOs, no added soy ingredients, and no added hormones or antibiotics. A smash hit for menus!
1Compared to USDA 80/20 ground beef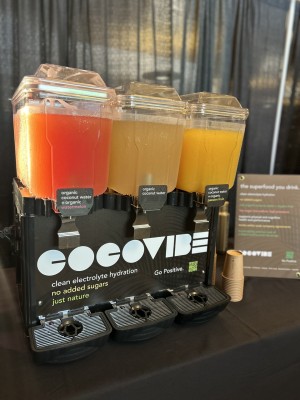 Cocovibe
Cocovibe is a breakthrough in K12 nutrition: a 100% superjuice that credits as a fruit serving, with 2/3 less sugar than traditional fruit juices and twice the electrolytes of a sports drink – at a cost less than fresh fruit. Plant-based, organic, low sugar, clean label with no additives of any kind, Cocovibe is a functional superfood you drink: an 8 oz serving of Cocovibe has more potassium than a banana and only 5 grams of natural sugar. Potassium is critical for child development, cognitive performance and physical health. Cocovibe ships in a concentrated form and is prepared fresh daily with tap water to reduce carbon emissions by 90% vs packaged drinks. Cocovibe awards a student 13 years of age a $1,000 Cocovibe Grant every week for them to personally do something good for society, the environment or a community in need.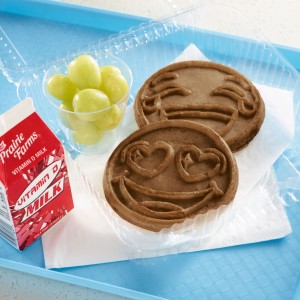 Eggo® Eggoji™
Start the year with smiles by offering Eggo® Eggoji™ Chocolate Waffles, which are crafted with delicious ingredients, including whole grains and a slightly sweet chocolate flavor your students are sure to enjoy. They contain 32g of whole grain per 2-waffle serving, contain no high-fructose corn syrup, and are a source of 7 vitamins and minerals. Warm and serve or thaw and serve for ultimate flexibility.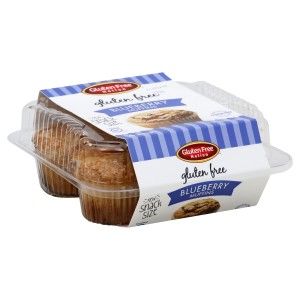 Gluten Free Nation
Gluten Free Nation is a certified Gluten Free, certified woman-owned business, providing many items, including their blueberry muffins, to Food Service customers through their distributor, Sysco Foods. Established in 2010, they have been an important vendor to schools, restaurants, hotels, hospitals, sports arenas and many more. There are very few certified gluten free manufacturers, and food service establishments are always in need. Gluten Free Nation is based in Houston, Texas, with distribution in all continental US states, plus Alaska.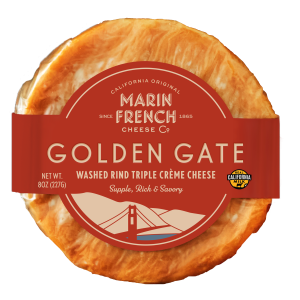 Golden Gate Cheese
Inspired by the vibrant color of its namesake San Francisco landmark, the gateway to Marin County, Golden Gate® Washed-Rind Triple Crème Cheese is a savory, washed rind triple crème cheese that gets its striking color from Brevibacterium linens cultures. In true artisan fashion, each wheel is hand-washed with brine multiple times to lock in moisture and create the perfect environment for coastal cultures to thrive. The distinctive flavor is earthy with vegetal aromas, rich, savory notes and a fudgy texture. This unexpected cheese is perfect for back-to-school snacking and will elevate any snack plate.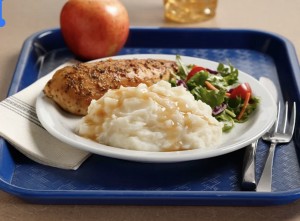 Honest Earth
Honest Earth began as a single product that has become a trusted ingredient in the K-12 market over the years. Now, Honest Earth is a one-stop shop for foodservice operators within a variety of segments, with products that stand up to modern flexitarian diets with applications at breakfast, lunch, and dinner. Additionally, Honest Earth offers a 'blank canvas' for customizable side dishes or potato-based veggie bowls – allowing chefs to add countless ingredients, mix-ins, or toppings to create unique flavor profiles.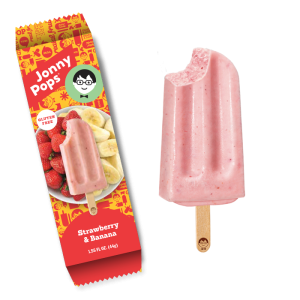 JonnyPops
Made with simple ingredients and nothing artificial, JonnyPops are a delicious better-for-you snack. Individually wrapped, JonnyPops are easy to serve as a grab and go option, and Strawberry & Banana Smart Snacks are a healthier version of a pop that students already love. All JonnyPops Smart Snack flavors have 1/8 serving of fruit, and the #1 ingredient is always real fruit. Every pop stick also has a kind deed written on it, encouraging students to be kind, and acting to decrease bullying in schools nationwide.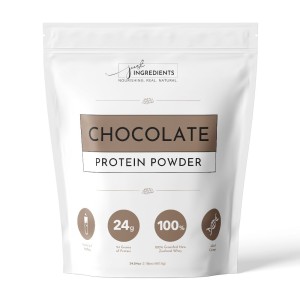 Just Ingredients
Just Ingredients offers a delicious, all-natural protein powder flavored without artificial sweeteners or sugar alcohols. Just Ingredients Protein Powder is made with 100% grass-fed non-denatured whey from New Zealand and Europe. While many protein powders use whey as their sole protein source, Just Ingredients Protein Powder is made with five different protein sources – pea, collagen, whey, pumpkin seed, and chia seed. The whey that is used in Just Ingredients Protein Powder contains no casein and very little lactose.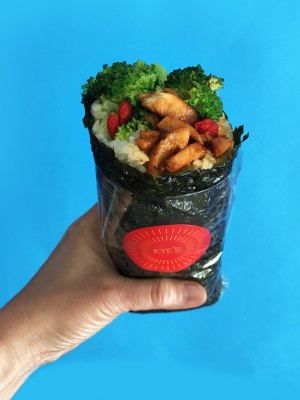 Kye's
Kye's was born out of a mother's love for her son, Kye. His food sensitivities, picky palate and desire for all things "yummy" challenged her to create a new hand held food endearingly named the KyeRito. Passionate about children's nutrition and providing clean healthy food that kids will want to eat and crave, as well as meet all the dietary considerations our children are facing, owner Jeanne worked hard to gain acceptance into the Santa Monica Malibu Unified School District. In 2019 they piloted offering KyeRitos through one of the lunch carts at Lincoln Middle School 2 days a week, with the intent to roll it out to other schools, but the pandemic hit. Once students were allowed to return to school in person, Kye's worked with Lincoln Middle School to allow parents to place orders online and delivered bagged lunches for students 2 days a week in 2022 and transitioned to 1 day a week in 2023, when the restaurant lost its lease and moved locations.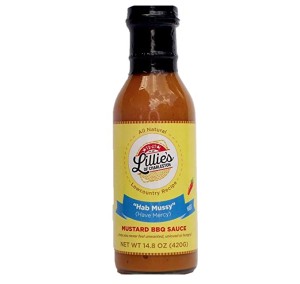 Lillies of Charleston Hab Mussy
Lillie's of Charleston is a family-owned specialty food company that's been in business since 2001. Lillie's of Charleston produces hot sauces, mustard BBQ sauces and spice mixes with unique heritage founded flavor profiles that also offer "Better For You" attributes. Their products are all 100% natural, non GMO, and gluten-free, the sauces are low in sodium and lower in sugar and the spices are Keto friendly and Gluten-free. South Carolina is iconic on the BBQ circuit for its mustard-based BBQ sauces and their family recipe is an award winner and gives K12 Student Diners the flavor and heat that they want. The goodness of their soul and products are reflected in the company motto: "may you never feel unwanted, unloved or hungry."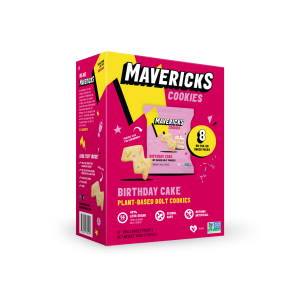 Mavericks Snacks
Mavericks Snacks breaks the mold on classic cookies, delivering the fun and flavor of childhood without the guilt. Featuring a line of plant-based, school-safe, non-GMO cookies in flavors like Birthday Cake and Double Trouble Choc, Mavericks offers 40% less sugar than the leading natural kids cookie at just 5 grams per serving. Being a Maverick means dreaming a little bigger, shining a little brighter, and breaking the mold to make the world better. Mavericks is ditching the 'cookie cutter' so families can indulge [guilt-free] on crave-worthy cookies made with feel-food ingredients. So, grab a handful, be a Maverick and (snack) break from the norm.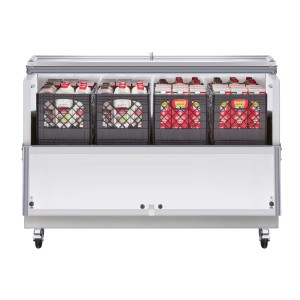 Maxx Cold Milk Cooler
The compact all stainless-steel 58-inch-wide milk cooler is a low maintenance solution for milk crate cooling and storage for school cafeterias. This commercial milk cooler is durable and energy efficient; engineered with a urethane foam insulated door and walls and using eco-friendly R290A hydrocarbon refrigerant. The cold wall construction keeps the temperature consistent at 36°F to 38°F (2°C to 3°C). The interior and exterior of the cabinet are constructed of durable stainless-steel that protects milk bottles, cartons or crates and is easy to clean. The unit provides a storage capacity of (16) 13″x13″x11″ crates or (10) 19″x13″x11″ crates. The flip top lid and fold down door allow students, teachers, and food service personnel to access fresh, cool milk with ease.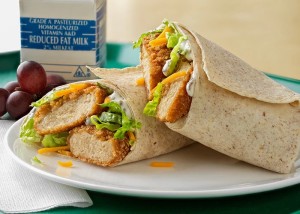 Chik'n Nuggets
A delicious 100% vegetarian addition to any balanced diet, students will love the CN Labeled MorningStar Farms® Veggie Chik'n Nuggets, which feature lightly seasoned plant-based nuggets with a crispy, crunchy outside and tender inside. They are also an excellent source of protein (14g per 4-nuggets serving; 2oz equivalent meat alternate) and are made with non-GMO soy.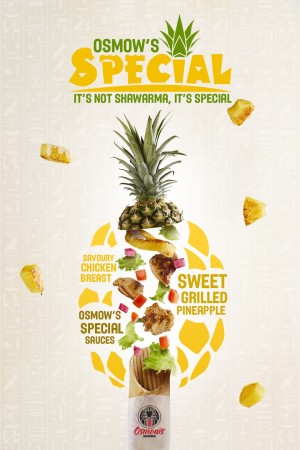 Osmow's Special
Created by Osmow's more than 15 years ago, this product is the perfect blend of Sweet & Savoury. Using a proprietary mix of expertly marinated chicken breast, grilled pineapple & signature sauces. Filling a void in the current fast-casual culinary marketplace, Osmow's flavorful dishes with signature sauces such as the fan-favorite garlic sauce keeps cravings satisfied.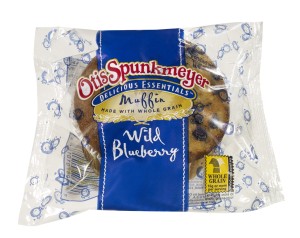 Otis Spunkmeyer
Start the school day off right with Otis Spunkmeyer Delicious Essentials Muffins, the #1 muffin for K-12* schools. Made with whole grains, and meeting USDA Smart Snacks guidelines, the muffins satisfy nutrition requirements with every bite. The individually packaged muffins are made without high-fructose corn syrup and are available in both 2 ounce and 4 ounce serving sizes. Delicious flavors include Blueberry, Banana, Chocolate Chocolate Chip, Apple Cinnamon, Corn, and Chocolate Chip.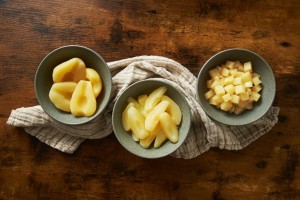 Pacific Northwest Canned Pears
Pacific Northwest Canned Pears are versatile and ready to use in recipes or enjoyed straight from the can. Bartlett pear trees—an heirloom pear variety that has the perfect sweetness and texture for canning—thrive in ideal growing conditions in the Pacific Northwest. After being harvested by hand, pears are delivered to nearby canneries where they are carefully ripened, peeled, cored—and halved, sliced or diced—before being poached in juice or sweetened syrup, right in the can. This time-honored canning process keeps pears ripe, juicy, and ready to eat. Buying canned pears from the Pacific Northwest supports American agriculture and food grown on family farms. Check the label for "Product of the USA" to be sure you're getting the highest quality.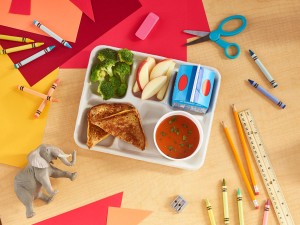 SAVADAY
Set your students up for success with our SAVADAY® molded fiber cafeteria trays. The compostable trays are designed to hold up to the heaviest of wet and dry foods and are made from at least 25% recycled material and 75% renewable resources making it an environmentally conscious alternative to foam. SAVADAY® molded fiber cafeteria trays are shrink-wrapped and packaged in smaller packs providing easier handling, thus reducing costs by allowing higher volume per truckload and reducing freight costs. Additionally, these trays are proudly produced in the USA using materials sourced from North America. These innovative and solutions-focused products are designed to perform while also caring for you, your students, and the planet.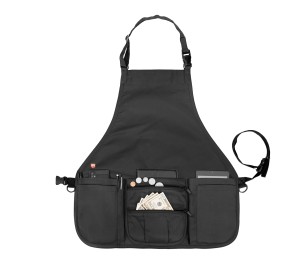 Smart Aprons
Smart Aprons have become an integral part of staff uniforms, due to their innovative 7 pocket core design, with two zippered pockets and five other pockets, which organize all essential items. Smart Aprons also incorporate an adjustable quick release waistband, 2 side D-rings, reinforced stress points and use only high-quality fabric, thread, and components. Smart Aprons are utilized in a variety of businesses, such as in restaurants, hospitals, schools, college campus, cafés, concessions, and in any other business where a highly functional and durable apron is desperately needed to help staff get through their busy and chaotic day. Smart Aprons have become one of the best-selling aprons on Amazon, placing it in the top 25 best-selling Tool Aprons, along with over 440, 4.6 reviews, and named as an Amazon Choice Product, with many customers commenting it's the best designed apron they've ever owned.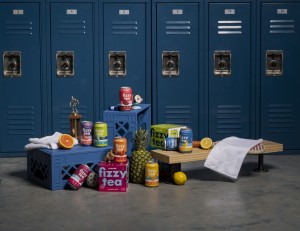 Teakoe Fizzy Tea
Teakoe Fizzy Tea is a Colorado-based fizzy tea on a mission to combine flavor with only a few delicious plant-based ingredients that are certified organic, low calorie and made with no added sugar. Teakoe's all-natural ingredients pack a serious punch of inherently healthful benefits, while maintaining refreshing and impressive flavor. Teakoe Fizzy Tea combines purposeful botanicals with fizzy tea to offer specific health benefits and caffeine levels for each flavor. Teakoe flavors range from a classic like Honey Lemon to Minty Pear, to a twist on the beloved soda classic- Orange Ginger Punch.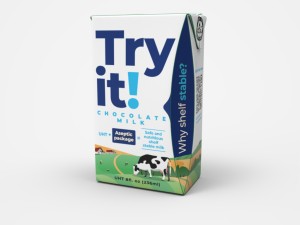 Tetra Pak®
Tetra Pak® shelf-stable cartons unlock sustainable and convenient ways to deliver dairy milk to schools and foodservice operations. The innovative Tetra Pak® shelf-stable (aseptic) carton provides six layers of protection that keeps dairy milk safe without the need for refrigeration, helping foodservice institutions reduce operational costs and streamline efficiencies. The ultra-high temperature process quickly eliminates harmful bacteria in the milk, while the product maintains the same quality and nutritional value as pasteurized milk. Tetra Pak® shelf-stable packaging allows dairy milk to be stored at room temperature for a longer amount of time, allowing for more robust distribution to rural areas and helping to tackle food security. Tetra Pak® cartons are recyclable and made primarily of renewable materials, helping food service providers meet their sustainability targets.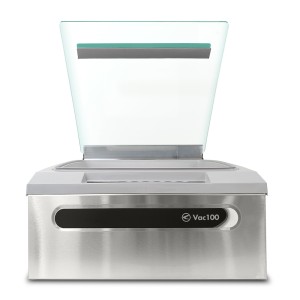 JVR Vac100
Reduce food waste and stretch your budget further with the JVR Vac100, chamber vacuum sealer. The feature packed, chamber vacuum sealer, that outperforms and outclasses the competition. Low profile and portable design that will easily fit into your foodservice kitchen. Built with commercial grade components that will provide years of reliable service.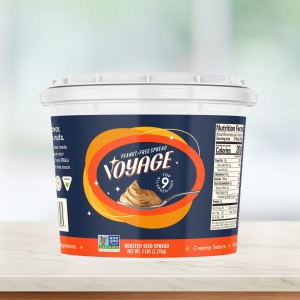 Voyage Foods' Peanut-Free Spread
This back-to-school season, kids can enjoy the classic PB&Js they know and love, made better with Voyage Foods' Peanut-Free Spread. From cafeteria lunches to on-the-go snacks, Voyage's top 9 allergen-free spread is perfect for schools looking to provide a safe-to-eat option without compromising on that classic peanut butter taste. Even better, Voyage's spread is made with simple, natural ingredients, like sunflower seeds and upcycled grape seeds, so you can feel good serving it up at lunchtime. By swapping Peanut-Free Spread for traditional peanut butter, schools can keep kids' favorites on the menu while keeping everyone safe. For picky eaters and peanut butter lovers alike, this Peanut-Free Spread is the perfect swap for traditional peanut butter that is nut-free, Non-GMO Project Verified, plant-based, gluten-free, Kosher certified and utterly delicious.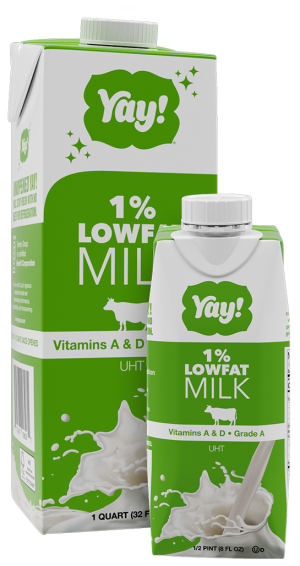 Yay! Milk
Milk is a great way for kids to get the protein, vitamins, and minerals needed for growing bodies and minds. But kids today are constantly on the move – so delicious and portable options are key. Yay! Milk offers grab-and-go convenience without compromising quality or freshness. Packed in lightweight 8 oz. shelf-stable containers, Yay! is perfect for busy school cafeterias, after school activities, and backpack feeding programs. No more worrying about spoilage or constant refrigeration. Yay! Milk boasts a 12-month shelf-life (until open), maintaining its rich taste and nutritional value. Packed in aseptic Tetra Pak® cartons, Yay! can be kept in the dry food pantry and served when ready, or thrown into a backpack in the morning and enjoyed later during soccer practice. And, Yay! cartons are made from renewable materials and are fully recyclable. Now that's something to feel good about.