Fatburger Canada Announces Nationwide Delivery with SkipTheDishes
First Premium Burger Chain to Offer Delivery to Canadians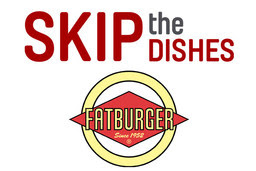 Fatburger Canada, a 47-restaurant premium burger chain, and SkipTheDishes, North America's fastest growing food delivery technology company, announced an official national delivery partnership to meet the growing customer demand for burger delivery.
"Fatburger is known for its devoted fans and 'cult-like' following, and we're excited to offer our guests a new way to get their Fatburger fix," said Steve Smith, Senior Director of Operations at Fatburger. "We're proud to partner with an innovative tech company such as SkipTheDishes and leverage their live GPS tracking and restaurant technology to provide a superior customer experience."
Fatburger, a 47 location (and growing) premium burger chain founded in 1952, is known for their fresh, never frozen, cooked-to-order burgers and hand-scooped, real ice cream shakes. Delivery is available in select locations in Vancouver, Burnaby, Edmonton, Calgary, and Saskatoon, with rollout to other major Canadian cities to follow.
"We're excited to enable Fatburger delivery for busy people across the country," said Joshua Simair, CEO of SkipTheDishes. "Each store is integrated onto our platform and use our Apps, and we're excited to bring a seamless delivery experience to customers. This partnership with Fatburger further validates the success of offering delivery through SkipTheDishes for leading restaurant chains."
This announcement follows SkipTheDishes' recent partnership with DynApple Management, Applebee's largest Canadian franchisee. SkipTheDishes is now delivering in 15 markets with over 3,000 restaurant partners across North America, with plans to continue expanding its on-demand food delivery footprint.
About Fatburger: Fatburger Canada is Canada's premier gourmet burger chain offering fresh, never frozen, made to order AAA Alberta Angus beef burgers, premium chicken tenders and sandwiches and "best anywhere" hand scooped milkshakes. The first Fatburger Canada opened in Vancouver's West End in 2005, and there are now 47 locations throughout British Columbia, Alberta, Saskatchewan, Manitoba and Ontario with many new locations in progress.
About SkipTheDishes:
SkipTheDishes is a North American technology company that enables food delivery in 15 North American cities including Winnipeg, Edmonton, Ottawa, Calgary, Saskatoon, Toronto, Vancouver, Columbus, Cincinnati, Cleveland, St. Louis, and Buffalo. Through the Skip The Dishes network, restaurants gain more business, independent couriers earn extra money on their own schedule, and hungry customers are able to save time by ordering from hundreds of local Chinese, Thai, Vietnamese, Mexican, and Pizza restaurants that have never offered delivery before. For more information, please visit: SkipTheDishes.com or download the Apps on the iOS App Store or Google Play Store.