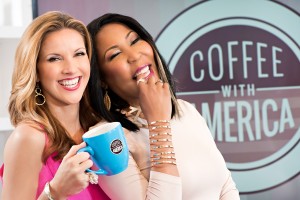 Wake up America, there's a perky new lifestyle television program in town—a tasty daytime talk show worth getting frothed up about. Okay, puns aside, I am truly excited to tell you about Coffee With America, which is a weekly TV program dedicated to "keeping viewers informed on 'what's brewin'' in news, social media and pop culture" to include a litany of food and beverage topics!
Recent episodes have included cooking segments with celebrity chefs like the Food Network's Michael Symon and Chef Hector Santiago from BRAVO TV's Top Chef Season 6. Other expert-driven foodie fav topics also satiate inquiring minds, like "how grow your own food with the backyard to table movement," "bringing Tuscany to your table," and chef-leberty/health and wellness authority Seamus Mullen sharing recipe ideas featuring extra virgin olive oil.
With powerhouse media personalities Ebony Steele and Sasha Rionda at the co-host helm, Coffee With America is putting a fun, fast-paced and interactive new twist on daytime TV.
The rapid success this show, which debuted on September 1, 2015, is no surprise given Steele and Rionda's broadcasting pedigree. Hailing from FOX TV's Dish Nation and radio's "The Rickey Smiley Morning Show," Steele was also named one of Radio Facts' Top 30 Women in Media alongside Oprah, Wendy Williams and Soledad O'Brien. Rionda also holds her own as a multilingual, multinational correspondent who has hosted several shows, including CNN International's "The Music Room." She's interviewed top recording artists Britney Spears, Usher and Moby, among others.
Today, the ladies are serving up fresh brewed conversation on Coffee With America that includes everything from food and entertaining to lifestyle and celebrities to health and fitness to fashion and beauty to tech gadgets and travel…and everything in between. Seriously, where else can you see Courtney Sixx, wife of Mötley Crüe's Nikki Sixx, talking about Valentine's Day DIY gift ideas? Other recent guest examples include Victoria's Secret Angel Elsa Hosk talking about hot summer fashion. As a gift guru, lifestyle and leisure expert in my own right, I myself have appeared on the program numerous times showcasing top food, beverage and other product picks. Other exciting audience-inducing aspects of the show include giveaways, with lucky winners scoring swag like a HTC cell phone and an all-inclusive trip to the Moon Palace Jamaica Grande Resort.
With its abundance of wit and wisdom, Coffee With America is amassing fans from coast to coast. The nationally-syndicated talk show currently airs in more than 180 markets throughout the U.S., with each episode reaching more than 34 million homes in top markets like New York, Los Angeles, Chicago and Philadelphia via Youtoo America—billed as "the world's first interactive social television network." It also airs on major cable providers like Comcast and Time Warner and on local affiliates like Atlanta's WAGA-TV where the program ranks number two in its time slot, which is quite an achievement in a top ten market with about 14 local stations. The show will soon debut on a second cable network and also with KDOC-TV in Los Angeles among multiple other soon-to-be-added affiliates—and not just independent stations but also CBS, FOX and The CW—all expeditiously advancing the program's cume per segment viewership above the respectable 1.8 million it currently boasts.
In addition, understanding that more and more television viewers continue to "cut the cord," Coffee With America utilizes a cross-media platform business model such that the show is available on the Web and in social media, accessible on any mobile video streaming device, to ensure fans can catch every episode. Yep, viewers can stream this entertaining and informative show from the comfort their favorite coffee shop while sipping a cup of Joe. Now that's progress.
Raising the interactivity ante is the fact that Steele and Rionda are both extremely interactive with their fans throughout the show's Facebook, Twitter, Instagram and other social media sites—an approach that's clearly resonating with the audience. In fact, one recent Facebook post on the danger of children mistaking prescription drugs for candy reportedly drew 35,000 unique views, alone.
About the show's rapid success, perhaps Ben Garrett, Co-Owner of Coffee with America, said it best: "Because we focus on what people are talking about in coffee shops all around the country, we can always be topical, fresh and entertaining. No re-runs—there's a fresh show every week featuring 'news they can use' to better their lives."
Better, indeed.
~~~
"The Luxe List" Executive Editor Merilee Kern scours the luxury marketplace for exemplary travel experiences, extraordinary events, and notable products and services. Submissions are accepted at www.TheLuxeList.com. Follow her on Twitter here: www.Twitter.com/LuxeListEditor and Facebook here: www.Facebook.com/TheLuxeList.

***Some or all of the accommodations(s), experience(s), item(s) and/or service(s) detailed above were provided and/or sponsored to accommodate this review, but all opinions expressed are entirely those of Merilee Kern and have not been influenced in any way.****