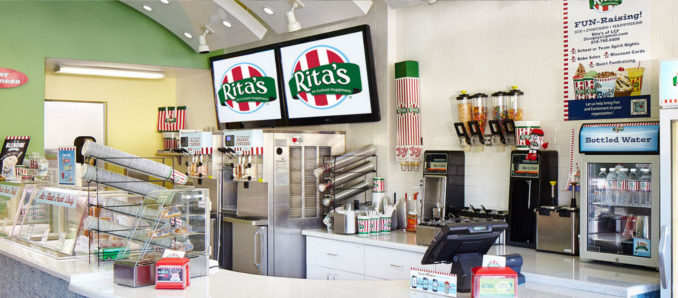 Former NFL Player Enjoys Life After Football with Rita's Italian Ice
Donald Thomas Has Seen Tremendous Success as a Rita's Franchisee

After a successful career in the National Football League (NFL), Donald Thomas has taken on a new adventure as a Rita's Italian Ice franchisee in Fishers, Indiana. Thomas has been a long-time fan of the Rita's brand, so it was an easy choice to make a sweet career move and invest in a Rita's franchise location.
Thomas grew up in Connecticut and frequently would stop in to the local Rita's store for a special treat. Once he moved out to the Midwest, he noticed there were fewer Rita's locations around, and he decided he wanted to bring that signature Rita's taste to his new town.
"I've always loved Rita's," says Thomas. "I have very fond memories of eating at Rita's as a child, so I was excited to officially join the team as a franchisee. I did my research before investing; the more I learned, the more confident I felt about investing in Rita's. Not to mention, I was just excited to bring it to this area! I love interacting with my customers every day and building relationships with them. I've gotten to know my regulars pretty well, and it's just nice to brighten up someone's day."
Thomas has taken on the challenge of being a small business owner head on. He often applies strategies and practices he learned in the NFL to his new career path. For example, he maintains a football mindset when it comes to the discipline, organization and management of his Rita's storefront. He is vigilant about staying on schedule, placing orders on time and paying attention to detail. Thomas is passionate about providing his customers with the best experience possible.
Rita's Italian Ice has been a family-favorite destination since 1984. Rita's has been serving up high-quality frozen treats for generations. The famous Rita's Italian Ices are made fresh on-site daily and the quality is self-evident. For more information on Rita's franchising, visit OwnARitas.com.
About Rita's Franchise Company
Ranked #1 in Nation's Restaurant News "Consumer Pick's 2014" for Service and Value in the Frozen Treat category and 14th overall in the Limited-Service category, Rita's Franchise Company is the largest Italian Ice concept in the world with more than 600 stores in the U.S. The company is aggressively expanding internationally with operating locations in Canada, Philippines, the Caribbean and Middle East. Rita's, headquartered in Trevose, Pa., was also named one of the Top 25 Franchise High Performers by the Wall Street Journal's "Startup Journal" and ranks #81 on Entrepreneur Magazine's "2014 Franchise 500" list. For more information about Rita's franchise opportunities, please call 1-800- 677-7482 or visit: www.ownaritas.com.