Franchise Growth Accelerates at Cicis
70+ pipeline of new units driven by continued positive SSS growth and alignment of franchisees with management's new brand strategies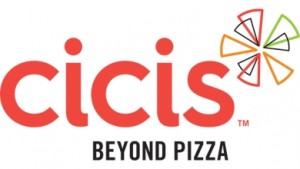 Continued positive results, an alignment with management's new brand strategies and confidence in the future at Cicis has spurred an acceleration in newly executed franchise development agreements that will result in more than 70 new restaurants being added to the brand's nationwide network through the end of 2017.
The large volume of new commitments from existing franchisees follows the company's 2016 convention, during which Cicis leadership laid out the strategy to contemporize its restaurants with its new MAVERICK reimage package; focus on driving guest frequencies by highlighting the brand's unique ability for every guest to get what they want from the variety available on its unlimited buffet; and to streamline its operations with more efficient and effective systems.
"We made a commitment when I started here in 2013 to building stronger relationships with our franchisees by listening. We have been listening as we've developed our new initiatives and it's clear that franchisees share our excitement about the new brand positioning and design but also the implementation of more effective operational systems," said Cicis CEO Darin Harris. "In addition, we've all experienced our guests' overwhelmingly positive response to our new food innovation, from upgrading the salad bar and increasing the quantity and quality of toppings, such as switching to 100% real cheese. We've also upgraded all our pizza recipes, launched Stuffed Crust Pizza and Flatbread Pizza, and ensured that our guests' favorites, like Meat Eater and Pepperoni, are always on the buffet."
To underscore the brand's positive momentum, the company recently marked its 13th consecutive quarter of same-store sales growth and the signing of 32 development agreements over the last two quarters. This represents more than 70 new restaurant commitments in 53 markets across the nation. In addition, eight new franchise partners have joined the Cicis family since Nov. 2015. New restaurant growth is projected to be particularly strong in Dallas/Fort Worth, Denver, Kansas City, Orlando and Central Texas.
"I think Cicis is clicking on all cylinders now, thanks to our new menu additions, improvements at the restaurant level and positive sales momentum," said Denver franchise partner Pat Williamson, who recently committed to opening eight new restaurants in his market over the next few years. "It's a great time to be a Cicis franchisee, and a Cicis guest."
The first Cicis restaurant to feature the new MAVERICK design – which embodies the brand's "unconventional, brave and independent" character – was unveiled in Jan. 2016 at the Lebanon Crossing Shopping Center in Frisco. That remodeled restaurant has experienced a 10% point lift in sales over other restaurants in the region. More than 30 other existing restaurants across the country are currently in the re-imaging process. The first MAVERICK new build is scheduled to open in Sept. in Trussville, Ala., and is corporately owned. Another new franchise-owned MAVERICK restaurant will open in Edmond, Okla., in Oct.
For the Cicis nearest you, visit cicis.com. Cicis: BEYOND PIZZA.
About Cicis
Cicis invented the Unlimited Pizza Buffet concept, driven by a belief in making life more flavorful by empowering guests to find the flavors they love. At nearly 450 restaurants strong in 33 states, Entrepreneur recognized Cicis on its Franchise 500 list in 2015. Cicis also won the Technomic 2014 Consumers' Choice award for best kid-friendly quick service restaurant. For more information about Cicis, visit cicis.com or Facebook.com/cicis.