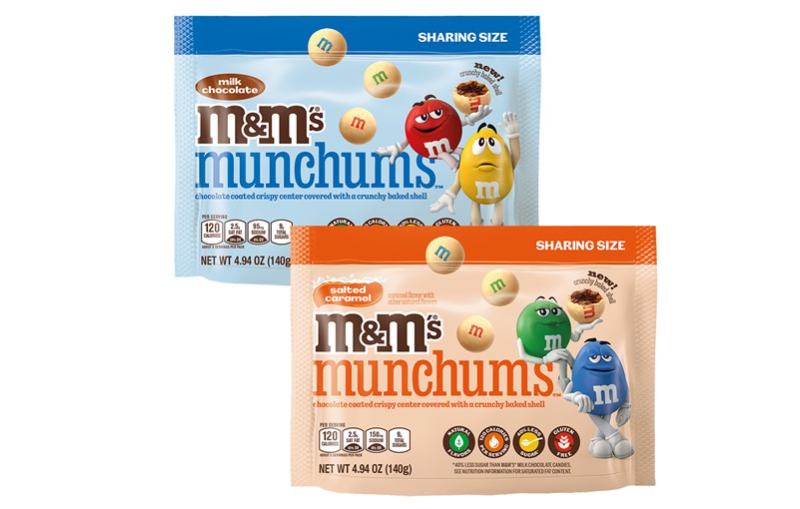 Over the last two years, the pandemic has accelerated numerous trends in the wellness space, leading consumers to ask for more choices. From lower sugar and calories options, to adding in plant-based or observing dietary needs—some consumers want flexibility to consume tasty yet more health-conscious foods that fit their lifestyle. To ensure shoppers are getting innovative products to choose from that balance satisfaction and taste with key benefits, the Mars family of brands are responding to consumer needs by innovating and providing more choices for consumers seeking better-for-you options, including:
M&M'S® Munchums: This *new* limited-time, chocolate-based snack is rolling out at retail this month. Its patented, one-of-a-kind crunchy baked outer shell (made with chickpeas!) delivers something totally new that bridges the world of chocolate and snacking, while serving as a gluten free option with less sugar. Its two flavors – Milk Chocolate and Salted Caramel – still deliver on the satisfying crunch and taste consumers have come to expect from the brand as they look to include options and more choices to fit everyone's unique preferences.
SEEDS OF CHANGE™: Making it easier for consumers to choose more delicious, plant-based food, Seeds Of Change introduced two new flavor innovations – Brown and Wild Rice with Tomato & Roasted Garlic, and Brown Jasmine Rice with Cilantro and a Hint of Lime. Its organic rice and grains blend combines the perfect amount of fluffy and nutritious quinoa super grain and organic brown rice.
NUTRO™ SO SIMPLE: Introduced earlier this month, the latest from Mars' NUTRO™ brand features a simple, healthy alternative to increasingly complicated options to feed dogs. NUTRO SO SIMPLE products provide flavorful meals and snacks using high-quality key ingredient sources. The NUTRO products come in two dry food varieties and two wet food varieties. The product line follows the NUTRO brand's NUTRO. FEED CLEAN™ philosophy: simple, purposeful and trustworthy recipes that are rich in nutrients, full of flavor and made with real, recognizable non-GMO ingredients† sourced from trusted farmers and suppliers.
KARMA: Last summer, Mars launched the KARMA brand – an innovative plant-first food for dogs made with more than 60% plants and supplemented with real chicken or white fish for the optimal balance of nutrition and flavor.