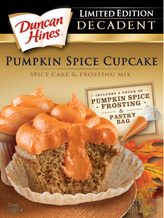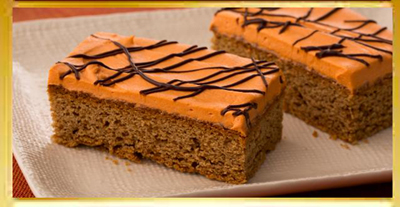 Duncan Hines' Limited Edition Pumpkin Spice Cupcake mix gives bakers of all levels the confidence they need to raise their game this fall with everything needed to bake a professional quality fall treat at home, without paying cupcake-shoppe prices.
The Limited Edition Pumpkin Spice Decadent cupcake mix kit includes spice cake mix, pumpkin spice frosting mix and a pastry bag for consumers to fill and top their cupcakes, giving their families a delicious holiday treat!
The Limited Edition Pumpkin Spice Cupcake mix will be on grocers' shelves in October 2013 and will be available throughout the holiday baking season.
The Limited Edition Decadent Pumpkin Spice Cupcake mix has a suggested retail price of $3.29 and will be available at retailers nationwide.
Contains no Hydrogenated Oils and no Trans Fat
Pumpkin Spice Bars
Hands-On Time: 10 minutes Total Time: 1 hour and 30 minutes
Ingredients
Bars
• 1 pkg Duncan Hines® Decadent Pumpkin Spice Cupcake Mix
• 1 large egg
• 2 tbsp. water
• ½ stick butter, melted
• 1 oz. of your favorite chocolate
For the Frosting:
• 1 stick butter, softened
• 1 tbsp. water
Baking Instructions
1. Preheat oven to 350 ºF. Grease 8×8-inch pan.
2. Combine cake mix, eggs, water, and melted butter in large bowl. Stir until thoroughly blended. Mixture will be thick. Spread in greased pan.
3. Bake at 350 ºF. for 24 to 27 minutes or until toothpick inserted in center comes out clean. Cool completely in pan.
4. Prepare frosting by adding the water and butter and mixing until smooth
5. Place the large bar onto a cutting board and invert.
6. Spread the frosting on the upside down bar.
7. Drizzle melted chocolate and then cut into bars (optional).