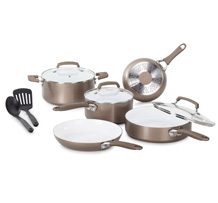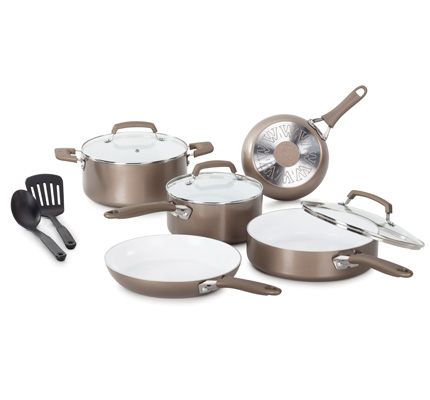 Newest Offerings From WearEver
WearEver Cast Lite Fry Pan (Launched Summer 2013):
New from WearEver Cookware, the Cast Lite Fry Pan is the newest addition to the cookware family and offers home cooks a professional-level way of searing and glazing foods.
The Cast Lite Fry Pan features:
– Cast aluminum Construction
– Dishwasher safe
– Highly durable, rust-resistant
– Non-stick interior and exterior
– 50% lighter than cast iron
– Available at Wal-Mart and Amazon.com for $24.99
WearEver Pure Living Bakeware (Fall 2013 Launch)
WearEver Pure Living Bakeware is the much anticipated, eco-friendly and non-stick bakeware that complements the existing Pure Living Cookware line. The bakeware is free of PFOA, PTFE and cadmium and is completely recyclable.
The WearEver Pure Living Bakeware line includes:
– Toxic free
– Dishwasher safe
– Highly durable, stain resistant, scratch resistant – safe for use with metal utensils
– Lacquer non-stick exterior – fast and easy to clean
– Available in Champagne and Red
– Available at Kroger and Fred Meyer
§ Large Cookie Sheet: $11.99; Square Cake Pan $9.99; Round Cake Pan $9.99; Loaf Pan $9.99
WearEver Freedom Line (Fall 2013 Launch)
Made and manufactured in the United States of America, the WearEver Freedom Line launched this month and celebrates the brand's rich history as America's favorite cookware since 1903. The new line provides excellent heat conduction and uniform cooking, with a porcelain enamel exterior that delivers even heat distribution.
The WearEver Freedom Line features:
– Heavy-gauge aluminum construction
– Durable, non-stick interior
– Limited Edition base design
– Dishwasher safe
– Black soft touch handles
– Oven save to 350°F
– Available at Kroger and Fred Meyer
§ 8" Fry Pan Black $17.99; 10" Fry Pan in Black $22.99; 12" Fry Pan in Black $27.99; 11" Square Griddle $22.99; 3qt Sauce Pan $29.99