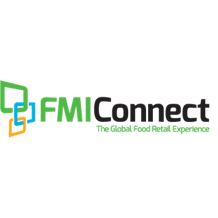 The Food Marketing Institute (FMI) and United Fresh Produce Association (United Fresh) are pleased to announce a three-year agreement to co-locate the organizations' respective trade shows: United Fresh 2014 and FMI Connect, the Global Food Retail Experience. Registration opens today for the June 10-13, 2014 events in Chicago.
"Our partnership with United Fresh brings a vine-ripe vibrancy and fresh-picked energy to FMI Connect's focus on the total store experience," said Leslie G. Sarasin, FMI's president and CEO. "Forward-looking research affirms what we are seeing at store level – food retail customers are seeking to increase their knowledge and use of fresh products, making the produce sections critical points of differentiation among food retailers."
Forty-one percent of FMI's 2013 U.S. Grocery Retail Trends consumer respondents ranked better quality and variety of fresh foods, inclusive of produce, as the third-most influential factor behind price and selection for choosing a primary store, a supermarket that may not be the closest in proximity to the shopper's home. Sarasin noted, "United Fresh and FMI's seasoned collaboration strengthens our ability to provide event-goers with solutions to growing basket size; increasing customer trips; improving margins; and increasing market share."
"Today, there's no question that fresh produce is a key differentiator for retailers in every channel," said United Fresh President and CEO Tom Stenzel. "With consumers increasingly looking for fresh produce for snacks, in ready-to-eat meals, and every cooking occasion, United Fresh 2014 will be a must-attend forum for retailers large and small who want to seize the produce opportunity for growth."
Ron Midyett, United Fresh chairman and president and CEO of Apio, said, "The United Board of Directors see a great opportunity with this long-term partnership to build a top-to-top management focus for produce suppliers and their customers. Together, we can bring fresh food solutions and innovations to our customers that can significantly grow the total business."
Harris Teeter Supermarkets, Inc. President and Chief Operating Officer and FMI Chairman Fred Morganthall echoed the food industry's goals for the Chicago trade show, saying, "The organizations' 2014 signature events team-up to offer workable solutions whose range touches every aisle in the local store, reverberates throughout the industry and reaches internationally into every corner of the food retail globe."
Food Marketing Institute proudly advocates on behalf of the food retail industry. FMI's U.S. members operate nearly 40,000 retail food stores and 25,000 pharmacies, representing a combined annual sales volume of almost $770 billion. Through programs in public affairs, food safety, research, education and industry relations, FMI offers resources and provides valuable benefits to more than 1,225 food retail and wholesale member companies in the United States and around the world. FMI membership covers the spectrum of diverse venues where food is sold, including single owner grocery stores, large multi-store supermarket chains and mixed retail stores. For more information, visit www.fmi.org and for information regarding the FMI foundation, visit www.fmifoundation.org.
Founded in 1904, the United Fresh Produce Association serves companies at the forefront of the global fresh and fresh-cut produce industry, including growers, shippers, fresh-cut processors, wholesalers, distributors, retailers, foodservice operators, industry suppliers and allied associations. From its headquarters in Washington, D.C. and Western Regional office in Salinas, Calif., United Fresh and its members work year-round to make a difference for the produce industry by driving policies that increase consumption of fresh produce, shaping critical legislative and regulatory action, providing scientific and technical leadership in food safety, quality assurance, nutrition and health, and developing educational programs and business opportunities to assist member companies in growing successful businesses. For more information, visit www.unitedfresh.org or call 202-303-3400.