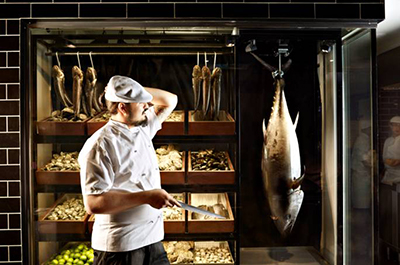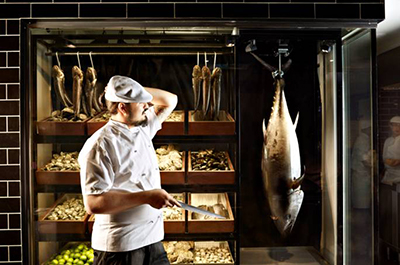 Unlike any other, the stylish QT Sydney is a designer hotel with a quirky modern design in the center of the Sydney Central Business District. With an eye for modern design, the sexy and sassy boutique hotel is made up of 200 guest suites that have been carefully crafted within the historic Gowings and State theatre buildings. This Sydney accommodation retains many of the buildings most distinctive features including the blend of gothic, art deco, and Italian architecture that form the dazzling exterior of the building making it a must stay-and-see spot when visiting down under.
While Sydney has proven itself as a world-class dining destination for decades, QT Sydney brought a fresh addition to the city's vibrant hospitality scene with the launch of Gowings Bar & Grill. The edgy all-day brasserie offer guests and locals a bold new dining experience, bringing a European-style to Australia and luring diners in with its fresh home-grown produce and modern culinary techniques.
At the restaurant's helm is the hotel's Creative Food Director, acclaimed Sydney restaurateur Robert Marchetti. One of Gordon Ramsay's favorite chefs, Marchetti created an unpretentious menu of bistro classics designed with a seafood accent alongside Executive Chef Paul Easson, formerly of Rockpool Bar & Grill Melbourne. Highlighting Easson's emphasis on quality, the menu features hand-selected sustainable fish, crustaceans and shellfish, and organic meats.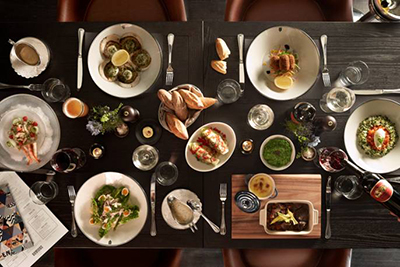 With over 50 items on the lunch and dinner menu, guests can enjoy variety of future favorite star dishes including the Rib Eye for Two served bone-in with Robert Marchetti's green sauce and lemon; Hand Dived Wild Scallops with choice of wild garlic, basil butter or sea-urchin, lemon and mint butter; and Whole Line-Caught Rock Flathead served in a lemon, caper butter sauce. Wine supremo Ian Cook complements the menu with a selection of 120 small batch, limited release Australian and international wines.
Specializing in wood fired cooking techniques, the 120-seat restaurant also heralds the return of the power breakfast to Sydney's Central Business District. Here, the buffet is banished in favor of fine dining as super foods and energy boosting grains fuel Sydney's executive set.
The interior, by acclaimed designer Nic Graham, presents sophistication without stuffiness. Set around a central wine cellar cage, the deco-infused space has bespoke furniture set beneath a mirrored mezzanine for a comfortably elegant ambience.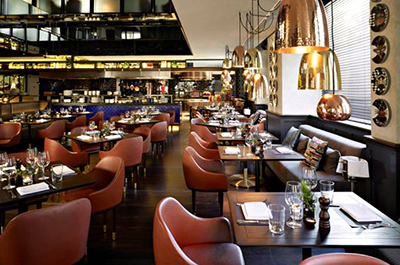 The final sensory experience at Gowings Bar & Grill comes courtesy of the restaurant's exclusive music director, serving an aural feast from morning through to night.
About Amalgamated Holdings Limited
Amalgamated Holdings Limited (AHL) developed the QT brand after identifying a gap for a design-driven, boutique hotel offering with a food and beverage focus, bringing a new and unparalleled hotel experience to Sydney. QT Sydney opened its doors in September 2012, melding two of Sydney's grandest and most prominent historical buildings. The only Sydney hotel to be a member of the exclusive Design Hotels and the first new luxury hotel to hit Australia's largest city in more than a decade, QT Sydney brings something new to the city's hotel offerings that has previously been lacking. QT Sydney is an exciting addition to Sydney's hotel landscape and "the city jewel of the QT crown" – a family also including QT Gold Coast, QT Port Douglas, QT Falls Creek and the recently-opened QT Canberra.