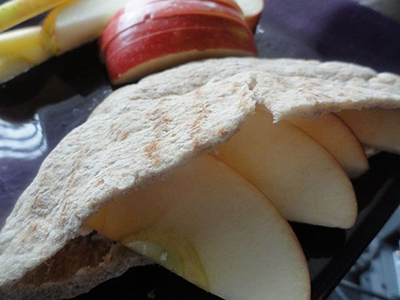 Grilled Brie & Apple Pita Sandwich
Recipe courtesy of Wearever
Makes 4 servings.
Ingredients:
1 large onion, Vidalia, or other sweet onion, thinly sliced
8 ounces Brie cheese, thinly sliced
4 medium pita breads, cut in half
1/2 cup apple cider, or apple juice
2 large Granny Smith apples, thinly sliced
Directions:
Spray a WearEver fry pan or non-stick skillet with cooking spray.
Place pan over medium-high heat and add onions.
Cook until soft and golden brown, adding cider as needed to prevent sticking.
Divide apple slices, Brie and caramelized onions into equal proportions.
Stuff into pockets.
Spray skillet again and set over medium heat.
Grill sandwiches on both sides until cheese melts and bread browns.
Grilled Brie & Apple Pita Sandwiches are perfect to serve as an appetizer, snack or lunch. These warm, melty sandwiches are sure to keep all of your holiday guests happy and satisfied.
Ceramic coating is a pure and safe alternative to non-stick
Ceramic is recyclable, toxin-free, chemical-free, and free of PFOA, PTFE and cadmium
Ceramic non-stick is easy to clean and dishwasher safe
High-heat performance great for professional-level searing and deglazing of foods
Highly durable, stain resistant, scratch resistant – safe for use with metal utensils
Nonstick exterior – fast and easy to clean, Silicone riveted handles
High-quality aluminum base for even heat distribution and heat retention
Limited lifetime warranty
Available in two stylish colors, champagne and red
About Wearever
Since 1903, WearEver has been trusted in providing innovation, premium construction, contemporary design and value in cookware. WearEver is a leading manufacturer of American heritage cookware, bakeware and pressure cookers. WearEver is headquartered in West Orange, NJ and is a division of Groupe SEB USA. For learn more about WearEver, please visit WearEver.com, follow them on Facebook, Pinterest, and Twitter.