Brand Introduces 30 New Offerings, Including Salads, Desserts, Entrees and Drinks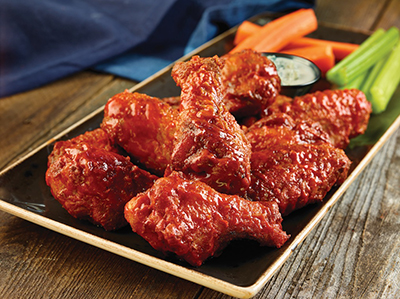 Hard Rock Cafe's menu takes center stage as the brand rolls out a newly redesigned menu, following more than 14 months of culinary development, intensive research and guest evaluation. Officially launching on Wednesday, March 26, 2014, Hard Rock Cafe locations across the United States and Europe will begin serving a host of new offerings and updated fan favorites to more than 92 million guests across the brand that enter its doors each year.
The brand surveyed more than 3,000 guests in cafes across four continents and 14 cities to collect feedback on more than 100 items from its existing and redesigned test menus. The research, conducted by Cohen Research Group, included a side-by-side comparison of current menu items and modified versions – taking into consideration variations like seasoning, textures, flavor profiles, burger patty blends, French fry cut and more. The process resulted in the addition of 30 new items and the modification of 28 existing menu items.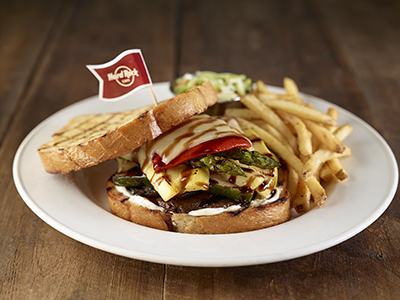 "Our food and beverage team has worked tirelessly over the last 14 months, evaluating every item on our menu from appetizers and entrees, to desserts and cocktails – even our china and glassware," said Fred Thimm, Chief Operating Officer of Company Cafes for Hard Rock International.
"For more than 40 years, Hard Rock has served guests around the world by showing off our unique rock n' roll atmosphere," said Mike Zajak, Sr., Director of Culinary Development for Hard Rock. "This menu redesign reflects our ever-present commitment to bringing guests fresh, authentic scratch-based offerings."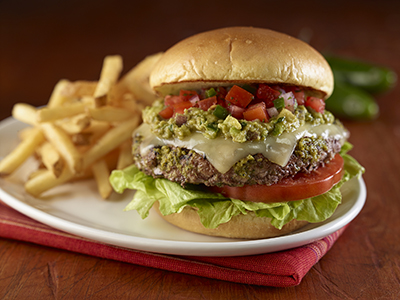 Every garnish and ingredient was put under scrutiny during the process. More than 27 types of buns were sampled before the final brioche bun was selected. Burgers were evaluated by a number of different factors, including various blend combinations of premium ground beef and brisket, as well as fat to lean ratios, thickness and shape. During the menu revamp, Hard Rock made freshness and quality a top priority. The entire entrée salad selection of the menu was reinvented, with five varieties of lettuce combinations brought in during the testing phase. Seasonal options for vegetable of the day and various burger toppings were added as well.
In updating plates, glasses and serving dishes, the brand worked with 14 different suppliers and brought in hundreds of patterns, shapes, sizes and colors to enhance the visual appeal of each dish.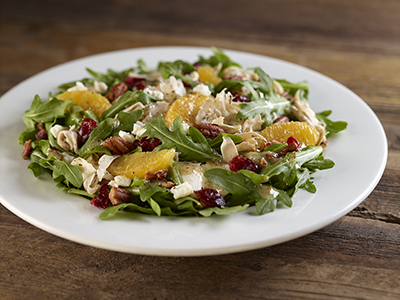 Rising Chart Toppers
Hard Rock added items in each menu category to give guests the widest variety of options. Three new salads (Grilled Chicken Chop Salad, Grilled Chicken Arugula Salad, Cobb Salad) and three of the new desserts (House-made Carrot Cake, Molten Lava Cake and Cheesecake with Oreo Cookie Pieces) all received extremely high marks. Research concluded that each of those items received order-again ratings of 90 percent and above – nearly every guest that tested those menu items would order again upon their next visit. Another sure-fire hit being introduced is the Grilled Vegetable Sandwich, which combines freshly grilled vegetables, spicy Monterey Jack cheese, with a dash of Balsamic reduction on toasted sour dough bread.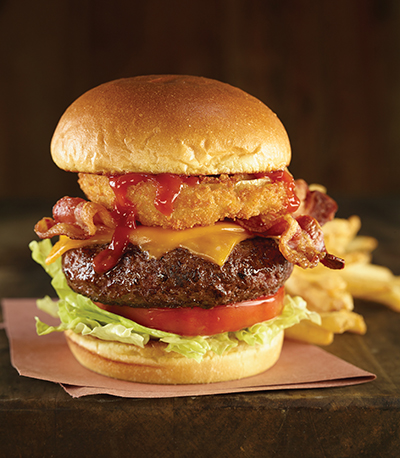 All the new items kept in line with Hard Rock's core menu concept of scratch-based, all-American favorites that resonate with diners around the world. Popular new menu items added include entrees like the Cowboy Rib eye, a USDA choice 16-ounce, bone-in steak cooked to perfection, served with a choice of two sides, and Smoked Beef Brisket Sandwich, slow-cooked beef brisket, topped with hickory barbecue sauce on grilled sourdough bread. Hard Rock also updated the sides, which allows guests to customize their meals such as Yukon Gold Mashed Potatoes and Daily Fresh Vegetables.
Greatest Hits
Hard Rock also found that some menu items were a guest favorite just the way they were – or with minor modifications to propel them from chart topper to legend. For example, Hard Rock's Nachos replaced a layer of queso with two layers of mixed cheeses and added options for new toppings such as savory pulled pork and smoked beef brisket to be reborn as their signature "Nachopalooza." Also, the famous Jumbo Chicken Wings will now debut as "Rockin' Wings" with a reformulated signature smoked 10-spice rub and a choice of Classic Rock, Tangy or Heavy Metal Sauces.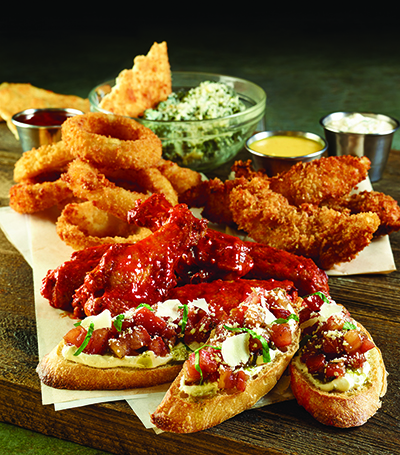 "We took a hard look at every single menu item and aimed to modify where needed, including added ingredients, sauces, how sides accompany the main dishes, and even what type of lettuce should appear on top of our Legendary Burgers," said Russell Booth, Hard Rock International Executive Chef. "For example, we tested a thinner French fry, but found our guests favored our original thicker version, so no change was ultimately made."
Additional favorites that were modified for the new menu include the Hickory Smoked BBQ Ribs, Grilled Norwegian Salmon, Hickory Smoked Chicken Wings, and the Legendary® Burger, an 8-ounce grilled-to-perfection proprietary blend patty served with cheddar cheese, smoked bacon slices, iceberg lettuce and special Hard Rock seasoning presented on a fresh Brioche bun.
Openers and Encores
Hard Rock also spent six months researching what quenches guests' thirst, by analyzing international beverage trends and current sales and trends to determine the best way to remix its drink lineup. The brand recruited its top 10 beverage partners to assist with menu development and training. Hard Rock developed more than 150 plus drinks in the key areas, including tiki, coffee, dessert, mojitos, margaritas, lemonades, multi liquor teas and more.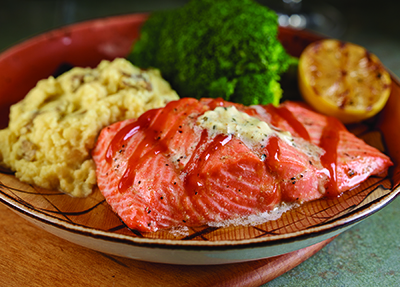 Hard Rock took this menu redesign as an opportunity to put itself at the forefront of drink innovation with the introduction of new drink serving vessels and techniques. The Air Mexico, a sampling-sized portion of Hard Rock's classic tasty margaritas, allows guests to choose three flavors, including Watermelon, Mango, Cucumber, Blue Curacao, Pomegranate or Wildberry, served with a portion of chips & house made salsa.
In addition, the Red Berry Press, Hard Rock's unique, sweet fruit cocktail made with fresh hulled and sliced strawberries, fresh raspberries, lemonade, lemon-lime soda, and Clementine Vodka, garnished with a lemon wedge is served in a coffee-press style vessel that infuses fruit into the cocktail throughout the drinking process. The brand also updated its existing glassware offerings to enhance its new cocktails, including new carafes for wine and different hot drinks glasses that contemporized the offerings.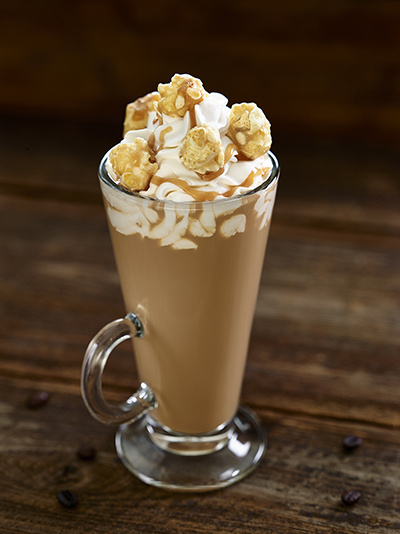 Capitalizing on industry trends, a subset of Hard Rock' beverage menu focused on the concept of sweet and savory. The new beverage menu features cocktails with ingredients such as spiced brown sugar, salted caramel, chocolate and even bacon. In addition, Hard Rock is introducing several new alcoholic and non-alcoholic milkshakes, including the Vanilla Root Beer Shake, blended with rum, spiced brown sugar syrup, vanilla vodka, half and half, vanilla ice cream, blended with a few ounces of root beer, garnished with a dollop of whipped cream. Another option is the Salted Caramel Cafe, Tia Maria, Baileys, Salted Caramel Syrup, half and half, and hot coffee, topped with whipped cream and pieces of caramel corn caramel sauce.
Hard Rock Cafe's new and improved menu features Hard Rock's hand-crafted American fare that rocks, with a commitment to fresh ingredients and the signature flair that guests can only get at Hard Rock. For more information about Hard Rock Cafe and the new menu, visit www.HardRock.com.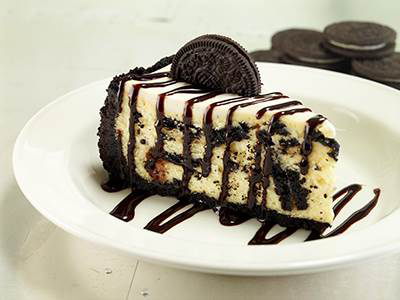 About Hard Rock International
With a total of 180 venues in 56 countries, including 140 cafes, 19 hotels and 9 casinos, Hard Rock International (HRI) is one of the most globally recognized companies. Beginning with an Eric Clapton guitar, Hard Rock owns the world's greatest collection of music memorabilia, which is displayed at its locations around the globe. Hard Rock is also known for its collectible fashion and music-related merchandise, Hard Rock Live performance venues and an award-winning website. HRI owns the global trademark for all Hard Rock brands. The company owns, operates and franchises Cafes in iconic cities including London, New York, San Francisco, Sydney and Dubai. HRI also owns, licenses and/or manages hotel/casino properties worldwide. Destinations include the company's two most successful Hotel and Casino properties in Tampa and Hollywood, Fl., both owned and operated by HRI parent company The Seminole Tribe of Florida, as well as other exciting locations including Bali, Biloxi, Chicago, Cancun, Las Vegas, Palm Springs, San Diego and Singapore. Upcoming new Hard Rock Cafe locations include Seoul, Vienna, Anchorage and Siem Reap. New Hard Rock Hotel projects include Daytona Beach, Aruba, Abu Dhabi, Ibiza and Shenzhen and Haikou in China. For more information on Hard Rock International, visit www.hardrock.com.