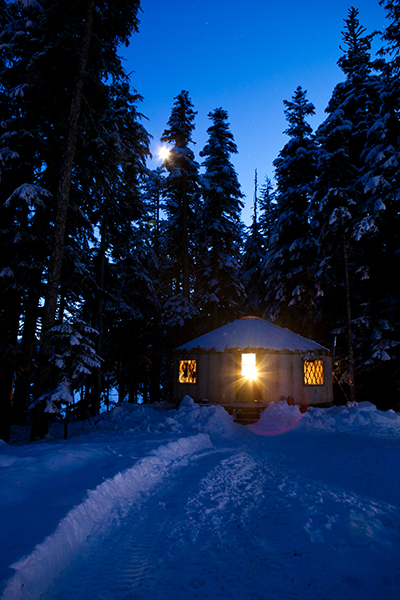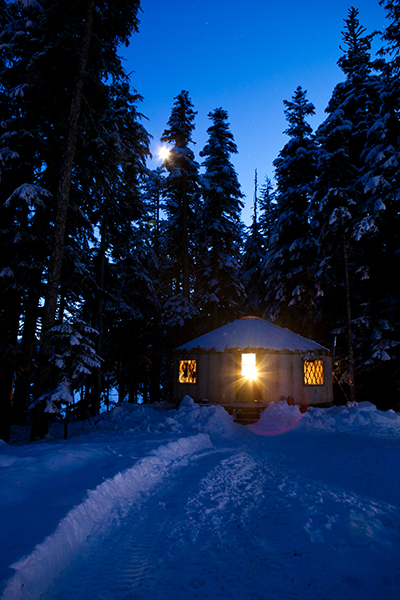 Love will literally be in the air this Valentine's Day weekend in Whistler with Superfly Zipline's special Evening Dinner Tour. While the tour is available throughout the winter, Superfly will be kicking it up a notch this Valentine's Day for couples looking to take their love to new heights. Romantic touches will be added to the regular tour that includes a heated snowcat ride, zipline through the dark and gourmet dinner prepared by the Bearfoot Bistro.
The evening of romance starts with roses for the ladies and a heated snowcat ride up Rainbow Mountain, a short distance north of Whistler Village. The snowcat will make its way through snow covered old growth forest to a mountain top yurt where a gourmet dinner will be served. With a maximum group size of ten people the atmosphere is intimate, lit by a roaring fire and flickering candlelight. Catered by the renowned Bearfoot Bistro, couples will enjoy their dinner featuring a menu that includes fresh oysters, slow braised angus beef and a seductive chocolate-inspired dessert – all this while being serenaded by live music. The Bearfoot Bistro kitchen team is under the supervision of Executive Chef, Melissa Craig, who has established herself as one of the top names in Canadian cuisine. For this Valentine's Day they are adding some aphrodisiacs to the menu including oysters and a rich chocolate dessert. Even though the setting might be backcountry rugged, the dining will be anything but.
After dinner, the magic begins. Soaring through the dark under a starlit sky from platform to platform, lovers will be treated to an unforgettable zipline tour sure to get the heart thumping. At over a kilometre long each, and reaching speeds of up to 100 km/h, with heights of 600 feet above the forest floor. Superfly's two new tandem ziplines are the longest in Canada, travelling between two separate mountains – try to hold hands or challenge your partner to a zip race. Riders are immersed in larger than life views of Wedge Mountain and the stunning Coast Mountain Range, with real wilderness under foot. With flushed cheeks and full bellies, this experience will make for a memorable Valentine's in the mountains.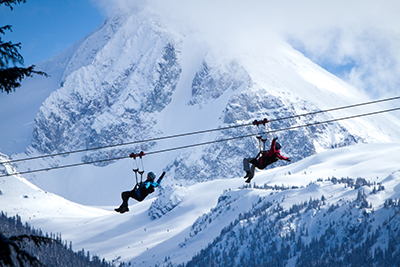 To cap off the evening, couples will receive a complimentary photo to commemorate the special occasion. The 4-hour round-trip tour departs at 5:00 pm and 6:00 pm, and is priced at $199 per person.
About Superfly
Superfly is part of the The Adventure Group, a Whistler-based company that offers and packages the best activities Whistler has to experience. For more information or to book your flight call Superfly at 604.932.0647 or www.superflyziplines.com.
About Bearfoot Bistro
No visit to Whistler is complete without an evening at the Bearfoot Bistro, the resort's premier fine dining restaurant. Enjoy a spectacular meal created by award-winning Executive Chef Melissa Craig, try your hand at sabering a bottle of Champagne, or visit the Belvedere Ice room, the coldest vodka tasting room in the world.
Bearfoot Bistro founder André Saint-Jacques believes beautiful food and great wine shared with friends and family is always a celebration. From our dedicated oyster-shucker, to our sommeliers, our bar team to our live music program, we are here to create your perfect experience, whether for après-ski, dinner, drinks or late-night dancing.