Hilton Hotels & Resorts the flagship brand of Hilton Worldwide, today announced the launch of Herb N' Kitchen, its new dining concept that infuses fresh, local gourmet food into an upscale restaurant and convenient culinary market. Now open inside New York Hilton Midtown, the largest hotel in Manhattan, the first Herb N' Kitchen offers locals and travelers healthy fare for breakfast, lunch and dinner; and the choice of restaurant dining at their leisure, meals packaged to take away or in-room delivery for hotel guests.
With a shift in the way today's travelers dine, the quick service segment is moving to the forefront of the hotel experience. According to a recent report from food industry research group Technomic, 85 percent of casual dining consumers say they visit fast casual dining outlets at least once a month and one third of consumers say they order from the healthy menu more often than they did one year ago at fast casual restaurants*. Capitalizing on the trend of increased transparency, Herb N' Kitchen invites guests into the dining experience by enabling them to see their meals prepared, while offering locally sourced ingredients and fresh packaging.
"With casual dining on the rise, our guests can enjoy quick, healthy and gourmet food options at value-driven prices," said Beth Scott, vice president, global product development, food & beverage, Hilton Worldwide. "Herb N' Kitchen provides a fresh, approachable and gourmet concept that engages guests by offering five integrated zones for the ultimate in customization."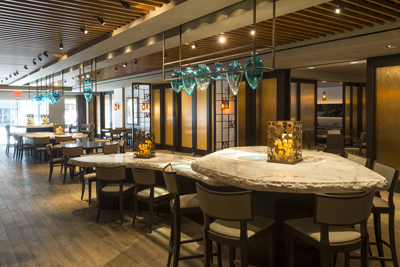 Herb N' Kitchen provides a wide variety of high-quality food from salads, sandwiches and flatbreads to signature specialty items and regional gourmet treats to main courses that appeal to local and international guests. At New York Hilton Midtown, guests can enjoy iconic New York City fare such as Pat LaFreida Burgers with New York cheddar served on cornmeal kaiser rolls, house-made sweet Italian sausage and an ever-changing cheese plate from Greenwich Village-based Murray's Cheese. Baked in Brooklyn pita chips, Salty Road salt water taffy, Kings County Jerky and Tumbador Chocolate are among the locally made, artisanal offerings available.
Additionally, the self-service model offers diners the flexibility to enjoy different experiences as the space transitions from lunch to dinner to include options such as live-action stations. Guests also have the option to enjoy meals in the comfort of their hotel rooms at New York Hilton Midtown via the Herb N' Kitchen delivery service.
The distinct zones that shape the Herb N' Kitchen culinary experience at New York Hilton Midtown are: Arrival, a retail-like experience with relevant merchandise in a well-designed display; Barista, offering quick coffee drinks, pastries, fruit and yogurts; Oven, offering flatbreads and burgers; and the Buffet, providing relevant and healthy options for breakfast in a sophisticated, yet relaxed environment in the Dining Room.
"We are honored to feature the first Herb N' Kitchen in our storied property," said Mark Lauer, general manager, New York Hilton Midtown. "As we celebrate our 50th anniversary this year, we continue to evolve our innovative offerings to appeal to the needs of our guests – who now have the flexibility to dine-in, enjoy a meal in their room or take a bite to go as they enjoy the city."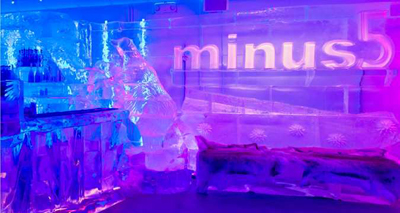 Herb N' Kitchen joins another new innovative concept at New York Hilton Midtown – Minus5 Ice Bar. Guests at Minus5 can touch, feel and explore handcrafted ice sculptures and ice architecture in a space entirely made of ice, including the glasses used for vodka-based cocktails.
The Herb N' Kitchen gourmet restaurant and market concept is an optional model for individual Hilton Hotels & Resorts properties and among many restaurant concepts developed to provide relevant F&B solutions for our hotels. Media can download images and access more information about Herb N' Kitchen and New York Hilton Midtown at http://news.hilton.com.