About Major Products Company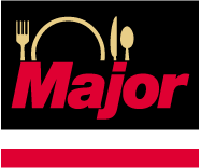 With an innovative team and state of the art manufacturing facilities, quality is of upmost importance at Major Products. This is just one of the many reasons that Major remain on top of their game and continue to be labeled 'the stock and sauce specialist' for over 60 years.
Major Products Company a family owned, International food manufacturer of soup bases, stocks, marinades, bouillion cubes, fruit bases, gravies and sauces originated in 1951.
Founded by Daniel DeRose Sr., along with his son Daniel DeRose Jr., Major Products started in a small garage in Newark, NJ. After several years of initial growth and with the foresight of a true businessman and entrepreneur, Daniel DeRose Jr. moved the production to a state of the art facility in Little Ferry, NJ. Sixty-two years later the company's corporate headquarters are still in that exact location.
From small beginnings to current times, Major Products has grown significantly. Now a global leader in the market, Major can effectively service its customers through multiple plant locations. In North America, our strategic manufacturing in New Jersey and Nevada effectively services all fifty United States and Canada.
In 1989, Major Products expanded into the European Market by starting an operations plant in Northamptonshire, England. With successful growth, Major has expanded again with additional manufacturing in the Netherlands servicing our customers in over 40 countries worldwide.
Major Products continues to be a true family business. Daniel DeRose Jr.'s two children, Daniel DeRose III, and Valerie DeRose are moving the business forward and continue to maintain the strict quality standards and values that Major Products has always adhered to.
We work closely with the catering industry's most aspiring chefs and professional chef organisations. All our products have been created by chefs, for chefs because every one deserves a little help in their kitchen!
Find Major Products Co on Facebook and Twitter.