Forks. Corks. Action! 2014 Includes Wine Maker Series, Meet the Farmer Lunch Series, A Taste Of… and Hello Sunshine Thursdays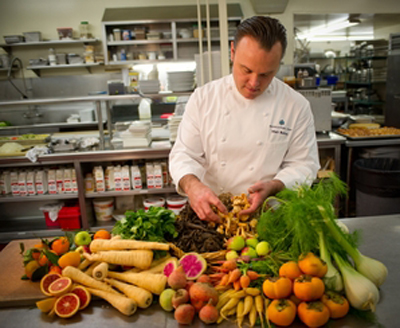 An experience for all the senses, Hyatt Carmel Highlands Pacific's Edge Restaurant pairs unmatched views of Carmel and the famed Big Sur coastline with spectacular "California Coastal" cuisine prepared with the freshest locally sourced ingredients. At Hyatt, we believe in Food Thoughtfully Sourced. Carefully Served. Hyatt is proudly offering food options that are good for Hyatt guests, good for the community and good for the planet. Food from natural, local and sustainable sources. "We are always striving to honor the individual requests of our guests," said Steve McNally, General Manager of Hyatt Carmel Highlands. "That's why our menus feature plentiful, healthful options alongside our more indulgent ones. And our children's menus encourage them to eat well and be well with right-sized options. So no matter what our guests order, a great deal of thought and care has gone into each dish. Our guests deserve nothing less."
The Hyatt Carmel Highlands culinary team is excited to introduce four culinary programs for 2014 sure to delight the senses. Forks. Corks. Action! 2014.
Celebrate 2014 with Pacific's Edge Winemaker Series in the legendary Wine Room!
Learn, Swirl, Sip and Enjoy! Meet the Winemakers and enjoy a four course dinner with wine paired to each course. During the series, winemakers will discuss the history, culture and qualities of Monterey and Santa Cruz County featured wines which will accompany Executive Chef Matt Bolton's seasonal menus. The Winemakers Series brings guests closer to the producers and personalities that craft the wine we love.
There will be 4 Winemakers Dinners in 2014.
· January 16th McIntyre Vineyards
· March 20th Morgan Vineyards
· June 19th Talbott Vineyards
· September 4th Mount Edna
The winemakers events will cost $95 per person plus tax and gratuity.
Learn, Feast and Enjoy at the "Meet the Farmer" Lunch Series
Meet the farmer, learn about key local ingredients from the actual growers and learn how to prepare a dish by Chef Matt Bolton. Sip a glass of wine, take in the view and savor a three course lunch! This farm to fork experience is sure to take attendees on a culinary excursion.
Highlands Matt
Chef Matt believes in cooking local by using fresh seasonal ingredients from Monterey County's best artisan farmers and purveyors. Do you know where your food comes from? Hyatt Carmel Highlands invite you to meet our farmers, enjoy wine and a three course lunch.
There will be 4 Meet the Farmer lunches in 2014.
· February 15th, Meet the Abalone Farmers – Monterey Bay Abalone
· April 5th, Meet the Cheese Farmer – Schoch Family Farms
· July 12th, Meet The Vegetable Farmer – Swank Farms
· October 11th, Meet the Forager
The cost is $55 inclusive per lunch.
New for 2014: In October there will be one excursion to a farmer's ranch for a farm to field dinner. The farm to field excursion will include a family style meal at the farm, opportunity to meet the farmer and enjoy the bounty created by Chef Matt. Stay tuned for details!
A Taste of ….
· April 16th – A Taste of… Rye: Features Rye based liquors. Include a flight with tasting notes and cocktail recipe suggestions.
· July 18th – A Taste of… The Agave Session: Features an Agave sweetened Margarita for spring. There is a heritage and culture associated with Tequila and Mezcal that dates back well over a thousand years, when the agave plant – also known as the maguey – was utilized by Mexico's native peoples for virtually everything: from food and drink to sugar, shoes, soap, building supplies, and even medicine. Join us for an exciting tasting of this exotic elixir, each by artisan producers, as we pay homage to the heritage, history and culture of Mexico's national spirit. It is also likely that agave-based libations will be consumed.
· October 15th – A Taste of… Mint Moment!: Enjoy conversation and cocktails over one of summer's most popular herbs: Mint! Start off with a crisp Mojito and savor appetizers featuring mint.
· December 17th – A Taste of… The Many Faces of Cognac, Armanac and Brandy: Features flights of cognac and a discussion on the flavors and types.
Cost: $35 inclusive including small bites.
Hello Sunshine Thursdays
Hyatt Carmel Highlands offers the ideal setting to unwind from the week and celebrate the longer sunshine-filled hours. Gorgeous Pacific sunsets await you with special pricing on an inviting menu of handcrafted cocktails and sharable tapas dishes.
From 5p.m. until 7p.m. every Thursday from June through October, enjoy specially priced "Hello Sunshine" handcrafted cocktails. The talented mixologists of Hyatt Carmel Highlands will also introduce a new cocktail each month to the lineup of drinks offered in Sunset Lounge, crafted specifically for the series. In addition, guests can feast on an enticing array of intriguing small plates with a complimentary appetizer offered with the purchase of any two cocktails. The celebrations continue with live music beginning at 7 p.m. until 10 p.m.
Forks. Corks. Action! 2014 Charity Partner:
A portion of the proceeds from every Forks. Corks. Action! 2014 event will benefit MEarth. MEarth is an environmental education nonprofit with roots in Carmel Valley, California, that is growing the next generation of environmental leaders through education, collaboration, partnerships and community action. The organization educates and inspires through environmental stewardship. For more information go to www.MEarthCarmel.org .
Hyatt Carmel Highlands Culinary Team
Hyatt Carmel Highlands is fortunate to have a culinary team as passionate about their work as they are experienced and professionally trained. Each team member brings a wealth of knowledge to the table. The culinary team represents decades of experience with an unsurpassed love of food, dining and the pleasures of the table. From developing innovative menus to overseeing a large staff of dedicated professionals, these highly trained and exceptionally skilled culinary artisans bring taste and style to every meal served.
The culinary team includes:
• Pastry Chef Gina Hudson
• Wine Director Paul Fried
• Executive Chef Matt Bolton
• Manager of Outlets Jacques Melac
About Hyatt Carmel Highlands Overlooking Big Sur Coast
Perched on the hillside of the Carmel Highlands with breathtaking views of the Pacific Ocean, Hyatt Carmel Highlands Overlooking Big Sur Coast combines true Carmel luxury with an approachable and sophisticated spirit. A haven for artists and discerning travelers since its opening in 1917, Hyatt Carmel Highlands Overlooking Big Sur Coast features 48 luxuriously renovated guestrooms, including 11 suites, 32 Ocean View rooms and five Garden View rooms. In addition, Hyatt Carmel Highlands Overlooking Big Sur Coast offers spectacular dining at the award-winning Pacific's Edge restaurant and California Market, 4,800 square feet of meeting space, in-room spa services, heated outdoor swimming pool, three spa tubs and a fitness facility. Situated only four miles from downtown Carmel, Hyatt Carmel Highlands Overlooking Big Sur Coast's idyllic setting and personalized service has attracted families, weddings, honeymooners and privileged travelers for nearly a century. Hyatt Carmel Highlands Overlooking Big Sur Coast is recognized among the world's finest hotels as part of Condé Nast Traveler's 2010 Gold List and Travel + Leisure's 2009 "T+L 500" World's Best Hotels.