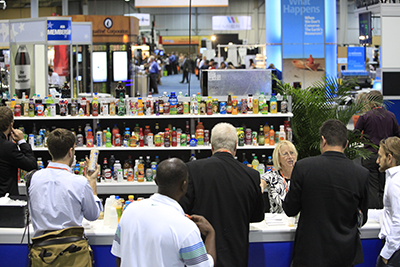 NürnbergMesse North America (NMNA) and the Food Marketing Institute (FMI) today announced the co-location of InterBev Beverage 2014 with FMI Connect: The Global Food Retail Experience. The joint event will be held June 10-13, 2014, in Chicago. InterBev is owned and operated by NMNA, a U.S. subsidiary of Germany-based NürnbergMesse GmbH, one of the 15 largest trade show companies in the world with a portfolio covering 120 national and international exhibitions and congresses.
FMI President and CEO Leslie G. Sarasin celebrated the co-location, saying, "InterBev is the premier beverage trade show in North America, and given the strength of the beverage category in recent years, their presence will provide food retailers with multiple opportunities to explore new product innovations. Interacting with InterBev's impressive roster of exhibitors will spark new levels of creativity that can help to transform the beverage channel."
FMI Connect is the new FMI show, redesigned to connect the industry and inspire the future of food retail. As the industry's pinnacle event, FMI Connect is where 15,000 retailers and wholesalers, along with 900 exhibitors from every channel of food retail, meet to uncover solutions for the entire store and every aspect of the business.
"InterBev is proud to co-locate with FMI in 2014 to bring together the beverage industry and its valued retail customers," said Dirk Ebener, CEO and managing director NMNA. "This co-location will best serve exhibitors and attendees by combining two great shows under one roof."
The American Beverage Association (ABA), the trade association representing the non-alcoholic beverage industry, continues to support InterBev through promotion to its membership.
"InterBev is an important industry event and with this co-location, it will further its reach to allow our industry to better showcase its great innovation," said Susan K. Neely, ABA president and CEO.
About the NürnbergMesse Group
NürnbergMesse is one of the 15 largest exhibition companies in the world and among the Top Ten in Europe. The portfolio covers some 120 national and international exhibitions and congresses and approx. 40 sponsored pavilions at the Nürnberg location and worldwide. Every year, around 30,000 exhibitors (international share: 39 %) and up to 1.4 million visitors (international share of trade visitors: 22 %) participate in the own, partner and guest events of the NürnbergMesse Group, which has subsidiaries in China, North America, Brazil, Italy and now also India. The group also has a network of approximately 50 representatives operating in more than 100 countries. www.nuernbergmesse.de
About FMI Connect
The Food Marketing Institute's (FMI) newly envisioned tradeshow, FMI Connect, offers attendees a global food retail experience June 10-13, 2014 in Chicago. FMI Connect provides solutions to growing basket size; increasing customer trips; improving margins; increasing market share; and developing leadership. FMI Connect is the only food retail showcase with something for every aspect of the food retail business: From consumer goods to capital goods, fresh produce to fresh ideas. In 2014, FMI Connect will be co-located with United Fresh 2014, PACK EXPO International, U.S. Food Showcase 2014 and InterBev Beverage. www.fmiconnect.net
About FMI
Food Marketing Institute proudly advocates on behalf of the food retail industry. FMI's U.S. members operate nearly 40,000 retail food stores and 25,000 pharmacies, representing a combined annual sales volume of almost $770 billion. Through programs in public affairs, food safety, research, education and industry relations, FMI offers resources and provides valuable benefits to more than 1,225 food retail and wholesale member companies in the United States and around the world. FMI membership covers the spectrum of diverse venues where food is sold, including single owner grocery stores, large multi-store supermarket chains and mixed retail stores. For more information, visit www.fmi.org and for information regarding the FMI foundation, visit www.fmifoundation.org.
About the American Beverage Association
The American Beverage Association is the trade association representing the broad spectrum of companies that manufacture and distribute non-alcoholic beverages in the United States. For more information on ABA, please visit the association's Web site at www.ameribev.org.