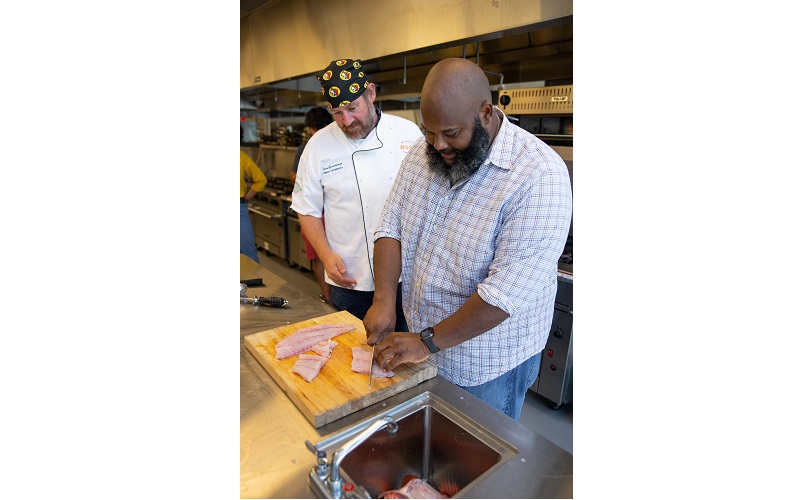 Immerse yourself in the culinary culture, history and flavors of New Orleans! The New Culinarian is a brand-new experiential program in cooking, where you learn far more than just how to cook, and it all gets underway in New Orleans in January 2022. It's a chance for people to learn the histories, stories and cultures behind certain dishes and foods through hands-on cooking classes in spacious, state-of-the-art kitchens; hosted dinners at some of the city's most celebrated and formative restaurants; and topical, off-the-beaten-path excursions.
The brainchild of New Orleans' own Restaurateur and Chef Jason Goodenough – of the highly regarded bistro Carrollton Market – The New Culinarian brings together his culinary expertise, love of travel, and passion for New Orleans cuisine. The New Culinarian's tours combine culinary training by Chef Goodenough in professional kitchens and VIP access to the best restaurants and chefs with accommodations fit for the most discerning traveler.
Through this luxury tour, you will stay at the acclaimed Hotel Peter & Paul – the historic church, schoolhouse, rectory and convent reborn as a hotel – in beautiful downtown New Orleans, learn to create the cuisine of the city in New Orleans Culinary & Hospitality Institute's (NOCHI) state-of-the-art professional kitchens, dine in the best restaurants with a private tour from the Chef, and enjoy the best food New Orleans has to offer.
"I want to take people on a culinary journey through New Orleans," said Chef Goodenough. "This is a way for people to look at food differently, to look at it through the experiences and cultures around them, to find out what truly goes into the dishes we love."
Chef Goodenough is partnering with NOCHI – a nonprofit that educates a diverse community of learners to sustain an ever-evolving hospitality industry – for this higher-level culinary experience.
"The New Culinarian's mission of cultural immersive cuisine is exactly what we strive to instill in our students every day," said Leah Sarris, Executive Director of NOCHI. "Enriching and diversifying the hospitality of New Orleans through the deep appreciation for food's cultural and historical context is what we do, and we are excited to be a part of this culinary adventure."
The New Culinarian's inaugural tour takes place in New Orleans on January 18-23, 2022. The four-day, five-night immersive culinary experience includes:
4 hours per day of culinary instruction in state-of-the-art teaching kitchens
Daily VIP lunches, dinners and drinks with private chef tours
Daily ventures to some of the city's spots that only locals know
5 nights at Hotel Peter & Paul
All transportation during your stay
It is also booking experiences for February 15-20, 2022, and March 8-13, 2022.
These luxury culinary travel tours are all inclusive, starting at $6175 per person. Discounts are available for those sharing a room. For more information, visit thenewculinarian.com.
About Chef Jason Goodenough:
New Orleans Chef and Restaurateur Jason Goodenough is focusing on helping others find their passion for food. A native New Yorker, Chef Goodenough spent his culinary career creating exquisite cuisine at top rated restaurants across the country, including the highly regarded New Orleans bistro Carrollton Market. Chef Goodenough's culinary interests started right after college when he enrolled in the Culinary Institute of America in Hyde Park. From there, he travelled, learning everything he could from the best chefs – the two most important to him being Georges Perrier and Iron Chef Masaharu Morimoto. Before opening Carrollton Market, Chef Goodenough joined Emeril's NOLA in the French Quarter while also working as a private chef. He was named New Orleans Magazine's "Chef of the Year" in 2017, Time-Picayune's "Top 10 Restaurants for 2018," and New Orleans Eater's "Essential 38 Restaurants" for six quarters and was an invited Chef at the James Beard House three times.
About NOCHI:
New Orleans Culinary & Hospitality Institute (NOCHI) is a nonprofit organization dedicated to educating a diverse community of learners to sustain an ever-evolving hospitality industry. With accelerated vocational-style programs, continuing education and professional development, and enthusiast courses for home cooks of any skill level, NOCHI is at the forefront of culinary and hospitality learning and aims to be a national leader and educational hub.