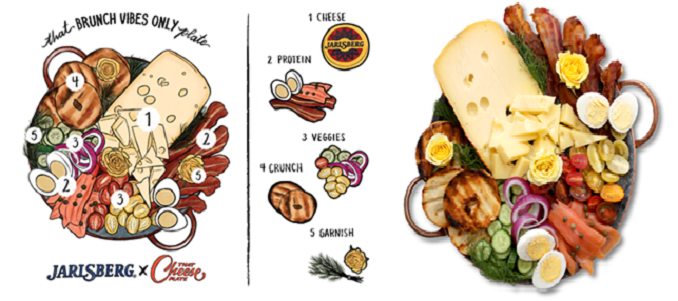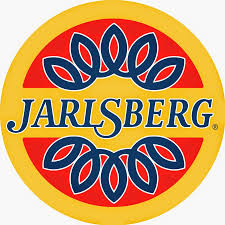 Since 1956 Jarlsberg® Cheese has transformed meals into cherished moments with its mild, mellow, nutty flavor. You can make any cheese occasion better with Jarlsberg® — it's an iconic cheese that bridges generations and taste buds. Jarlsberg® has launched a year-long giveaway series, now live for Mothers Day and Norway Day, that centers on delightful cheese plates made in collaboration with Marissa Mullen, the founder of "That Cheese Plate" and "Cheese By Numbers."
To learn more about the contest visit Jarlsberg's Facebook page, www.facebook.com/JarlsbergUSA/, and website, www.Jarlsberg.com. Giveaways will be announced throughout the year on the official Facebook page; cheese lovers across the US can enter by commenting on the Facebook giveaway post and tagging two people or by using the entry form on Jarlsberg's website.
Marissa has created five unique Jarlsberg® cheese plate concepts for Jarlsberg's® giveaway contests that are being held around major holidays throughout 2019. Giveaway winners receive gift baskets containing everything they need to re-create these memorable cheese plates at home. Inside the gift basket, Marissa has also created a "cheese by numbers" illustration that makes it easy to build, with numbered placements for the cheese, charcuterie, garnish, and special pairings.
The giveaway series will be featured now and through May around Mother's Day (That Slay All Day Plate), Norway Day (That Happy Birthday Plate) and continue Thanksgiving (That Friendsgiving Plate), and the winter holidays (That Signature Plate).
Marissa's "That Cheese Plate" account has become a viral sensation; Inspiring thousands of people to get creative with their cheeseboards, for any and all occasions. She was recently a guest on both The Today Show and Rachael Ray to show viewers how easy it is to use her "cheese by numbers" concept to create their own fabulous boards at home.
Try this recipe, it's flavorful, healthy & sure to wow your friends and family! Perfect for Mothers Day!
SPRING PERSIAN-STYLE OMELETTE
This vibrantly flavored dish is based on the classic kuku sabzi — a Syrian dish that's traditionally made to commemorate the arrival of spring, which is celebrated as the beginning of the New Year.
Prep: 15 min Cooking: 20min Serves: 6-8
8 eggs
1⁄4 cup 3.25% milk
1⁄2 bunch fresh parsley, finely chopped
1⁄2 bunch fresh cilantro, finely chopped
1⁄2 bunch fresh dill, finely chopped
2 tbsp finely chopped fresh mint
4 green onions, finely sliced
1 tsp dried dill
1 tsp turmeric powder
1⁄2 tsp kosher salt
1⁄4 tsp freshly ground black pepper
100 g Jarlsberg, grated (about 1 cup)
1 tbsp olive oil
1 tbsp butter
1 cup Greek yogurt
In a large bowl, lightly beat the eggs with the milk. Stir in all the herbs, green onions, spices, salt, and Jarlsberg.
Over medium-high heat, coat a medium non-stick frying pan with the oil and butter. Pour the herb and egg mixture into the pan, spreading it out evenly.
Cook for about 10 minutes, or until the liquid solidifies.
To flip, place a large flat plate over the pan and flip the omelette onto the plate. Then carefully slide it back into the pan. Return pan to heat for another 5 minutes, or until the centre is completely cooked and no longer jiggles.
Slice into triangles and serve with a generous dollop of yogurt.
About Jarlsberg® Cheese:
In 1956, we created Jarlsberg® Cheese, using an original Norwegian recipe. Why does Jarlsberg® cheese taste so mild, nutty, and delicious? It's all part of the legend – and Norway's most guarded recipe! www.Jarlsberg.com.