Just how much do Americans love their coffee? That's the question Keurig set out to answer by taking a look at user consumption data from the past year, opening a window into the caffeine habits of the average US home. According to the data, Americans are in agreement over (almost) everything when it comes to coffee – from their top-brewed flavor (caramel) to their preferred cup size (12oz). Following are some of the data's top findings.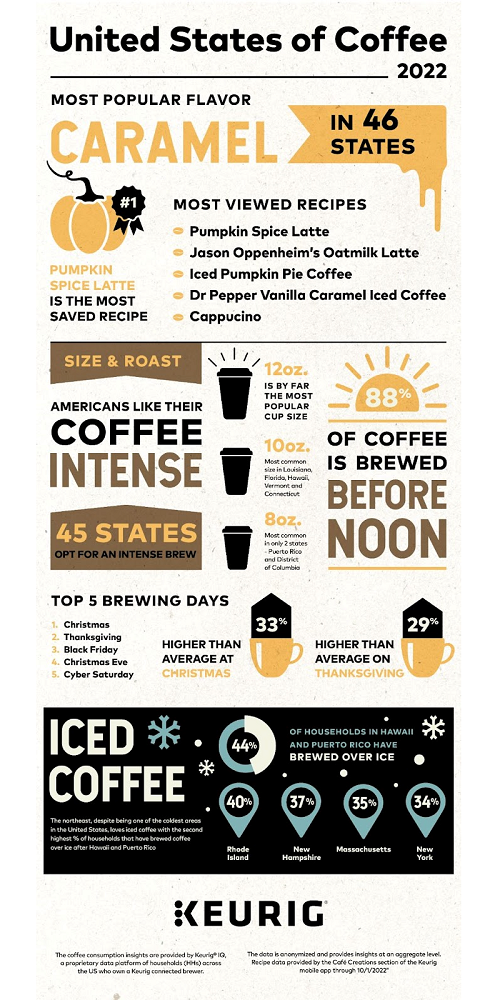 Caramel conquers: With a whopping 46 states brewing caramel-flavored pods as their most brewed in 2022, it's clear that Americans love their caramel! The options are endless: caramel latte, salted caramel macchiato, or even a Salted Caramel Martini (created by reality television star and Keurig partner Alex Hall)!
Pumpkin spice and everything nice: Although caramel was the top-brewed flavor, the pumpkin spice latte held strong as America's most saved recipe, followed by real estate broker and reality TV personality Jason Oppenheim's Oat Milk Latte.
Iced and easy does it: Hawaii and Puerto Rico top the list of iced coffee lovers, but surprisingly it's the cold northeastern contingent that fill out the rest of the list, with the second highest percentage of households that brewed coffee over ice.
'Tis the season: Caffeine keeps you merry and bright, as the data found that the top five brewing days throughout the year are the holidays. Some of these days are behind us, but the highest consumption day is yet to come with Christmas coming in at first place, followed by Thanksgiving, Black Friday, Christmas Eve, and lastly, Cyber Saturday.
It's a brewtiful morning: According to the data, 88% of coffee was brewed before noon and 46 states opted for an intense brew. And while 12oz is the most popular cup size, Puerto Rico and District of Columbia hold strong as the only two places where the 8oz was most common.
*Keurig IQ Methodology: The coffee consumption insights are provided by Keurig® IQ, a proprietary data platform of households (HHs) across the US who own a Keurig connected brewer. The data is anonymized and provides insights at an aggregate level. Recipe data provided by the Café Creations section of the Keurig mobile app through 10/1/2022
*Data was collected from all US states, as well as Puerto Rico and the District of Columbia.