KFC Announces first celebrity colonel who is actually a colonel
Rob Riggle stars as the Coach of the Kentucky Buckets, a totally real professional football team, in KFC's new campaign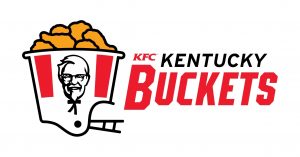 This morning Kentucky Fried Chicken's Colonel Harland Sanders announced the formation of the first professional football team fueled by fried chicken, the Kentucky Buckets. Actor, comedian and writer Rob Riggle has been named Coach Colonel and will star in advertisements as the coach of the very real Kentucky Buckets.
"As owner, general manager, head coach, defensive coordinator, offensive coordinator, marketing director, groundskeeper and scouting director of America's newest professional football team, the Kentucky Buckets, I've got one goal in mind," said Coach Colonel Rob Riggle. "To get buckets of delicious chicken across the goal line and in front of millions of fans on football Sundays. And Thursdays. And Mondays."
Taking the field in red-and-white striped jerseys, the Colonel's famous string ties and white helmets graced by delicious fried chicken, the Buckets are embodiment of America's finest gameday fare. When Colonel Coach Riggle dons his headset on the sidelines, he will be joined by his squad, Buckets cheerleaders and "Mr. Bucketeer" the mascot.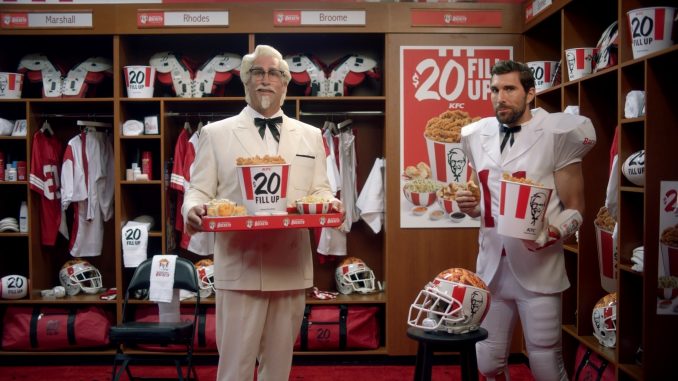 A retired Lt. Colonel in the United States Marine Corps Reserve, Riggle is the first actual colonel to take on the role of KFC's famous founder, Colonel Sanders. In other striking biographical similarities, Riggle hails fromLouisville, KY, the home of KFC since 1966.
"Rob Riggle was the obvious choice for those on the internet calling for us to use the real Kentucky Colonel in our ads," said Kevin Hochman, Chief Marketing Officer for KFC U.S. "He was born in Louisville, Kentucky and served our country as a Lieutenant Colonel in the Marines. It doesn't get any more real than that."
Fans can visit KentuckyBuckets.tumblr.com to learn more about the Kentucky Buckets and their training regimen, which includes hand breading and freshly preparing fried chicken, just as the cooks at KFC restaurants do every day. Fans are encouraged to take to the road to support America's new team and get a taste of the team's favorite pre-game meal: a $20 Fill Up™. With more than 20 million $20 Fill Ups sold since their rookie debut last fall, $20 Fill Ups have won over America's heart one bucket of juicy Kentucky Fried Chicken at a time. Along with the Kentucky Buckets' debut, KFC is introducing an Extra Crispy Tenders $20 Fill Up featuring 12 Extra Crispy Tenders, a large cole slaw, two large mashed potatoes and gravy and four biscuits.
As all professional sports teams do, The Kentucky Buckets and Colonel Coach Rob Riggle will appear on FOX NFL KICKOFF. Though Riggle and his Buckets will forgo any on field action and instead appear in a series of promos with Cooper Manning during the one-hour program hosted by Charissa Thompson with analysts Colin Cowherd, Dave Wannstedt and Charles Tillman.
About KFC
KFC Corporation, based in Louisville, Ky., is the world's most popular chicken restaurant chain. KFC specializes in Original Recipe®, Extra Crispy™, Kentucky Grilled Chicken® and Extra Crispy™ Tenders, Hot Wings™, Go Cups, KFC Famous Bowls®, Pot Pies, freshly hand prepared chicken sandwiches, biscuits and homestyle side items. There are nearly 20,000 KFC outlets in more than 125 countries and territories around the world. KFC Corporation is a subsidiary of Yum! Brands, Inc., Louisville, Ky. (NYSE: YUM.) For more information, visitwww.kfc.com. Follow KFC on Facebook (www.facebook.com/kfc), Twitter (www.twitter.com/kfc) and Instagram (www.instagram.com/KFC).