ChocAmo Cookie Cups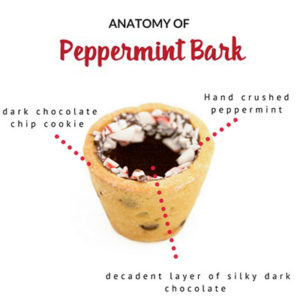 No holiday beverage should be served in a glass when it can be served inside an edible cookie cup instead! ChocAmo Cookie Cups are a modern twist on serving ware and classic desserts! Celebrate the sweet moments that life has to offer…. and craft & create your own delicious concoctions to serve at your holiday gathering! Fill each cookie cup with your favorite hot chocolate, libation, liqueur, ice cream, coffee… even cookie cups and milk for Santa!
Born & baked in Philadelphia with love, 8 yummy flavors are available, including the NEW 24K Rose Gold, Pumpkin Spice, Chocolate Chipster, Mocha Dream, Birthday Cake, Rainbow Road, Glitz & Glam, & Midnight Diamond. Can't decide? The Tasty Trio includes 2 of each of the 3 most popular flavors! Makes an excellent gift as the cookie cups are packaged beautifully in a gift box. $24.95 for a box 6. www.chocamo.com/
Ice Chips Candy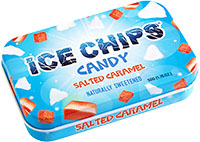 Just in time for the holidays, your favorite sugar-free candy is now available in decadent Chocolate Brownie and Salted Caramel flavors that will delight your taste buds… without the sugar rush! Made with xylitol and safe for diabetics, Ice Chips Candy has outdone themselves with the delicious new flavors…a guilt-free treat that everyone can enjoy! With a bold new look and packaging, Ice Chips are a delicious, all-natural and sugar-free candy that is made with Certified Organic Natural Flavors and Birchwood Xylitol, which is safe for diabetics and provides oral health benefits. There is a reason that Ice Chips Candy has been called the 'Good for You Candy!'
In addition to the two new flavors, Ice Chips are available in over 20 additional delicious flavors, such as Lemon, Root Beer Float, Peppermint, Cinnamon, Sour Cherry, Strawberry Daiquiri, and more! Ice Chips Candy are Vegan, and do not contain Corn, Sugar, Soy, Wheat, Gluten or Dairy. Kosher (All flavors except Clove, Ginger & Menthol Eucalyptus) Ice Chips Candy can be purchased online at IceChips.com and Amazon.com, as well as in retailers and dental offices nationwide. Check out their Christmas Stocking for the holidays! www.icechips.com/
Simply Beyond Foods Holiday Spray-On-Spice Set

Add warm comfort and holiday cheer with Spray-On Spices! Whether the home chef on your gift list wants to add pure, organic spices to his baking, enhance savory seasonal dishes, or season nuts, seeds, or baked goods, the Holiday Spray-On-Spice Set from Simply Beyond Foods is the ideal gift!
Organic, eco-friendly, and non-aerosol, the flavors included are classic & seasonally delicious – Pumpkin Spice, Gingerbread, and Cinnamon. Additional seasonal flavors are available, including Organic Cranberry Fruit Vinegar. Non-GMO. $29 per set. www.simplybeyondfoods.com/product/all-3-holiday-spices/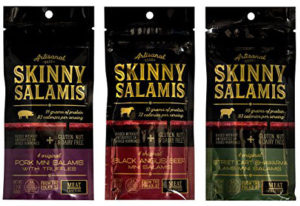 Meatcrafters Artisanal Skinny Salamis
This is an on-the-go snack that's high in protein, low in calories, and gluten-free! Skinny Salamis are lovingly made in small batches from the highest quality meats and the finest herbs and spices. They are slow cured, antibiotic free and have no added hormones. Available in six delicious varieties using Duroc Pork, Black Angus Beef, and All-Natural Lamb. www.skinnysalamis.com