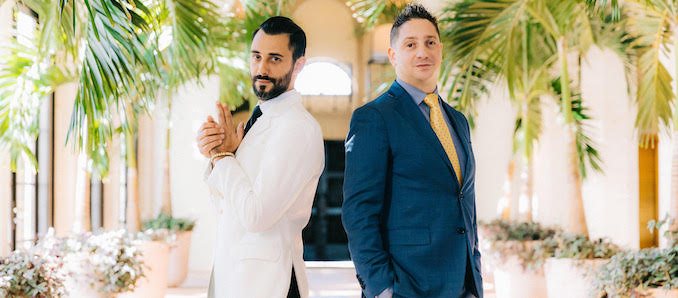 Champagne Bar's world-class mixologists bring their legendary hospitality to iconic hotel bars across the country
Le Sirenuse Champagne Bar, the palm-fringed oasis located in Four Seasons Hotel at The Surf Club, has teamed up with Q, Brooklyn-based maker of spectacular mixers, to launch The Art of Bartending, a new cocktail series hosted by five of the country's best hotel bars nationwide.
The Art of Bartending will see Le Sirenuse Champagne Bar's award-winning Jacopo Rosito and Valentino Longo make their way across the USA for a series of one-night-only guest bartending events at host bars in each of five cities including Los Angeles, San Francisco, Chicago, Austin and Las Vegas. Featuring a custom menu of elevated highball cocktails, the series will showcase their passion for the craft, wholehearted belief in the power of hospitality and commitment to service for which Le Sirenuse is globally renowned.
"We believe that spectacular service and hospitality are the best garnish for any highball," says Anthony Pullen, Q Mixers Trade Marketing Director. "We are looking forward to supporting the experts from Le Sirenuse Champagne Bar as they demonstrate that by elevating the experience and executing the basics with finesse you can leave a lasting impression on your guests."
Both native Italians, hailing from Florence and Rome respectively, Rosito and Longo have honed their craft through a wealth of global experience working behind bars in Italy, London, San Francisco and Miami. Now at the helm of Le Sirenuse Champagne Bar, their imaginative cocktails and charismatic service capture both the essence of the original Amalfi Coast resort and the spirit of The Surf Club's glittering past, as they aim to establish the bar among the world's best.
A light Positano touch remains in the authentic flavors of the five drinks specially created for The Art of Bartending. Each cocktail is designed to be both refined and elegant in its simplicity, allowing the beauty of exceptional ingredients and elevated service to shine through.
"At the heart of The Art of Bartending is a shared appreciation for hospitality that is a fundamental part of any great bar," says Jacopo Rosito, Bar Manager, Le Sirenuse Champagne Bar. "An amazing cocktail is just one element of it. At the end of the day, the main thing you will remember about an outstanding establishment is how special you felt while being there."
The line-up includes:
Los Angeles, February 5

– Co-hosted by

Dennis Sheehe

THEBlvd at Beverly Wilshire, A Four Seasons Hotel

San Francisco, February 7

– Co-hosted by

Fernando Merino

The Den in MKT Bar at Four Seasons Hotel San Francisco

Chicago, February 19

– Co-hosted by

Rachel Smith

Allium Bar at Four Seasons Hotel Chicago

Austin, February 28

– Co-hosted by

Sarah Rahl

Live Oak at Four Seasons Hotel Austin

Las Vegas, March 4

– Co-hosted by

Ross Ziga

PRESS at Four Seasons Hotel Las Vegas
Each event is open to the public. RSVP by visiting Four Seasons Hotel at The Surf Club's Facebook page. Follow The Art of Bartending on Instagram at @LeSirenuseMiami and through the hashtag #ArtofBartending.
About Le Sirenuse Champagne Bar
Le Sirenuse Champagne Bar is found within the historic heart of Four Seasons Hotel at The Surf Club. A very special location in the original 1930s clubhouse, it was once the ballroom of the original Surf Club where some of the 20th century's most talked-about parties were held, including black-tie boxing nights and lavish themed galas. Alongside South Florida's largest selection of fine champagnes, Le Sirenuse Miami brings to Surfside the genuine southern Italian cuisine and light Positano touch that generations of guests have learned to associate with the Amalfi Coast. For more information, please visit our Press Room: https://press.fourseasons.com/surfside/.
About Q Mixers
Q makes the world's best carbonated mixers – spectacular beverages crafted with authentic ingredients, more carbonation, and much less sugar to perfectly complement the world's finest spirits. Our tonic water, ginger beer, and other flavors are proudly carried by many of America's best restaurants, bars, and retailers including Whole Foods, Safeway, Kroger, Total Wine and Amazon. For more information please visit www.QMixers.com.
For more information on The Art of Bartending, including interview requests and images, please contact:
Le Sirenuse Champagne Bar Signe Barlow, Account Director, Halo Public Relations signe@haloprgroup.com | 416.364.0404