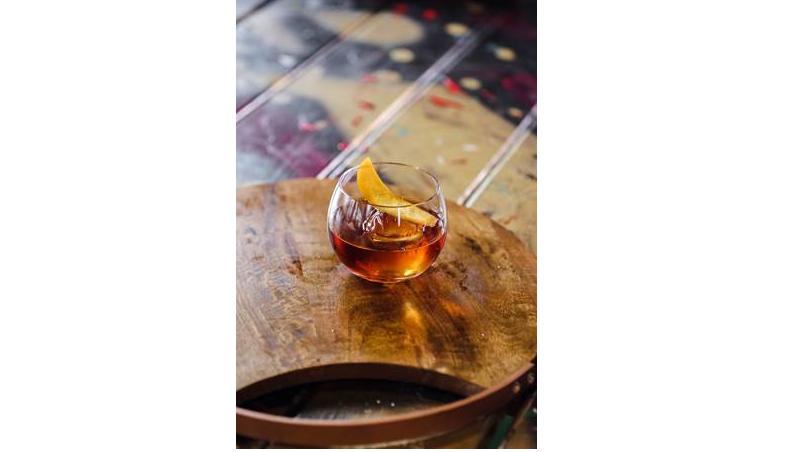 Skip the tricks and treat yourself to Santo Spirits, a sinfully smooth and high quality tequila made in the highlands of Jalisco. Legendary rocker, Sammy Hagar's history of making renowned tequila and chef Guy Fieri's world-famous taste buds generated the world's first mezquila, along with an old-world style Santo Blanco and an oak-aged Santo Reposado. Lift your spirits with true agave flavors accented by earthy, light smokiness and a subtle floral fruitiness. These easy to make and delicious cocktail recipes are sure to get people rolling in their graves. It's bone to be wild.
Black Smoke Mountain
This smoky sensation features the world's first mezquila and is meant to get you into "higher spirits." The tart rhubarb and dark chocolate notes from the Zucca accentuate the smoky-sweet finish of the Mezquila, and with a hint of fruitiness from the orange peel garnish… this bold and balanced cocktail is the ultimate treat.
2ozSantoMezquila
oz Sfumato Rabarbaro–or-Zucca
2 Dashes- Hella Smoked Chili Bitters
Pinch of Salt
Orange Peel, garnish
Combine first four ingredients in mixing glass with ice and stir.
Strain over fresh ice in glass and garnish with expressed orange peel.
Wake of the Dead
The kids shouldn't be the only one enjoying treats this year! The Wake of the Dead cocktail from Santo Spirits' will keep the night alive with Santo Mezquila, Cold Brew coffee, and maple syrup…this will get you through those long spooky nights.
4 oz Cold Brew Coffee
1.5 oz SantoMezquila
0.5 oz Triple Sec
0.5 oz Maple Syrup
Pinch of Salt
Combine all ingredients in shaker tin,
Shake with ice.
Pour directly into tall glass,
garnish with orange and marigold