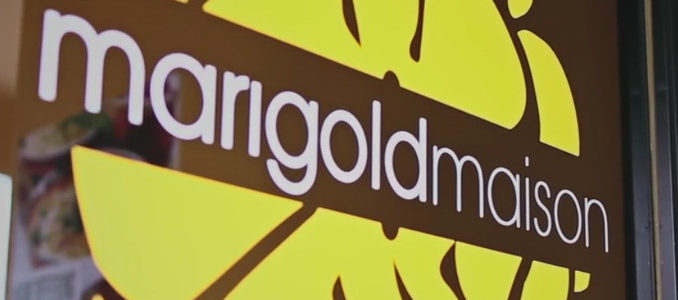 MARIGOLD MAISON MAKES ITS DEBUT IN LINCOLNSHIRE
Executive Chef Sunil Kumar moves his modern Indian restaurant from Bannockburn to Lincolnshire

Marigold Maison (900 Milwaukee Ave.) brings modern Indian spice, color, and flavors to Lincolnshire, a Northern suburb of Chicago, this February as the restaurant changes locations from its former home in Bannockburn.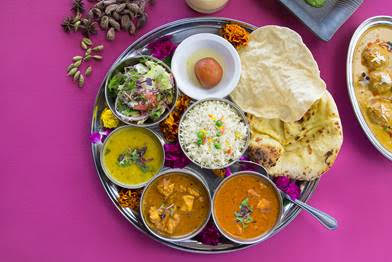 Executive Chef Sunil Kumar, who oversees the culinary program for both of Marigold Maison's Phoenix and Chicagoland locations, believes the premier high-energy Lincolnshire Commons space pairs perfectly with the restaurant's lively and family-friendly concept. Marigold Maison is a part of the JNK Concepts family which includes sister restaurants Roka Akor (Chicago, Old Orchard, San Francisco, Scottsdale, and Houston) and Enolo Wine Café.
Marigold Maison is driven by fresh ingredients that are prepared to perfection based on each guests' individual order. The menu presents traditional Indian cuisine with a modern twist. Chef draws influence from a number of cities across India including the southern and northwestern regions as well as local street food favorites. Marigold Maison incorporates an impressive 50+ spices into the dishes throughout the menu, many of which are roasted in-house.
Standout dishes from the extensive menu include Samosa Chaat with chickpea, onion, tomato, mint, yogurt, and tamarind; Chicken Tikka that includes natural free-range chicken tenders marinated in yogurt, ginger, garlic, tandoori spices, served over onions and peppers; Hand-stretched Fresh Tandoor Baked Breads infused with turmeric and Ajwain seeds; Saag Paneer made with mustard greens, broccoli, spinach, corn flour, ginger, garlic, tomato, turmeric, fenugreek and served with balsamic rice; Tikka Masala with tandoori-roasted veggies, chicken, lamb, shrimp, or fish cooked in tomato sauce, cream, ginger, garlic, turmeric, coriander, garam masala, and fenugreek; Biriyani choice of veggie or protein cooked in dum long grain rice with biryani spices and served with raita; Mango Lassi with mango, yogurt, milk and rose water.
In addition to ensuring that Marigold Maison immerses guests in Indian culture via a bold and colorful atmosphere and cuisine, Chef Kumar also strives to treat each guest with the humble hospitality they would receive in his home country. Chef Kumar's philosophy for the restaurant is straightforward: "Keep it simple; use fresh ingredients; cook from your heart, and treat every guest like family."
Marigold Maison serves lunch Sunday–Saturday from 11:30 a.m. to 2:30 p.m. and dinner Sunday–Thursday from 5 p.m. to 9 p.m. and Friday–Saturday from 5 p.m. to 10 p.m. To stay up-to-date on the opening of the new location or to make reservations, visit the restaurant's website at http://www.marigoldmaison.com/ or call 847.940.0200.
About Marigold Maison
Led by Executive Chef Sunil Kumar, Marigold Maison is located in Phoenix and Chicago's North Shore area. The robust menu, specializing in Southern Indian cuisine, represents the finest examples of Indian dishes from around India. The innovative menu features authentic Indian flavors and favorites like Chicken Tikka, Bhel Puri, Samosas, and their Famous Tandoori Oven delicacies.