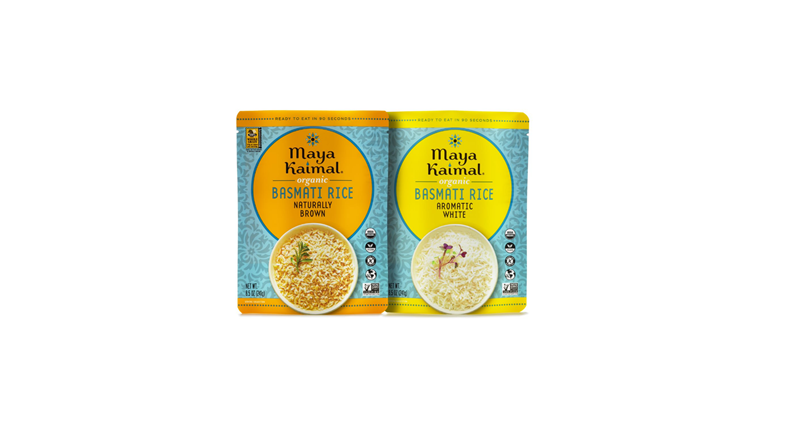 Maya Kaimal Foods – the award-winning producer of kitchen-crafted Indian simmer sauces, dals, rice, and condiments – announces the launch of two new products: Organic Aromatic White Basmati Rice and Organic Naturally Brown Basmati Rice, now available for purchase at grocery stores nationwide, including Sprouts Farmers Market.
An established producer of Indian-inspired products, Maya Kaimal Foods is committed to providing high-quality and authentic Indian offerings, taking the time to prepare their products to provide the fullest flavors without the time-consuming work and long ingredient lists typically required for superb Indian food. The fully cooked rice is sold in microwavable pouches that heat in 90 seconds. Maya Kaimal Basmati Rice originates in the Himalayan foothills and is certified organic, non-GMO, kosher, and vegan. Flavors include:
Aromatic White Basmati Rice: Authentically fragrant, the sweet-nutty taste of this rice pairs well with curries, dals, or any entrée for a blissfully satisfying meal
Naturally Brown Basmati Rice: These bran-rich grains are jam-packed with nutrients and fiber, featuring an earthy-nutty flavor profile
Maya Kaimal Organic Basmati Rice is aged for at least 9-18 months and is known for its light and airy texture, nutty taste, and fragrant aroma. The rice can be served plain, alongside curries, with braised or roasted meat, and even used for desserts.
"We help incorporate traditional Indian flavors into easy, flavorful meals, and change perceptions of what Indian food can be," says founder Maya Kaimal. "All our rice is grown organically on small family farms and harvested by hand. These Basmati Rices are the perfect complement to our sauces, dals, and chanas."
Both rice varieties come in 8.5oz single-use pouches, provide two servings, and are available for purchase for $3.99 each. High-res photography can be found here. For more information and to purchase, visit the Maya Kaimal Foods website.
About Maya Kaimal Foods
Maya Kaimal Foods is a leading kitchen-crafted food brand known for its award-winning Indian simmer sauces, dals, rice, and condiments. Ranked #1 in the category, Maya Kaimal simmer sauces paved the way for its growing line of products, including Everyday Dal, Everyday Chana, Basmati and Surekha Rice, and condiments. Founded by Maya Kaimal, winner of the Julia Child Award for her cookbook Curried Favors, the brand stands out thanks to time-honored cooking techniques and recipes acquired by Kaimal's South Indian father. Not only does Maya Kaimal deliver convenient, flavor-packed products, but all ingredients are clean and carefully sourced, authentically capturing the complex flavors of India with a modern, crave-able twist. Maya Kaimal Foods are available at natural, specialty and conventional stores nationwide including Whole Foods, Amazon, Costco, Sprouts, and more. For more information, visit www.mayakaimal.com. Follow Maya Kaimal Foods on Instagram, Facebook, and Twitter.