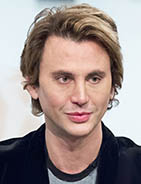 By Diane Lilli
Just like any other deity, Foodgōd Jonathan Cheban never asked for his gifted palate, but instead was born with it. Today, his disciples number in the millions, as this famous foodie travels far and wide to discover, taste and post about the magical foods he encounters along the way.
Growing up, Cheban shared a love of food with his mom, who encouraged his visionary tastes. But the Foodgōd grew to become passionate about eating the most heavenly foods found on Earth.
"My mom loves food like I do," he said. "But with my intense taste, whenever we go out to eat anywhere I tend to order for everyone."
Turns out Cheban's obsession with food is more a lifestyle and career than a hobby.
"My whole life is about the food," he explained. "Even years ago, when every day always revolved around school, I would plan my schedule in college so I could enjoy incredible meals. My mom knew I get "hangry" and that sometimes I would circle an hour in the car before I knew what I wanted to eat. It was almost like cracking a safe – to go in search of the perfect tasting food." Surprisingly, Cheban's taste in foods doesn't just run the gamut of delicious, but also of meals prepared in roadhouse stops as well as modern American high-end cuisine.
"I don't just do high and low," he said. "I am a fair-weather eater of buffalo wings in a bar but also at a table in Nobu. My passion takes me to both higher-end spots or to a long drive to Westchester for pizza. I just love everything to be special, and want to share that."

Asked for his favorite spots, the Foodgōd demurred but then agreed to note some of his top picks, such as JG Mellon for best burger; Di Fara NY for the best pizza in New York (in Brooklyn) and the bagel he made famous, the Rainbow Bagel (NYC). Recently Cheban launched his "Foodgōd 24 Karat Wings" at Ainsworth Restaurant Group. The wings are soaked in a coconut butter, chipotle & honey batter for 24-hours and then dusted with real gold flakes. They're complimented with a side of gourmet bleu cheese to dip.
As to how he finds that next delectable God-worthy bite, Cheban chalks it up to good luck, an intensely tuned in food curiosity, and his willingness to travel to his newest food haunt. As per his own creations, one new desert causing lines to form is "Foodgōd Desert", a collaboration with Komodo in Miami. The fusion is a shockingly delicious Cotton Candy Rice Crispies treat – and not to be missed.
Look for your next out-of-this world dish courtesy of the Foodgōd, which can be found on his upcoming YouTube site along with his robust social media sites. www.foodgod.com