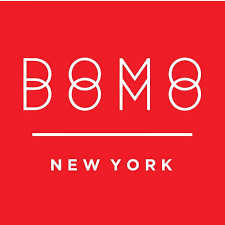 Urby is pleased to announce that DOMODOMO, the Michelin's Bib Gourmand-rated Japanese eatery located in Manhattan's West Village, will open its second location at Jersey City Urby. Slated to open summer 2019, the restaurant will be called DOMODOMO Kitchen.
Created in 2015 by brothers-in-law, executive chef Brian Kim and creative director and interior designer Jae Park, DOMODOMO is a culinary concept that combines Asian-inspired cuisines. DOMODOMO features the highest quality sushi and freshest ingredients, including specially harvested seaweed and house-made sauces. Best known as the original hand roll bar in New York City, DOMODOMO is continuously recognized for its ever-changing, inventive "DOMOKASE" menu — an attainably-priced, omakase-inspired offering of best-in-class sushi alongside hot and cold dishes.
"DOMODOMO is a world-class dining establishment and we're excited to bring the first omakase-style restaurant to Jersey City," said David Barry, President and CEO of Urby. "In joining Urby as a retail partner, DOMODOMO will further the unprecedented evolution of the Jersey City waterfront neighborhood and provide residents and visitors with a one-of-a-kind hospitality experience."
"Urby presented us with a unique partnership opportunity here in Jersey City and we couldn't be more thrilled to expand our flagship dining concept," said Kim, co-founder of DOMODOMO. "We especially like Urby's concept, which fosters community and interaction, and look forward to being part of this innovative development."
DOMODOMO Kitchen will be located at the base of Jersey City Urby and will be open for both lunch and dinner. The new location will feature DOMODOMO's signature DOMOKASE-style menu along with a la carte items.