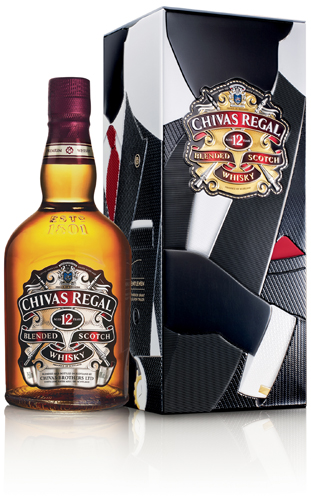 New York, NY (September 18, 2013)–In a celebration of craftsmanship and innate style, Chivas reveals the Chivas 12 Made for Gentlemen Limited Edition Gift Tin by Patrick Grant. Grant is a modern icon in menswear design, credited with reinventing bespoke tailor Norton & Sons of Savile Row, London. The striking collectible illustrates the attention to detail and sophisticated style which have become synonymous with Savile Row and two centuries of shaping trends in tailoring.
The limited edition tin, designed in partnership with Grant, houses a bottle of Chivas 12 blended Scotch whisky and showcases four modern, tailored looks that talk to men around the world. Each silhouette features a different accessory: a tie, a cufflink, a watch or pocket square – the expressive details that Patrick Grant believes make a personal style statement. The limited edition tin's lid nods to the label used on the inside of a bespoke Norton & Sons suit.
"We're seeing a renewed appreciation for craftsmanship and heritage in fashion today, and nowhere is this more apparent than in the world of modern bespoke tailoring. There's a sense of pride and accomplishment that a gentleman earns when he makes a choice for the luxurious and the authentic," says Laurent Cutier, Brand Director of Scotch at PRUSA. "Those values are why the partnership between Patrick Grant and Chivas is such a wonderful fit. The artisan tailor's vision for his craft and the vision held by the master blender of Chivas are not dissimilar; ultimately, both strive to provide a unique and authentic experience for our consumers."
Adds Patrick Grant, "For me, the collaboration with Chivas was a natural alliance of artistry and shared vision. The tailor's obsession with mastering complexity in achieving perfect balance in form and finish are values also held dear by the master blender of Chivas. Ultimately, we both strive to give our customers stand out experiences and luxury goods of lasting value."
The Chivas 12 Made for Gentlemen by Patrick Grant limited edition will be available from September at a SRP of $35.99. See chivas.com for more information.