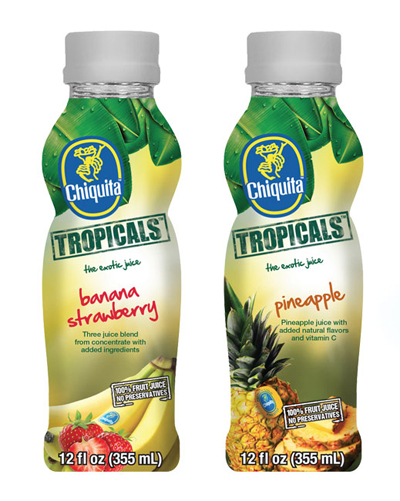 MOJO Organics, Inc. has appointed ESM as sales and marketing broker for MOJO Organics, Inc. line of CHIQUITA TROPICAL, the exotic juice.
"We are very excited to be working with the great team at ESM to help accelerate the launch of CHIQUITA TROPICALS to every consumer in the Northeast and Mid-Atlantic states," said Glenn Simpson, Chairman and CEO of MOJO Organics, Inc. "They are a leader in the industry and will bring their great expertise to our sales, marketing and merchandising through their 600 dedicated employees."
"We're excited to be representing this great new product," said Tony Scudieri, CEO of ESM. "CHIQUITA TROPICALS are innovative and hitting the market at the perfect time."
The CHIQUITA TROPICALS line has launched its first four 100% fruit juice products made from tropical fruits: Banana Strawberry, Mango, Pineapple, and Passion Fruit. They have the same great taste as the tropical fruits they come from.
STATE OF THE ART PACKAGING & BOTTLING DELIVERS A GREAT TASTE WITHOUT REFRIGERATION AND THE GRAPHICS TAKE YOU STRAIGHT TO THE TROPICS.
Our package is ergonomically designed and easy to hold. The label tells the story of our juice with easy to read icons: zero added sugar, no preservatives, naturally low sodium, vegan, naturally gluten free, non-genetically modified and kosher. Such attributes are what consumers want today in a beverage. Because of the way we bottle our juice, it does not require refrigeration prior to opening.
A GLOBAL COMMITMENT TO THE ENVIRONMENT IS AT THE HEART OF THE BRAND.
We believe in safe and sustainable corporate practices. We are proud to use Rainforest Alliance Certified fruits, which help the farmers and their families, while being environmental, social and economic sustainable.
MOJO Organics, Inc.
Headquartered in Jersey City, New Jersey, MOJO Organics, Inc. engages in, product development, production, marketing and distribution, of CHIQUITA TROPICALS. CHIQUITA TROPICALS are a 100% Fruit Juice, produced under license agreement from Chiquita Brands. The mission of MOJO is to promote a Better-for-You lifestyle for everyone with affordable natural ingredient beverages and organic ingredient beverages.
ESM Ferolie was founded in 1946 and is headquartered in Montvale, New Jersey, with additional offices in Lincoln, Rhode Island; Albany and Buffalo, New York; Pittsburgh, Pennsylvania; and Charlotte, North Carolina. ESM's affiliate offices include ESM Etherton in Grand Rapids and Auburn Hills, Michigan, and ESM Integrity in Wayne and Harrisburg, Pennsylvania. ESM Ferolie is led by Tony Scudieri and Tony Ferolie along with Tom Morrison of ESM Integrity and Jim Wertz of ESM Etherton.
All ESM offices support the company's sales and marketing teams in the Perishable, Non-Perishable and Non-Food divisions at all retail customers in its market areas. The company covers the Northeast and Mid-Atlantic states, stretching from Maine south to the Carolinas and west to Michigan.
With a focus on building brands, ESM is built on strong traditions of excellence, maintaining the highest level of honesty and integrity resulting from partnerships based on trust and commitment. Throughout the company's history, ESM has been successful in managing both mature and emerging brands with an emphasis on customized strategies for both manufacturers and retailers.