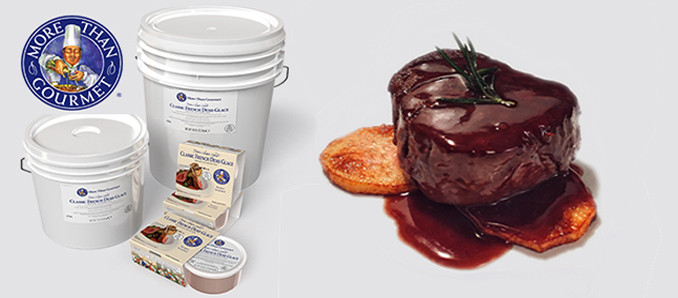 This Wine-Enriched Sauce Is Traditionally Served Over Beef Steaks Or Beef Tenderloin, But It Will Also Add A Luscious Finish To Veal, Pork, Or Lamb.
Ingredients
Makes About 2 Cups, 8 Servings
2 1/2 Cups Dry Red Wine (Preferably One With Soft Tannins Like A Merlot Or A Pinot Noir)
4 Tablespoons Finely Chopped Shallots
1/2 Teaspoon Ground Black Pepper, Plus Additional As Needed
2 Sprigs Fresh Thyme
1 Bay Leaf
1 1/2 Ounces Demi-Glace Gold® Or Demi-Glace De Veau Gold® Dissolved In 3/4 Cup Warm Water
2 Teaspoons Lemon Juice
1/2 Cup Diced Beef Marrow, Soaked For 2-3 Minutes In Hot Water And Drained, Or 1/2 Cup (1 Stick) Chilled Unsalted Butter, Diced
Salt
Pinch Of Ground Allspice
Pinch Of Cayenne Pepper
Methods/Steps
In A Saucepan, Combine The Wine, Shallots, Pepper, Thyme, And Bay Leaf. Bring The Mixture To A Boil And Cook Until The Liquid Is Reduced To About 2/3 Cup.
Whisk In The Reconstituted Demi-Glace Gold® (Or Demi-Glace De Veau Gold®) And Simmer The Sauce Gently For 15 Minutes.
Strain The Sauce Through A Fine Mesh Sieve Into A Clean Saucepan. Place The Pan Over Low Heat, Whisk In The Lemon Juice And Beef Marrow (Or Butter), And Continue Whisking Until The Marrow (Or Butter) Melts Into The Sauce. Season The Sauce To Taste With Salt, Additional Pepper, Allspice, And Cayenne.