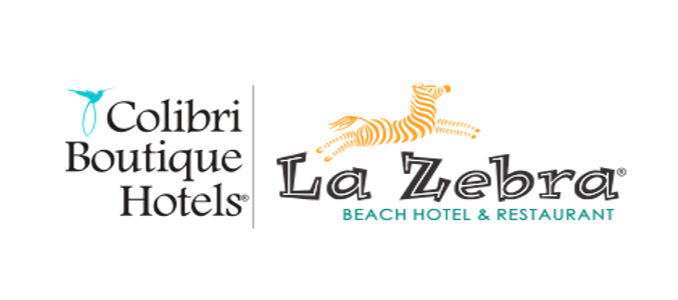 Mulberry Project brings Masters to Hotel La Zebra for third year.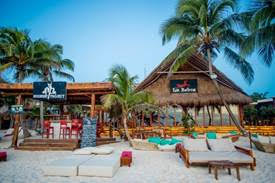 Jasper Soffer knows that a hot day at the beach calls for a cool, craft cocktail to complete the experience. Bringing back his internationally acclaimed Mulberry Project and its team of cocktail masters to Colibri Boutique Hotels' La Zebra for the third year, Soffer is excited to create even more creative and personalized beverages for the hotel's guests. In Tulum, Mulberry Project's cocktails feature the local spirits and flavors of Mexico, highlighting mezcal, tequila and rum while adding a dose of mystery and intuition.
Just steps from the ocean, the pop-up on the sand offers a twist on cocktail culture. Rather than ordering a pre-set cocktail from a list on a printed menu, guests at Mulberry Project at La Zebra select the liquor base that most appeals and "suggest" ingredients based on a chalkboard listing of market-fresh fruit, vegetables, herbs and spices available that day. The third step is pure magic: guests describe the "type" of cocktail they like — refreshing, sweet, spicy, tropical, bitter, dry, smoky, herbal and more. Then it's up to the drink masters to handcraft the perfect bespoke drink. It's a performance perfectly set against a backdrop of crashing waves and soft sand.
Feel like having a not-too-sweet tequila blanco with a little fruit? Perhaps you'll get a habanero-infused Ancho Reyes version with watermelon, lime, elderflower and cracked black pepper. Or maybe you'll get a smoky mezcal concoction, since you're in Mexico after all, with local ingredients like Mexican mole bitters. Mulberry Project avails itself of the best local liquors, adding to that fruit, herbs, bitters and other ingredients that will compose a distinctive libation. Savory, sweet, spicy or not, anything is possible. As Jasper notes,"We compose cocktails that can create a specific mood, address a particular desire, or relate to the personality that we sense. You give us a hint, and we do the rest."
Mulberry Project is the creation of Jasper Soffer, founder and co-owner of the original speakeasy located in New York City. Soffer was drawn to Tulum five years ago by the beauty of the area and the freshness and distinctiveness of the local ingredients. "We don't believe in boredom," he notes. "We want to surprise you and please you at the same time. We'll give you a cocktail you've probably never had before, something that fits with the magic that is Tulum. In fact, your second cocktail may be something entirely different," he adds.
The cocktails are also served at La Zebra's restaurant, under the direction of Chef Eleazar Bonilla.
About The Mulberry Project Pop-up at La Zebra
The Mulberry Project pop-up at La Zebra is a "rustic chic" bar located next to the restaurant, just steps from the beautiful Caribbean Sea. The Mulberry Project is noted for pioneering the bespoke cocktail concept around the world and has brought pop-ups to locations including Cartagena, Tel Aviv and Rio de Janeiro. www.mulberryproject.com. Facebook: mulberryprojectpopup. @mulberryprojectpopup
About Colibri Hotel Collection
Members of Small Luxury Hotels of the World, Colibri Boutique Hotels consist of four properties in Tulum, Mexico (El Pez, Mezzanine, Mi Amor and La Zebra) and one on Little Corn Island, Nicaragua (Yemaya Island Hideaway and Spa). Designed for barefoot-chic relaxation, the collection includes both all-adult properties and properties suitable for individuals, couples and families. The five hotels are oceanfront properties with air conditioning, generate their own energy, offer concierge service, and include WiFi. Distinctive dining and bar options are featured as well. www.colibriboutiquehotels.com Instagram:www.instagram.com/colibriboutiquehotels/. From the US, dial 1-303-800-1948. Email: reservations@colibriboutiquehotels.com
La Zebra – Sitting directly on Tulum's beautiful beach, 29-room La Zebra is a fun and relaxed family-friendly hotel. La Zebra's lively Sunday night salsa beach party is a popular event. A pop-up of New York City's well-known, artisanal Mulberry Project from bespoke drink master Jasper Soffer runs seasonally, adding a lively component to the indulgent 8-course, mixed pairing Chef's Table experience curated by Chef Eleazar Bonilla. As part of the hotel's focus on culinary excellence, acclaimed Noma chef, Rene Redzepi, together with sous-chef and taco specialist Rosio Sanchez, recently wrapped up the Noma Mexico residency in the jungle at La Zebra. A new Greet Tulum "Exquisite Dinner" series will begin in February 2018 in conjunction with the Mexico Wine and Food Festival, starting with a dinner with Chef James Kent from NYC's Nomad and Eleven Madison Park. www.lazebratulum.com Facebook: www.facebook.com/lazebratulum