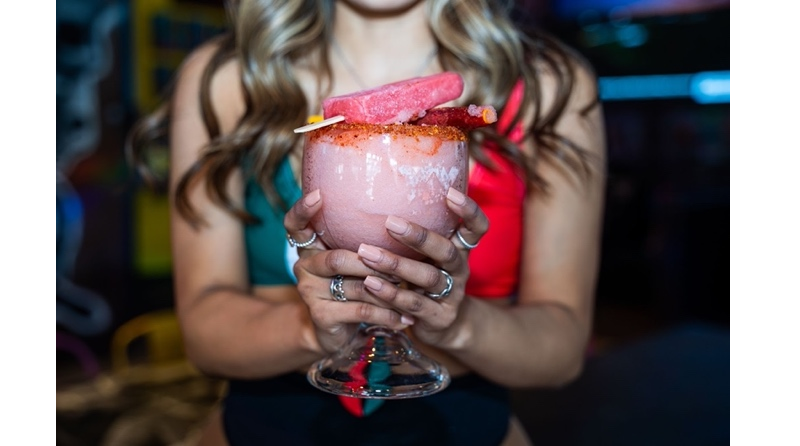 Las Vegas:
CliQue Bar & Lounge, the upscale cocktail lounge located in the heart of The Cosmopolitan of Las Vegas, creates a personalized experience, a talented bartender will arrive at the guest's table with a mixology cart stocked with assorted liqueurs, CliQue's house made fresh fruit juices and garnished to craft show-stopping cocktails. Rum lovers looking to celebrating National Rum Day can order cocktails like the "Up All Night" crafted with Cruzan rum, Paychaud's bitters, orgeat, lemon, ginger syrup, blackberries and strawberries and garnished with a sparkler; or "Another Day In Paradise" made with Bacardi Superior, orgeat, lime, pineapple vinegar and Angostura bitters, served in an upside down pineapple shaped cup and garnished with a flambeed slice of pineapple. More information can be found on the website at www.cliquelv.com on Facebook and on Instagram.
Nothing says National Rum Day like an ice-cold piña colada. Pancho's Mexican Restaurant, located in Downtown Summerlin, offers its signature Azul Piña Colada, a smooth, rich blend of Malibu coconut rum, blue Curaçao, pineapple and coconut. This smooth cocktail pairs nicely with the heat of summer and the traditional flavors of Pancho's Mexican cuisine.
Founded in 1982 by Freddie Glusman and located directly off the Las Vegas Strip, Piero's Italian Cuisine, has remained a treasured Las Vegas institution where celebrities and public figures gather for great food and company. On National Rum Day, toast family and extraordinary food at Las Vegas's longest running, family owned and operated Italian restaurant with the Jungle Bat. Made with Bacardi Rum, this hand-crafted cocktail is mixed with guava puree and lime juice with a ginger beer float and garnished with a lime wheel. Pair this cocktail with any of the award-winning, authentic Italian cuisine from Chris Conlon, one of Las Vegas' top chefs.
Celebrate National Rum Day like the Red Rocker, Sammy Hagar, with Sammy's Beach Rum pours and cans of Sammy's Beach Bar Cocktail Co. at any of PT's Taverns more than 60 locations across the Las Vegas Valley, including Sean Patrick's, Sierra Gold and SG Bar. Priced at $4 each, Sammy's Beach Bar Cocktail Co. ready-to-drink sparkling rum cocktails are made with the Red Rocker's premium rum and are available in four different, playful twists on classic flavors: Tangerine Drea, Pineapple Splash, Island Pop and Cherry Kola Chill.
Commonwealth, a 6,000-square-foot neighborhood bar located in Downtown Las Vegas, is a collision of art and industrial architecture mapped across two floors. For National Rum Day, Commonwealth will feature its Pleasure Fist cocktail made with light and black rum, fresh lime juice, and orgeat orange liqueur. Another signature rum-based cocktail includes the Benevolent Nod (From Morgan Freeman), made with light rum, fresh lime juice, coconut milk, honey, and basil.
Park on Fremont combines eclectic art with an innovative menu for dining and drinking in the very heart of Downtown Las Vegas. A few favorites to cheers to National Rum Day with include the Yum Yum Bush, made with Dr. Stoner's Bush Herb Rum, banana liqueur, amaretto, fresh lemon juice, charred pineapple syrup, and angostura bitters; or the Trophy Wife, a refreshing combination of Bacardi Spiced Rum, fresh lemon, orange, pineapple, and aromatic bitters.
We All Scream, located in Downtown Las Vegas, is a 10,000-square-foot indoor-outdoor compound backed by 360-degree views of downtown's grit and neon glow. In celebration of National Rum Day, We All Scream will feature its Dandy Pants cocktail made with light rum, pineapple juice, Benedictine, passion fruit, Blue Curaçao and topped with cotton candy. Also available will be the She Said signature cocktail made with light rum, elderflower, cacao, Rose, cream, and lime.
Peyote merges desert glam with modern chic in Downtown Las Vegas. Focused on fresh ingredients and Latin-inspired recipes, Peyote's colorful Guavacito is an attention-grabbing cocktail made with rum, Cocchi Americano, guava, hibiscus, lavender, and lime.
San Diego:
Time flies when you're having rum at Sugar Factory American Brasserie, located in San Diego's Gaslamp Quarter and throughout the country. The restaurant offers a variety of its signature 36-ounce Smoking Candy Goblets with rum, including the Raspberry Watermelon Mojito made with SelvaRey white rum and fruit juices with a dark rum floater; and the Candy Shop, a blend of Branson Cognac, Teremana Tequila, Malibu rum, fresh peaches, pineapple juice and orange juice garnished with sour peach slices, peach rings and a colorful soda pop gummy mix.
Nick Cannon's Wild 'N Out Sports Bar and Arcade, located in San Diego's Gaslamp Quarter, delivers larger-than-life rum cocktails, including the Wild 'N Out, made with SelvaRey rum and strawberry and piña colada daiquiris swirled together topped with whipped cream, a pineapple wedge, fresh strawberries and a cherry on top. The 'eatertainment' destination also brings the party to the table with its shareable Tropical Jungle Juice, made with coconut rum, light rum, dark rum, pineapple juice, orange juice and grenadine packed to the rim with fresh cut fruit and garnished with a lemon wheel, lime wheel, watermelon wedge, fresh strawberries, an edible orchid and a tiki umbrella.
Located in San Diego, GoodBar shakes up a variety of unique craft cocktails, such as the Old Way Mai Tai, made with Cutwater Bali Hai rum, orange liqueur, orgeat, fresh lime juice and Demerara simple syrup with a rum float.
It's time for summer sipping and Sammy Hagar has just the drinks to celebrate National Rum Day. The spirits trailblazer, Rock & Roll Hall of Famer and #1 New York Times bestselling author recently released his first cocktail book, "Sammy Hagar's Cocktail Hits: 85 Personal Favorites from the Red Rocker", and it's everything you need to make cool cocktails on hot summer days. The Pomegranate Mojito is made with Monin pomegranate syrup, fresh lime wedges, fresh mint leaves, Sammy's Beach Bar Platinum Rum and soda water. The Rockin' Daiquiri is made with Sammy's Beach Bar Platinum Rum, sweet and sour mix, fresh lychee juice and fresh pineapple juice.
Bleu Bohème, located in Kensington, provides guests with French flare in the heart of San Diego. For National Rum Day, Bleu Boheme will highlight the Rêve de Tahiti, a French Polynesian-inspired cocktail that combines Bacardi, orgeat, Combier Curaçao, pineapple and lemon juices, garnished with a cherry and lemon wedge.
Fort Worth:
El Chingon, Fort Worth's "Bad Ass Mexican" restaurant located in the heart of the Cultural District, may be known for its curated selection of tequilas, but its signature Paleta cocktail is sure to cool you off on National Rum Day. A frozen coconut rum cocktail with a Tajín rim, the Paleta can also be made "Bad Ass" style: served in a goblet with a Dulces Tipicos Jabalina Xtreme candy straw and a paleta.