CERVEZAS ALHAMBRA LAUNCHES RESERVA 1925 DRAFT IN MIAMI BARS AND RESTAURANTS
Handcrafted in Granada, Spain, the artisanal Alhambra Reserva 1925 brew has recently entered the South Florida market on tap, occupying the space between traditional craft beers and premium imports.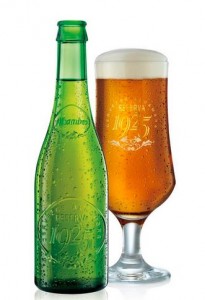 On April 2, Cervezas Alhambra revealed the captivating world of Spanish crafted beer to Miami at Wynwood's Sprung! Spring Beer Festival. Their participation in the event was a kick-off for Cervezas Alhambra's draft debut campaign in the U.S., offering beer-drinkers the opportunity to experience their signature brew in a new way putting Spain's timeless soul, knowledge and dedication on tap across Miami. Just in time for National Beer Day (April 7), Cervezas Alhambra's presence in the Miami market will continue to unfold as they launch an overarching South Florida campaign.
Made for the beer drinker who appreciates authenticity, education, production and heritage, Cervezas Alhambra targets the consumer demanding craft quality with a premium image. The brand invites beer aficionados to discover the hands-on creative brewing process that has been distinguished by its traditional character and artisanal foundation since 1925.
This story of Cervezas Alhambra began barely two miles away from the iconic monument of Alhambra, in the vibrant city of Granada, Spain. This is where the brewery created a beer that was destined to share the same name and quickly became a well-regarded national icon in Spain's beer community.
Reserva 1925, an extra lager beer weighing in at 6.4% ABV, is the iconic brew in the Cervezas Alhambra portfolio and has become a leader in the Spanish market since its launch. Cervezas Alhambra takes pride in the human perspective of their brewing process and embraces the tradition of a hands-on approach through each part of the process.
Premium ingredients are the first step in defining the excellence of Cervezas Alhambra's creations: Hops from the Czech Republic are handpicked for both bitterness and aroma and manually added at the precise time for a balanced flavor profile. Spring barley malt is used for its high starch and sugar content that create the perfect marriage with a unique strain of yeast for a dynamic chemical reaction during the fermentation process. Water is sourced mainly from the Sierra Nevada in Spain creating a crisp, yet full-bodied liquid.
Reserva 1925 strikes the perfect balance between bitter and sweet notes ranging from pungent orange to a slightly caramelized finish, giving it a refined and exceptional flavor. Reserva 1925 pours a rich head with a smooth texture. Golden amber in color with a lightly toasted aroma, the liquid is full-bodied, with a well-rounded flavor.
Cervezas Alhambra believes that one-of-a-kind beverages should be presented in packages that reflect the same creativity and artistic spirit as the liquid they contain. For that reason, the Reserva 1925 bottle is yet another demonstration of Alhambra's aesthetic sensibility and technical mastery. Inspired by the first bottles produced by the Granada brewery in 1925, the sculptural vessel is a symbol of elegance and quality. Made with a striking green glass and produced without a label, the logo is embossed onto the bottle creating a sensory experience from sight to touch to taste.
Reserva 1925 is now available on draft at many of Greater Miami's finest bars and restaurants as well as many grocery and liquor by the bottle in 6-packs of 12-ounce bottles. To discover more about the captivating world of Spanish crafted beer, visit: www.CervezasAlhambra.com or follow on Instagram @CervezasAlhambra or Twitter: @Alhambra_com
About Mahou San Miguel
One hundred percent family-owned Spanish Company, leader in our country's beer industry with a 35.5% share in production. It has eight brewing centres, seven in Spain and one in India, two water springs along with their packaging plants, and a team of more than 2,800 professionals.
The firm's history dates back more than 125 years, beginning with the birth of Mahou in 1890. Since then, it has never stopped growing. In 2000, Mahou bought San Miguel. In 2004, it incorporated Canary Islands brand Reina and in 2007, Cervezas Alhambra. It also diversified its business with the acquisition in 2011 of Solán de Cabras. The company's extensive national beer portfolio includes Mahou Cinco Estrellas, San Miguel Especial, Alhambra Reserva 1925 or pioneering products in their category such as San Miguel 0,0% and San Miguel ECO. It also has a wide range of international beers as a result of agreements with partners such as Carlsberg and Warsteiner, among others.
Internationalisation is one of the company's main strategies for business development. It produces more than 70% of exported Spanish beer and is present in more than 50 countries.
Mahou San Miguel operates in the USA with its subsidiary Spain's Best Beers Inc.