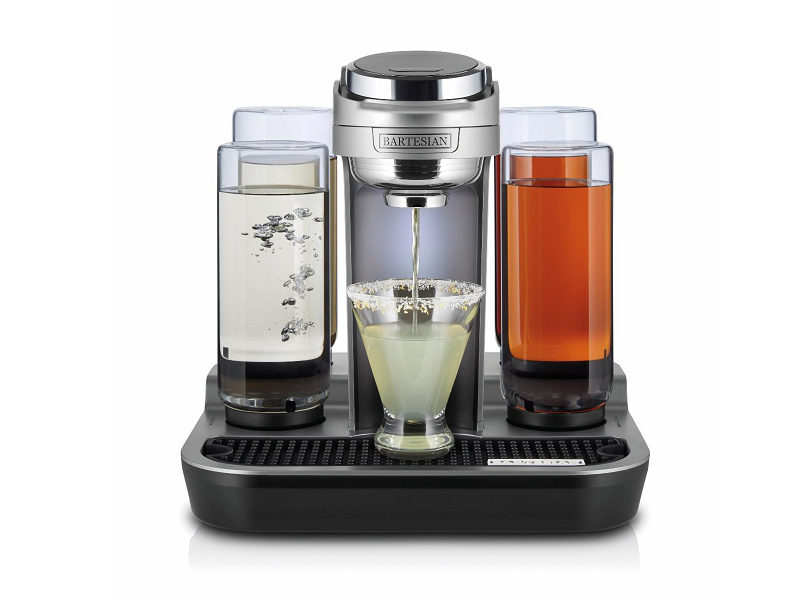 Former bartender Ryan Close just took his world's leading home cocktail machine and launched the all-new "Bartesian Professional" cocktail machine as he expands and forges new partnerships to serve the high demand for premium cocktails at commercial venues. The Bartesian Professional is proven to improve cocktail service by elevating the guest experience, increase revenue, and streamline operations. It can now be found in professional sports venues, concert arenas, suites, hotels, and more and provides bar-quality cocktails at the push of a button. With Bartesian Professional, any hotel, restaurant, stadium, convention center, casino, or cruise ship can serve profitable, premium cocktails with minimal investment.
The Bartesian Professional offers lounge-quality drinks and all the benefits of a fully-stocked bar in one sleek and compact machine. Thoughtfully designed for a commercial setting, the new machine is equipped to make consistent, delicious cocktails for large groups without the wait or need for numerous ingredients and extensive clean-up. The unit features a tamper-proof locking system and commercial certifications.
The Bartesian Professional tested successfully in pilot programs at multiple stadiums across different sports leagues leading to a strong and growing partnership with Aramark and Delaware North. Delaware North tested Bartesian Professional in suites during the 2019 MLB season and has steadily grown the partnership, rolling out programs across all of Delaware North's MLB, NFL & NBA venues in 2022. Participating stadiums include Fenway Park, Wrigley Field, Minute Maid Park, RingCentral Coliseum, Citizens Bank Park, Kauffman Stadium, Truist Park, Great American Ball Park, Progressive Field, American Family Field, Oriole Park at Camden Yards, Target Field, Comerica Park, Angel Stadium and Globe Life Field. The Bartesian Professional will be available in suites, clubs and concessions.
Bartesian is the first-ever intelligent cocktail maker using capsules that contain the real, premium ingredients for on-demand, perfectly crafted cocktails. Bartesian creates Premium Cocktails on Demand with the customer's choice of spirits at customizable strengths. Behind the company is a group of innovative designers, engineers, and mixology enthusiasts working together to elevate the cocktail experience. It is a winner of various awards including the 2020 CES Innovation Award, The Knot Registry Award, Good Housekeeping Best Innovation of 2020 Award, and has been selected as one of Oprah's Favorite Things.
In just a few years Bartesian had 975% year-over-year growth and more than $100 million in sales with their home cocktail machine. CEO & Founder Ryan Close has disrupted the cocktail world by bringing the first premium capsule-based cocktail machine to market. His persistent drive and keen strategic insight along with a mindful and modern leadership approach have helped him singlehandedly and privately beat Keurig at their own game when they tried and failed in launching a cocktail machine of their own.
For more info please see https://business.bartesian.com/