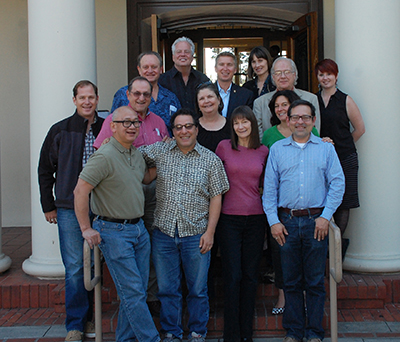 SCMWA partners with Cabrillo College Culinary Arts Program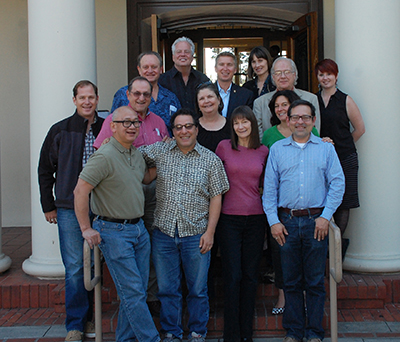 The Santa Cruz Mountains Winegrowers Association Board of Directors launched a new wine tasting concept replacing its Wine Competition. In an increased effort to draw more wine media and trade to the region, fifteen wine professionals from around California were invited to participate in a two-day event and tasting on Thursday and Friday, October 17 and 18, hosted by SCMWA. The two-day event included a VIP Reception dinner hosted by Beauregard Vineyards on October 17 and a full day of tasting followed by a Wine Harvest Dinner at Cabrillo College Culinary Arts on October 18.
During the Professional Tasting, 3 panels of 5 wine professionals evaluated 130 wines from 30 Santa Cruz Mountains wineries following the American Wine Society 20-point Wine Evaluation Systemtm (AWS). Scores from the AWS classifications relate to the following consumer friendly categories: 18-20 Extraordinary, 15-17 Excellent, 12-14 Good, 9-11 Commercially Acceptable. The Professional Tasting panel was comprised of industry wine veterans including: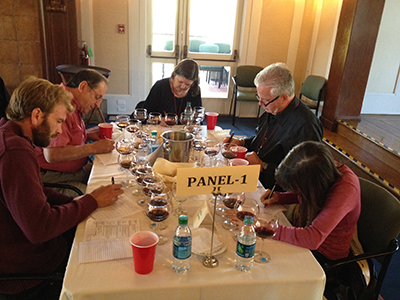 Evan Goldstein, Master Sommelier, Full Circle Wine Solutions Inc.; William Bloxsom – Carter, Executive Chef, Playboy Mansion; Deborah Parker Wong, Wine Writer, Tasting Panel; Steve Eliot, Wine Writer, Connoisseurs Guide; Laurie Daniel, Wine Writer, San Jose Mercury News; Ellen Landis, Wine Writer, Certified Sommelier; Kali Kopley, Owner, Telos Wine Lake Tahoe; James Melendez, Chief Wine Meister, James the Wine Guy; Wilfred Wong, Cellar Master, BevMo National; Jerry Starr, Certified Sommelier, Wine Writer, Examiner.com; Ian Cauble, Master Sommelier, Somm (The Movie!); Stacey Vreeken, Wine Writer, Santa Cruz Sentinel, and Michael Wargin, Winemaker, Wargin Wines.
"We are extremely pleased with the group of professional wine tasters that accepted the invite to come and taste our wines", said Dave Moulton, President of SCMWA and Proprietor of Burrell School Vineyards and Winery. "It helps us and the region to get a better understanding of where our wines rank in the marketplace and to improve on quality", said Burrell.
Wineries with wines scoring 15 and above included: Black Ridge Vineyards, Trout Gulch Vineyards, Cinnabar Winery, Beauregard Vineyards, Muns Vineyard, Clos La Chance, Kings Mountain Winery, Byington Winery, Woodside Vineyards, Muccigrosso Vineyards, Kathryn Kennedy Winery, Silver Mountain Vineyards, Santa Cruz Mountain Vineyard, Burrell School Vineyards and Winery, Clos Tita Winery, Hunter Hill Vineyard and Winery, Cooper-Garrod Vineyards, Martella Wines, and Savannah Chanelle Vineyards. To see the official list and scores please click here.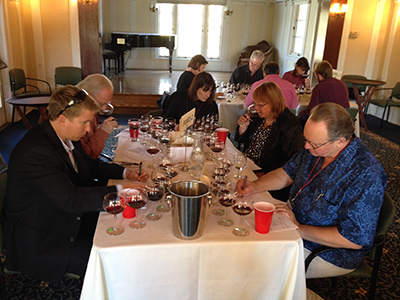 Following the Professional Tasting, Cabrillo College Culinary Arts and Wine Programs, along with the Santa Cruz Mountains Winegrowers Association (SCMWA) hosted a Wine Harvest Dinner for the Professional Tasters and over 200 Bay Area guests. Under the experienced guidance of Executive Chef Eric and Wine and Culinary artist and educator, Sue Slater, delighted diners were treated to fresh, locally produced specialties. These delicacies included Pork Belly wrapped in puff pastry with sweet chile glaze and toasted sesame seeds,stuffed baby new potatoes with asiago soufflé; house made Duck Prosciutto served with mesculin baby lettuces in a white balsamic vinaigrette and fennel pollen;herb roasted Rack of Lamb with Pommes Anna, Fig and shallot agro dolce and roast local brussel sprouts and fennel.
Please stay tuned for our next 2 events, in 2014, January 18, Passport Days and April 11 and 13, Pinot Paradise at the Mountain Winery. Please visit www.scmwa.com for more information.
About the Santa Cruz Mountains AVA
The Santa Cruz Mountain Winegrowers Association is an alliance of more than 70 wineries promoting wines produced from the Santa Cruz Mountains Viticultural Appellation, federally recognized as in 1981. The Santa Cruz Mountains appellation was among the first to be defined by mountain topography, following the fog line along the coast to encompass the highest vineyards on the ridge tops as high as 2600 feet elevation. The region encompasses the Santa Cruz Mountain range and extends from Woodside in the north to Watsonville in the south; from Monterey Bay along the coast to Silicon Valley inland. Here one can find intimate, artisan wineries tucked among the redwoods along scenic mountain roads, or perched atop ridges with sweeping views to the sea. Visitors can meet with and talk with the winemakers, and drive from the mountaintops (where it snows in winter!) to the coast and enjoy a sunset walk on the beach. Here, wine tasting is as much an experience of the natural beauty of the region as it is a delightful discovery of unique world-class wines.
For more information, contact the Santa Cruz Mountains Winegrowers Association (SCMWA) please visit www.scmwa.com, and find them on Facebook and Twitter.